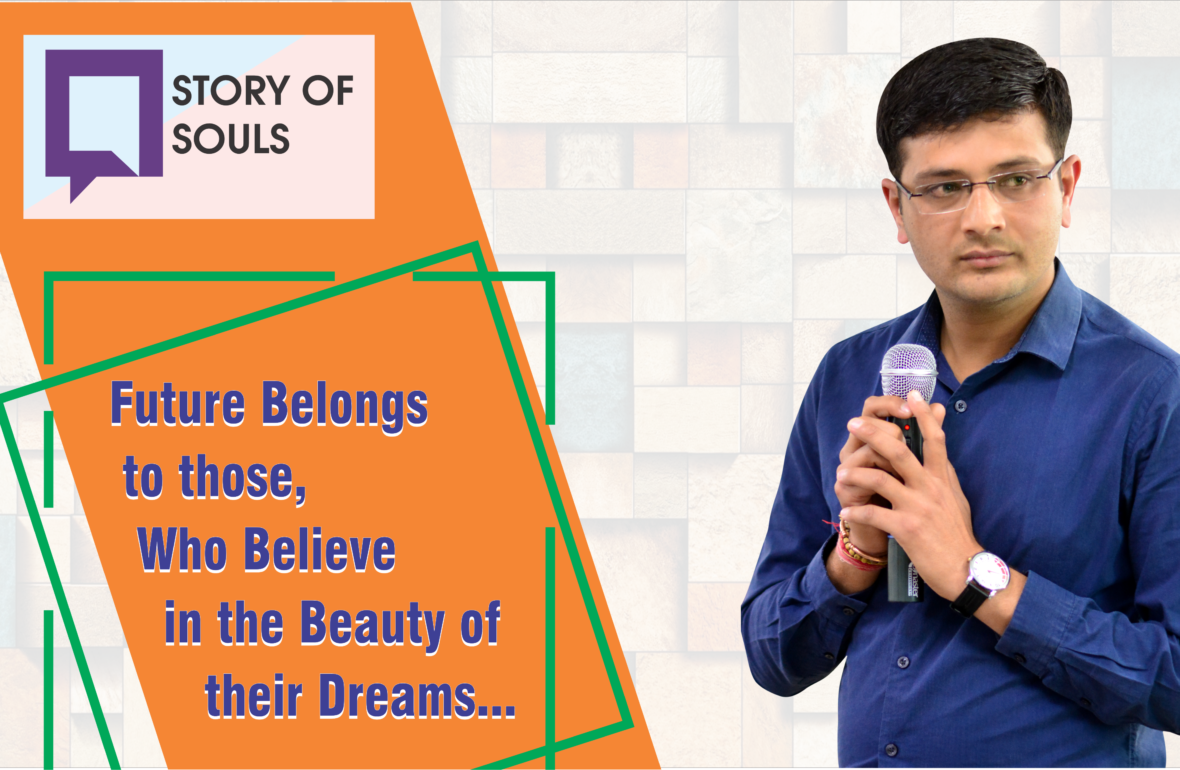 Set amidst the mesmerizing agrarian fields of a small village, around 20 km from Saharanpur, this is the tale of zestful personality determined to rise above the stereotypic levels of a healthy, happy life- Prof. Vikash Bhardwaj.
Born and brought up in an environment where people were mostly farmers, sowing seeds and cultivating the crops, it was those fields that taught Prof. Vikash Bhardwaj the most happening lesson of his life. Like every other kid of those times, Prof. Bhardwaj wished for a comfortable life too and the fields had taught him a really valuable approach to life- "As you sow, so shall you reap". He knew well that in order to secure a happy life, he was required to put his heart and soul into every work that he did. Prof. Bhardwaj did his schooling from a U.P. Board school and then later moved ahead for engineering to Uttarakhand Technical University (Dehradun).
Being a UP Board student, Prof. Viash Bhardwaj had to face the language barrier at the college with his fellow mates extremely fluent in English, he was mocked regularly for his Language limitations. This was another turning point in Mr. Bhardwaj's life. These humiliations made him determined to achieve the peaks in his field to let the world know that the only key to success is hard work.
A determined Vikash started working diligently on MATLAB & SIMULINK. This was when his life had already begun to prosper and he laid the founding stone of success with his first start-ups with DTHT INFOTECH as MATLAB instructor in 3rd Year of Engineering during his summer internship program. This was in 2011 when he submitted his energy audit report in UTTARAKHAND's 1st RENEWABLE ENERGY SUMMIT along with endeavor and achieved The Best Energy Audit Research Award, 2011 by Uttarakhand Council of Science and Technology and iCare India also got a letter of appreciation from UCOST.
This was the moment that boosted his confidence within himself to move ahead. Engineering life was full of accomplishments for Prof. Bhardwaj. Mr. Bhardwaj Founded AMPERANZA, The Electrical Engineering Students Society with the motto of Electrifying New Ideas. He wonderfully narrates about his professor Karan Aneja, who motivated him to keep going and this made Prof. Bhardwaj write a research paper on DC Motor Load & Efficiency at such a tender age, which was published at National Conference on Recent Advances in Electrical and Electronics Engineering (NCRAEEE) at DBIT, Dehradun in 2012, later on with professor Husain Ahmed they published Controlling of DC Motors using Fuzzy Logic Controller at such a tender age, which was published in Atlantis Press. He even organized a Conference on advancement in Communication and Control Systems (CACCS) in his final year. Hence, Prof. Bhardwaj productively completed his B.Tech.
Research work in college days had instigated an interest for further studies into him. This was when he expressed his wish to pursue M.Tech before his family, who were somewhat reluctant and wanted him to go for a job. Prof. Vikash Bhardwaj had a rock-solid will to go for M.Tech and he, therefore, took admission to M.Tech at DIT at his own risk. At M.Tech, Vikash even founded DIVI Educational Services with one of his school mate Mr. Ankur Aggarwal. DIVI Educational Services flourished with 40 students with Vikash simultaneously giving training to polish his engineering skills. Vikash was highly determined to accomplish his goals and thus he put in double efforts into his venture by taking classes in the afternoon and toiling in nights teaching his friend also his schoolmate and business partner. It was after all these diligent efforts that Prof. Vikash not only impressed his professors but also completed M.Tech with flying colors- with a top rank in his batch.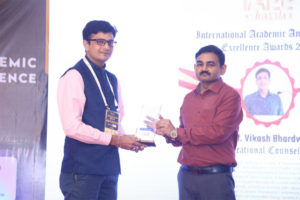 During M.Tech Mr. Vikash Founded VISION CONNECT, "Towards Energy Efficient & Sustainable Future" and organized National Youth Summit in 2014 & 2015.
After a magnificent student life, Prof. Vikash joined JBIT Dehradun and later switched to Radha Govind Engineering College, Meerut as Assistant Professor in Dept. of Electrical Engineering. As soon as he joined Radha Govind Engineering College, he was made the head of Career Resources Cell (CRC).
Later, he initiated the chapter of the Optical Society of America in his college and became the chapter advisor of its student's chapter, of which he is still an active member. Prof. Bhardwaj has been Guiding various UG projects & PG Thesis. Vikash knew that these were the times to reap the seeds of hard work he had sown during his studies and he never looked back. He kept giving training in various fields to various students, the most anticipated one being training on "English phobia", to help aspirants like him in achieving equal success as their English-speaking mates. He instructed and even trained himself on English phobia and confidence building. they were like the days of spring in his life. One of his students took the initiative of taking forward the DIVI Educational Services and made efforts in establishing four centers of the coaching with the alumni teaching the lower classes at these centers in Dehradun.
As greatest of philosophers have always said, keep moving until you succeed and this was what exactly Prof. Bhardwaj believed in. Associating with one of his students named Ankur Tomar, he initiated Verobert in 2018, which was a hub of technical services like web, graphics, etc. When the work at Verobert was in full swing, Mr. Bhardwaj Founded Shree RUDRA Graphics, an active A to Z Advertising Agency providing high-grade facilities throughout the country with the prime theme of Think, Design, Print.
Mr. Bhardwaj has been awarded as BEST SUPERVISOR AWARD in GECL2018 also BEST EDUCATION COUNSELLOR AWARD in IARE 2019.
Mr. Bhardwaj devoted himself to the technical field but that did not stop him from serving humanity. Mr. Bhardwaj is the director of the Aidmatrix Foundation, a purely non-profitable NGO which has adopted 72 underprivileged kids and works towards their better life by imparting them education under Mission Pathshala.
He even has to his credit numerous food campaigns running in various areas providing foods for those who are compelled by their conditions to sleep hungry at night. Recent winters witnessed the utterly humanitarian will of Prof. Vikash Bhardwaj when he distributed blankets to the homeless. He even organizes various women empowerment and blood donation camps and many other social welfare ventures.
Prof. Bhardwaj along with his few students is even capable of organizing a few concerts & shoots under the edges of V3 Concerts. He moves ahead touching various lives by recruiting needy into his ventures, thus providing a source of income to them. He even recalls how his income as a teacher was credited to him but his sole wish was to heal lives through education and hence, he found out his ways as teaching is his childhood passion and dream to be a renowned academician cum initiator.
Prof. Bhardwaj is regularly serving various International Conferences as Reviewer, Lead Review Team and Co-Chair with edas.info since 2014.
Mr. Bhardwaj organized Global Excellence Recognition Awards (GERA) on October 12th, 2019. GERA is assembled at Grand Dream Resort, Meerut with the appearance of world-famous luminaries under the edges of Aidmatrix Foundation, Verobert & RS Mant Events & Entertainment.
Hence, it is quite clear that Prof. Bhardwaj has a real dynamic personality, who hasn't left any stone unturned in the field of educating young minds. He has contributed to this country playing a leader, teacher, guide, and many more qualities embedded into one and his struggle perfectly proves the quote: – "Where there's a will, there's away."
Our writer :
MD. DANISH ARMAN
Email: – md.danisharman00@gmail.com
Mobile: – +91-7982158119
Current location: – New Delhi
Contribute to Story Of Souls, which is an initiative where we invite people to share their stories with us. We want people to "write to heal." It is genuinely an Online Platform where you can share your real-life stories.
Please follow and like us:
Our Rating for this Story