Prof Bindu Bhushan Dubey – A spiritual leader and a motivational speaker
"No matter where we roam
This earth is our home
Let's do more than just plain wishing
Let's make saving the planet our number one mission."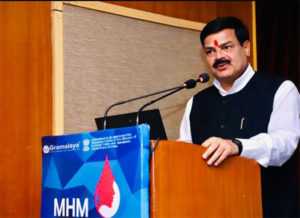 The earth is wounded and in deep agony. It has always supported humans with everything they needed. And now it cries uncontrollably over the betrayal by her sons and daughters.
As said, painful prayers are always addressed and so was done. The Almighty answered the prayers of mother earth and many saviors of this unconditional nourishment came to save it. One such personality is Prof. Bindu Bhushan Dubey.
The national president of Akhil Bharatiya Shanti Pratishthan- Bindu Bhushan Dubey has surrendered himself completely to the care of an injured mother Earth. When asked upon the reason he chose to volunteer for this issue, he calmly explained the depth of the matter. He explains how safeguarding the environment may seem to be a smaller issue, but it is painful to realize the amount of damage we have already done to it. It is often frightening to imagine the future if we keep harming our kind mother earth. In his own words- "It is a matter of lives and deaths for many".
Bindu believes that the human body embodies five elements- Jeev, Jagat, Jal, Jameen, Jangal. He cites how the existence of all these elements of which the human body is made of lies amidst a crisis. They form every bit of us and us humans owing to our selfish ambitions tend to lose it for eternity. The divine powers are the only force capable of blossoming these elements. Being humans, all we can do is to preserve these magnificent, life-sponsoring creations of God.
The effect of greedy human pursuits has always stabbed mother earth. It lost 80 percent of its birds owing to an experiment on phone radiations. The human population has extremely self-centered motives which have made them incessantly sacrifice so many innocent creatures. They have disrupted the normalcy of earth as their own population continues to rise exponentially. As said by Bindu Bhushan Dubey, one of the heaviest burdens on the mother earth is the Population Explosion.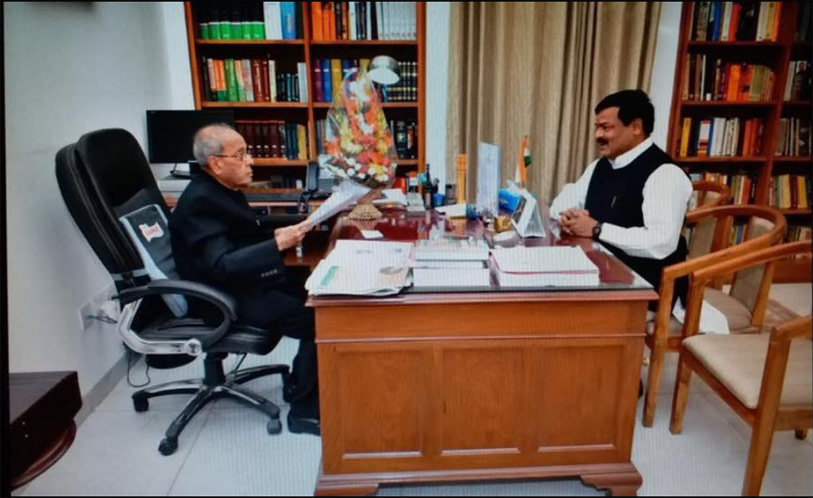 There have been instances where people reject the need to safeguard the environment citing statements like, "The mother earth revives itself". Bindu Bhushan explains that the process of revival of the spirit of the earth is slow. This slow resurgence of mother earth requires our aid to cope up with its fast exploitation by humans in the name of development and this is why we need to protect the environment. While we claim to plant one tree against every one tree felled for construction, Bindu is critical about the care for the saplings planted. He has even suggested to the Indian Government that they need to add a compulsive value of planting trees in the curriculum of the Indian Education system- a student must plant a tree every year and take due care of them. Taking care of mother earth needs to be our duty.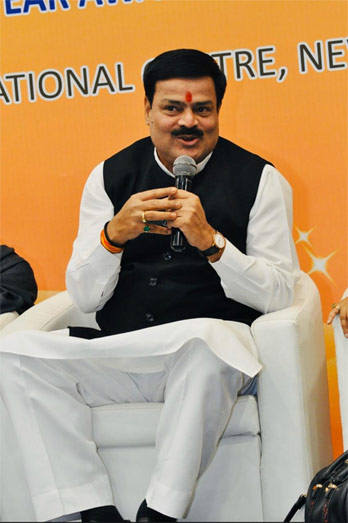 Hailing from the land of talented people- Ranchi, 45-year-old Mr. Dubey valiantly states his objectives as "Swachh Bharat (Clean India) Swasth Bharat (Healthy India) Samriddh Bharat (Green and Prosperous India) Samarth Bharat (Competent India)." He appreciates the role of government in bringing to light the previously ignored issue of national cleanliness. It was after the healthy intervention of government that people began respecting the cleanliness of the country and striving towards a clean nation. Admiring the Clean India Mission or The Swachh Bharat Abhiyaan, he proudly describes the wave of consciousness towards cleanliness amongst the citizens, even younger generations. They know that cleanliness is next to godliness. He is even National Campaigner of Clean India Mission launched by Hon'ble Shri Narendra Modi Prime Minister of India. His devotion and keenness for the Mission is commendable and admired across the country at various forums and by several eminent personalities.
A spiritual leader and a motivational speaker Mr. Dubey have strived to serve mother earth in every possible way out. A psychological healer Mr. Dubey has conducted more than 700 workshops pan-India and in neighboring countries of India on global warming, environment conservation, cleanliness. Polluted Ganga always took a toll on his happiness and so, determined Mr. Dubey conducted field programs for Clean India and Clean Ganga mission; environment protection and development; plantation and plant protection. Mr. Dubey always focuses on inner cleanliness, bold character, and disciplined life. He has acquired commendable admiration all over the world. He was invited as Guest of Honour to express on the issue of "Stop Domestic Violence against Women" by an organization named "Inspiring Women of India". His co-guest of honor was Miss. Mariam Islamdast Mayor of Camden, London
Mr. Dubey left no stone unturned in serving the mother earth. He visited London for 10 days upon invitation to address seminars on conservation of mother earth like the "Save Mother Earth" program. Mr. Dubey held a conference on "Clean Ganga Mission" and change of climate and discussed the issue of climate change with dignitaries like- Chairman of Vedanta group Shri Anil Aggrawal, chairman of "All Ladies League England" Miss. Krishna, Mr. Shaunaka Rishi Das, Director of "The Oxford Centre for Hindu Studies", to name a few.
Mr. Bindu Bhushan Dubey addresses himself as a spiritual speaker and believes that the environmental issues are not just to be handled at the public level but also at the administrative level i.e. consciousness among the people is essential but even more essential is the love of government towards nature. In his own words- "Every citizen of the society should create an example before the people by planting saplings", the saplings would eventually blossom into trees.
Mr. Dubey proudly cites his never-changing agenda that to restore the beautiful smile of mother earth, each and every citizen must acknowledge the environmental issue right away. He aims to initiate a public revolution for the safeguarding of mother earth, to save humanity from the glitches of the water crisis. He was bestowed with the honor of "Unsung hero" by Gramalaya a pioneer and renowned non-governmental organization in the field of water, sanitation, and hygiene working since 1987. The organization also appointed him as his brand ambassador.
A devotee of mother earth, Mr. Dubey, wishes to organize 5th Mahakumbh (Pancham Mahakumbha) on the bank of the sacred Ganga River. The Mahakumbh as he strives to invite representatives of more than 200 countries across the globe at Vikramshila University, Bhagalpur, Bihar- against global warming and climate change. He aspires to organize regular Maha Kumbh to snatch away the life of mother earth from glitches of drastic environmental changes. 'Snatch' away since it is already too late and these few years are like the last opportunity in our hands until we lose this beautiful home of ours, these beautiful creatures who make it alive, forever.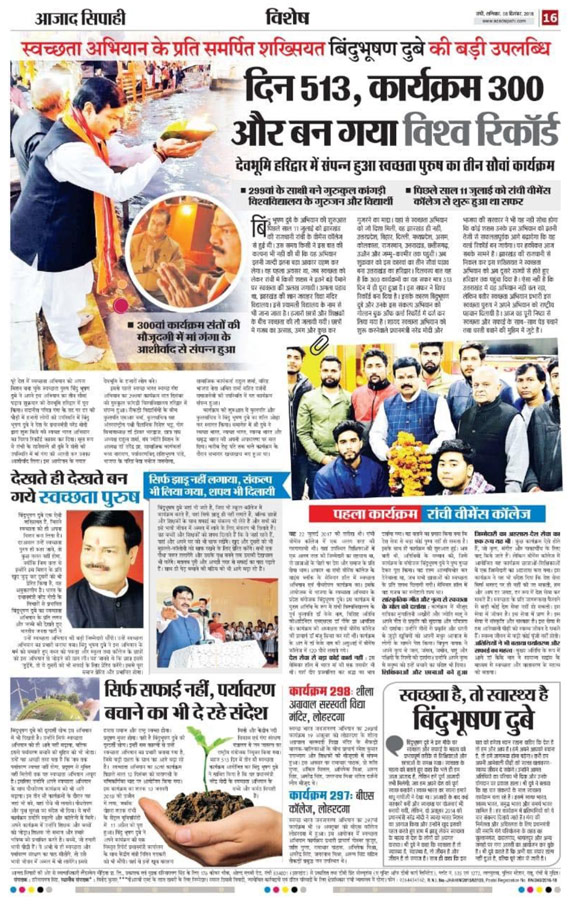 A person of generosity and substance, Mr. Dubey has great valorous initiatives to his credit. Development and environmental balance take opposite roads. Standing up for the environment when we have most of the intellectuals in favor of development is something courageous. People label such personalities as mentally unwell, but Mr. Dubey was valiant enough to pursue his dream of happy mother earth and prosperous India. He has strived to achieve environmental safety in every possible field this is what makes him a great environmental leader with impressively perspicacious solutions for environmental problems.
With people like this at work, the earth must be hopeful of its survival and rejuvenation. Probably this winter of carelessness will leave soon and spring will mildly knock on our doors and earth will blossom like a cherry blossom, laugh like a beautiful lady. It would be a birth of new power, energy, and liveliness on earth.
Md Danish Arman
Email: – md.danisharman00@gmail.com
Mobile: – +91-7982158119
Current location: – New Delhi
Contribute to Story Of Souls, which is an initiative where we invite people to share their stories with us. We want people to "write to heal." It is genuinely an Online Platform where you can share your real-life stories.
Please follow and like us:
Our Rating for this Story