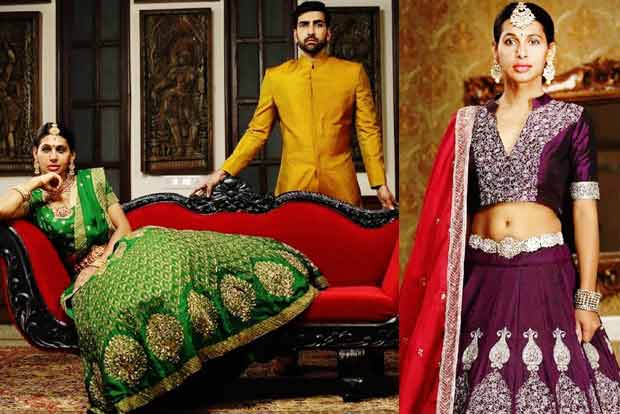 From A Techie At Amazon.com To A Fashion Designer, This Trans-woman Is Making A Difference!
In a country where trans-genders are shunned away, left behind and treated as belonging to a different world, this trans-woman, with her venture has not only carved a niche for herself but is also providing a secure livelihood, respect and acceptance to others like her.
Born and brought up in Coimbatore, Tamil Nadu, Samyuktha Vijayan had a loving childhood. She was the apple of her parents' eyes, and everyone loved her for the person she was. As a child, Samyuktha loved dressing up in her mother's saree and would spend hours adoring herself in front of the mirror. She is also trained professionally in Bharatnatyam.
For her parents, their daughter meant everything, and the demeaning society didn't matter. Her parents were supportive and gave her the space to do whatever she wished to. "I never had to suppress any feelings about my being a girl, because I was allowed to wear makeup and dress the way I wanted. Throughout my childhood, I was free to be myself," Samyuktha recalls.
Samyuktha grew up acing her academics and bagged a spot in a renowned private engineering college. Amidst all that she was doing for herself, some people would taunt her and pass snide remarks. But they couldn't get to her. Her parents had moulded her into a strong woman, and no one could bring down her morale.
Soon after completing her graduation, in 2012, Samyuktha landed up in a job with techie giant, Amazon. After working for some time, she got the offer to move to Luxembourg on the job. That's when a fresh chapter in Samyuktha's story took shape. She spread her wings and flew to a new world. Samyuktha witnessed a society that was more rational and organized than the one back home.
In 2014, she travelled to the United Kingdom, and a year later, she moved to the United States. While working in Seattle, she became friends with a lot of trans-genders. The community welcomed her with open arms, and the kind of acceptance she received was fantastic! LGBTQ+ communities were common in America, but it was something way too unreal for us Indians. Samyuktha felt at home as a member of the community. She had a support system of people who were there for her through thick and thin. The community encouraged honest self-expression, which meant she could be the person she was! It was like she had a new life as if she had started breathing all over again.
With her friends' assurance and continuous support, Samyuktha decided to take another step forward. She made up her mind and transitioned medically. It was tough, but as her friends had her back, she pulled through and had a steady recovery.
While Samyuktha has an excellent support system of people who valued her more than her sexuality, others were not so fortunate. Struck by this thought, Samyuktha returned home to give all that she had received back to her community. That's how TouteStudio was born – a Studio by Trans-woman.
Samyuktha's brainchild, TouteStudio is a fashion wear boutique in Bengaluru. The trans-women run it.  The boutique specializes in Indian wedding wear that Samyuktha design herself! She has brought home a concept that no one has heard before. Back in the States, Samyuktha had come across an American brand called 'Rent The Runway' based on the lines of circular fashion. Here, clients could get their favorite dresses on rent and return them after using them for the occasion. Following the footsteps, Samyuktha felt that circular fashion is precisely what the Indian fashion industry needed too.
Every year, people spend hefty amounts of money on buying wedding wear that they wear only once.  and shoved deep into the wardrobe or thrown out and never worn again. It contributes to gross environmental chaos. With this in mind, Samyuktha found it worthwhile to give this unique idea a shot! Born in February 2019, TouteStudio gleefully provides employment and a way to other transwomen and transmen to lead a dignified life. Called karigars, some employees even have no prior experience in fashion but work together to make ends meet.
With her parents' and friends' unconditional support, this trans-woman did what she wanted to. She lent a deaf ear to all the negativity around her, stood on her own feet, and even created a safe space for those like her so that they could live a life of respect. Rising in a land where people rampantly discriminate against the transgender community, Samyuktha fought the adversity right in the face! With women like Samyuktha making a difference every single day, a brighter, happier, and more sensitive world is not very far from reality!
Writer:
Kavya Mukhija is a student of Psychology, a writer, a calligraphy artist, and a creative content creator. She loves traveling and exploring new places. Always dressed with a smile, she considers spreading happiness a good deed. Last and the least, she is a woman with a disability who believes that more than the disability, it is the negative perception towards 'disability' which is actually disabling.
Contribute to Story Of Souls, which is an initiative where we invite people to share their stories with us. We want people to "write to heal." It is genuinely an Online Platform where you can share your real-life stories.
Please follow and like us:
Our Rating for this Story