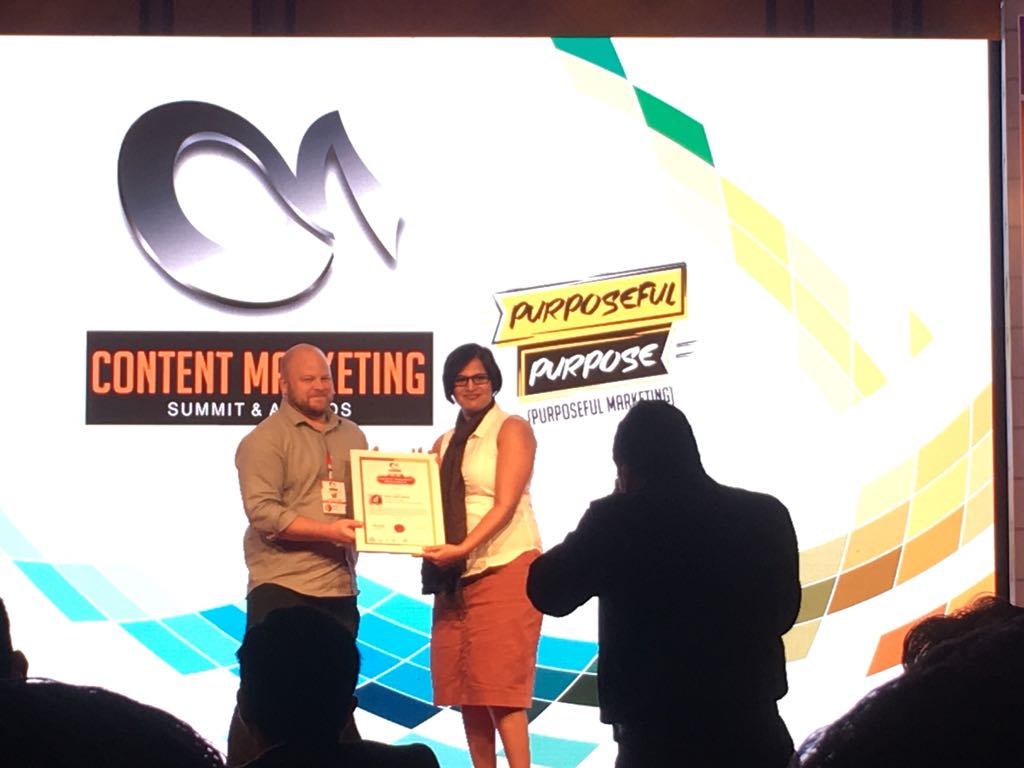 "Content is the King!" This phrase has been repeated umpteenth times since it was first coined, or to be more precise- unintentionally popularized by The Software giant Bill Gates a few decades back. However, writing is a perfect blend of ability, art, and even a bit of science (in this age of digital content and ethical SEO). You not only have to know how to string different words together but also have to be apt at presenting your original thoughts in the persuasive and convincing language. Today, we are going to share the story of one such Self-made woman contentpreneur Payal shah Karwa of The Word Jockey.
Today, many writers- even the good ones- are struggling to earn an excellent, consistent income without compromising their quality of work-life balance. But some people are so determined and well-planned that they can gain a legendary or inspirational position without compromising on any artistic pursuits or practical aspects of life. Today we are presenting an interview of one such content writer who has not only succeeded in offering the best to her clients but at the same time, she has also continuously progressed to achieve the illustrious position today. A precise term to describe her would be a successful self-made woman content entrepreneur.
The occasion is perfectly apt for the interview as she has recently received an award for being recognized as one of the 50 most influential content marketing professionals! Her name is Payal Shah Karwa- successful self-made woman content entrepreneur:
How does it take you to feel to get such a covetous award- among 50 most influential content marketing professionals?
Oh, yes, I am happy and encouraged! It did come as a surprise, but I consider it an incentive to do better and achieve more milestones. Never to rest until one has created immense value through their passion for content creation.
You offer a wide variety of content services right from content solutions until award entries, publishing films, and movies.  What does it take to monitor and manage such a diverse array of content?
I feel that content is a multiverse, not a universe of opportunities. We did not want to restrict ourselves to just one kind of content – like digital or videos only. However, it is challenging to manage and monitor a variety of projects, especially if there are multiple projects at a time. But the one thing it takes to achieve it well is teamwork. If we have a good team, an eye of quality, and conducive work culture, then we do manage to deliver well.
What are the challenges or obstacles you have faced while setting up your concern? What keeps you going?
One of the biggest challenges when setting up on your own is bootstrapping. We did not have an investor or a bank balance to start the project. All we had was our talent, decent network, and a passion for creating content (plus our laptops with wi-fi connection). Gradually, with projects coming in, when our profitability increased, we set up a small team, which again was a big challenge. Finding writers is easy, but finding good quality writers with a flair for telling stories or being precise is not as simple. But gradually, with a little bit of luck, we managed to find good people, and we are trying to consolidate now.
My love for creative content keeps me going, and I hope it carries me through this journey.
Can you tell us more about your partnership with Penguin?
We cannot say it's a partnership, but we do help brands or businesses in custom publishing or creating non-fiction content for their custom publishing department as and when required. It's not a regular stint, but we do provide the service for those who would like to avail it.
You also offer training. How difficult do you think it is possible to help someone learn content writing?  What are the parameters to choose the people who make the ideal candidate do you believe that one can teach content writing?
Well, writing is not just a skill, but also a talent. One can have impeccable grammar and Tharoor-like vocabulary, but the flair of using these skills well comes naturally. It is unique to the writer. E.g., Salman Rushdie cannot, and should not write like Ruskin Bond. So also, one can teach the technical nuances of content writing, like tone, grammar, vocabulary. But you cannot acquire talent. The thinking process and the style is something a person is born with, so I believe we cannot 'teach' someone to write as it is an intangible thing, but yes, we can guide one to write well.
To be an ideal candidate to learn content writing, firstly, one needs to have excellent language skills. Secondly, they must be adaptive to different types of content, must be well-read, interested in a variety of hobbies, and have a slight creative bent of mind. Content is very different in today's era. Engaging content is a must. Hence it's not enough to be a content writer nowadays, and you need to be an 'interesting' writer as well.
How has your experience with Ogilvy and Mather helped you in becoming a successful content marketer?
My stint at O&M certainly exposed me to the best brand communication, best people in the industry and raised the bar for me, in terms of creativity
How do you maintain a work-life balance?
My family, my kids are now my priority. Of course, when work comes calling, you need to deliver also. So sometimes it's one above the other, depending on what needs my attention first. I say one should take it as it comes.
Starting on my own was a conscious choice because agency life does not always allow an excellent personal experience. And I was sure I wanted to be there for my kids. That's how we will raise good future generations. So I setup TWJ along with my partner Sapna, who is also a young Mom and a fantastic person who believes in similar values.
The other good thing is, technology is a boon, and hence it does not require us to be physically present all the time at our offices. When needed, we work from home as well, or I wind up early, reach home, spend time with kids, and continue working till late into the night after they have slept.
The other tip is, we have ensured Flexi-timings at work, yet quick turnaround times for our clients so we can maintain a professional and personal life.
Is there any content expert that influences you and drives you to deliver your best? If yes, what do you like most about them?
The advertising genius, Piyush Pandey, is that one person who inspires creativity in me. His writing is so simple, yet so beautiful. But I haven't met an excellent individual in the field of content writing. However, when it comes to pure entertainment content, there are a plethora of writers in Hollywood like Chuck Lorre who have created path-breaking TV content like Big Bang Theory and Two and a Half Men. I wonder how he does it.
How do you see content marketing evolving in the next five years, and what will be the upcoming challenges for future content marketers?
Content Marketing is a trend, but I hope it becomes a mainstream form of marketing soon. The numbers are showing a positive trend, and brands are interested in publishing their content or generating branded content for marketing.
The challenge for content marketers is going to be able to create/find quality content, which is severely lacking in the industry. Firstly, marketers are not as creative or bold. They follow trends but do not make their own. They still are spending cores on making the ads, but not on content. Wonder what stops them from making 30 seconds of believable content on the same TV channel, rather than a celeb-led capsule of glossy boring commercials?
Hence the content marketers' challenge is going to be convincing old-time marketers to switch to content.
Secondly, pushing new exciting ideas to the brand managers is a pain – as the brand guys are usually too cautious and reluctant to interesting / out-of-the-box ideas.
Budgets are an issue because marketers still don't see content as a replacement for advertising.
SEO is an integral part of digital content. How do you manage to strike a balance between creativity and SEO while writing the digital content?
Unlike a decade ago, in today's era, SEO is integral, but not critical. Google says that not me J Good content, which is value-add comes first, and we add the right SEO in just the right amount to ensure it is easily searchable. We go by what our digital experts guide us.
What is your advice to the small business and status who cannot afford a dedicated periodical budget for the content strategy? How can they compete against their more prominent players?
Hire a freelancer who charges a small amount but do it right
Ask your team to learn, brainstorm and do it together
There are online resources that can help schedule your content like the Hoot suite. You can also use online resources to create DIY content. But the thinking needs to be original and customized as per your brand's requirement.
What are the significant differences that you found between B2C and B2B content marketing? How difficult is it to keep your creativity intact while working on b2b content strategy?
B2B is more businesslike and to the point, whereas B2C can get more creative. The distribution and marketing channels will also be different. E.g., for B2C, you can use channels like Instagram and Facebook, but for B2B, Linkedin would be a better platform.
Similarly, one needs to figure out the right digital publishing platforms or portals which are relevant to each of your target audiences.
Every day we see social media full of shares, likes, and comments on tons of worthless content. Do you think that the practice of content marketing strategy has replaced quality with quantity? How do you manage to keep the quality intact without compromising with the marketing part (that needs prompt action)?
Yes, people forget to focus on the 'content' in content marketing. They worry more about the distribution and sharing numbers rather than shareability.
Decent budgets, the right content agency/creators, and sufficient timings are imperative to ensure quality content. What's also is most important is to get the right thinkers and writers to generate a great content campaign. Moreover, clients should focus on the ideas and thinking that the agency is offering instead of price. It's a mindset issue that needs change if brands are going to be serious about the quality of content.
Are there any brands in your opinion that can teach the industry a thing or two about content marketing??
There are not many that come to my mind. Ixigo does, to some extent, and that is the genius of Aashish Chopra, who has set an example of the fun, digital-adaptable content. Most are just good looking videos, which are short term replacement for ads. Maybe due to highly fragmented media, I have missed some good campaigns. But no content marketing campaign comes to my mind, which I have seen and liked.
What advice would you like to give to the aspiring content strategist?
Be original; keep creating great content which adds value to the consumer. Focus on storytelling because good content will never fail. Numbers are significant, but the most important is your consumer for whom you are making that content. Define your TG and then check what your consumer would need in terms of content for that brand. Storyteller your content, even if it's educational.
Right now, most people are still focusing on how to make the brand look good with emotional videos and cause-advertising. But, there's much more to content than that. E.g., if you were an elevator brand, what kind of content would you create which is fun yet valuable? Maybe stories around the 'Liftman,' things you hear in an elevator, safety instructions while traveling in an elevator, how to call for an elevator etc…in this case, anyone and everyone can be your TG – so you have a vast playground to cover.
Author Bio
Jitendra is a multifaceted freelance writer, a peaceful soul who spends most of his time reading and writing. He considers and respects writing as a meditative technique to get rid of negative thoughts and stress. His favorite niches include history, travel, lifestyle, and technology. An introvert and keen history buff, he likes visiting in abandoned forts and small, sleepy cities. He also loves traversing the labyrinths of old literature, listening to soul-stirring classical instrumental music, and making friends with animals.
Our Rating for this Story