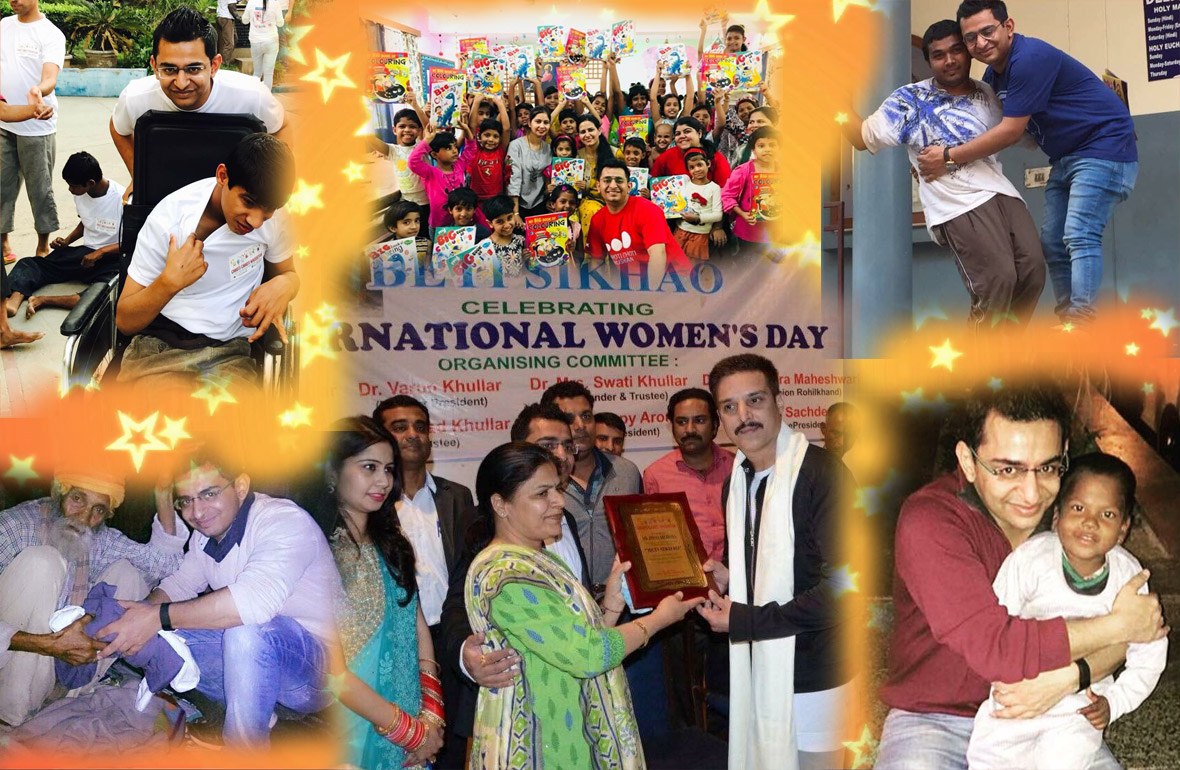 Chhoti Chhoti Khushiyan foundation is an awakening. By means of spreading small joys and worthwhile happiness to people who have been deprived of it.
A smile comes on the faces of those who haven't tasted a simple pizza or haven't been to a good school or restaurant or haven't ridden a simple bicycle or doesn't have the luxury to wear the good clothes. Small joys never happened for them because they were born into a family less fortunate than ours. It's a simple start to make all this happen and to change the view of people towards the less fortunate and make them come forward by encouraging them to make a difference in their lives by making them learn the art of giving!! Read this motivational story about an NGO working for the cause of orphaned and crippled children by offering them time, efforts, love and gifts to bring bacl their joy!
Commencement
CCK started in September 2015 by me (Dr. Varun Khullar)  with small efforts in Bareilly and got extended in Delhi and NCR. Our volunteers took care of the activities in Lucknow, Allahabad, Kanpur, and Pathankot. The founding team comprises of his mother, the chairperson of this foundation, Mrs. Meena Khullar, his brother – Sharad Khullar, his father  – Mr. J K Khullar and his wife –  Mrs. Swati Arora Khullar along with special mention to many volunteers working selflessly in various cities.
Background
We stepped into an orphanage in early September 2015  and interacted with the kids there and asked for their wishes and what all they want in life. One of them stood up and said, "no one ever celebrated our birthdays…". That sentence touched my heart and at that very moment, I made the list of all the 73 kids there with their birthdays noted down. We started celebrating one by one, the journey still continues.
As I carried on with these celebrations,  I realized that there are many who don't even have clothes and proper education or usual nutritional facilities as the kids in the orphanage luckily had. Then, I shifted my focus to help more needy kids.
Events like "your old in their new", where we collect used stuff from good families and distribute among the village children and the needy ones. The distribution of stationery to needy children, giving girl child education and getting village girls admitted to schools by encouraging their parents. Many more projects were taken like these and seeing the efforts people started to get attached.
Today we are a successful team of young individuals led by me from different fields who look forward to creating events which will help the needy kids immensely.
Old Age Home
We never forget what our elders have done for us. They taught us to walk, eat and made us stand on our feet. But, young people today tend to throw their parents into old age homes.
We got ourselves attached to such old age homes and started spending time with the people who don't need money or food or new clothes but they just need our time.
My aim is to guide youth and help them change their mindset of silent charity and come forward and help those who need us.
"Chhoti chhoti khushiyan subko achi lagti hain…." (Everyone likes small joys)
Work Initiatives
We are working on many work initiatives and here is the list :
"Your old is their new": Distribution of stationery to less fortunate in government schools which have poor facilities.
The Girl education Program by encouraging their parents to make them learn the importance of their daughter's studies.
The free health camps and medications for villages, orphanages and old age homes.
We target renovation of old age homes and blanket distribution drives.
We have adopted village Bhuta near Bareilly and we perform regular celebrations of the festivals with the names like DILWALO KI DIWALI AND JINGLE BELLS.
We are planning to extend new ventures soon.
Challenges
The biggest challenge was that people in India still believe in the concept of silent charity. We say "Ek haath se do to dusre ko pata na chale" (Do charity from the right hand and left hand should not know about.)
But what I believe is It's no harm in putting it on social media and what good we have done for the poor and needy has to be shown. If I wouldn't have done it, then how would people around me get inspired? Would I able to encourage so many around me?
The mindset of most people still remains the same but I believe the ones with me have the heart to make that difference and gradually one-day people will understand what we are trying to do.
Funds Management
I'm still a student so I save up to 80 percent of my stipend to carry out such activities and some help comes in because of the events. We have to manage without funding. Recently, the crowdfunding sites have really helped a lot to carry out some big events which required funding.
Responses
Not many people supported the idea at first. They felt it was more like a show off of my charitable activities. But, I have a bad habit of not listening to people when I am certain of something is good. My approach still hasn't altered much. I have found few people who supported my views. Things are getting better day by day for us now.
Bestow time & Impact
Well, in my opinion, most of the NGOs in our country focus on donations whereas we took it as a different thing altogether. We are focusing on spending precious time with old people who were left behind by their own kids. If you can make an orphan celebrate his birthday or talk to old people, these small joys offer immense happiness and care.
Yes, donations are important but our primary focus is not money. We encourage youth to manage without funds. The contribution of a certain amount from earnings help many who need it more than us. We believe in making them do themselves or else how would you understand the importance of helping someone in person. Donating charity while booking a movie just increase instant gratification but doesn't give the real happiness.
Many people are impacted by our drives. We never counted the people. We remember so many happy faces, thank you notes and words of praise. These small appreciations inspire us to keep doing our best.
Future Prospects
I have started all this for my mother. For my better growth,  she had left her job and dreams back in 2001. It's because of her today I'm a doctor. So, the future plan is to make her dream come true. She always wanted to have her own school where she could help as many needy kids as possible. I remember her always telling me that "the girls of this country are not treated well my son and one day I expect you to change that scenario". So, my aim remains to start the dream school for my mother, so that she could provide free of cost education to underprivileged kids.
Being a doctor, my aim is to encourage the better health of people. So, I started arranging free Health Camps and we provide free medications for the poor.  By God's grace, we are helping many people.
Our Rating for this Story