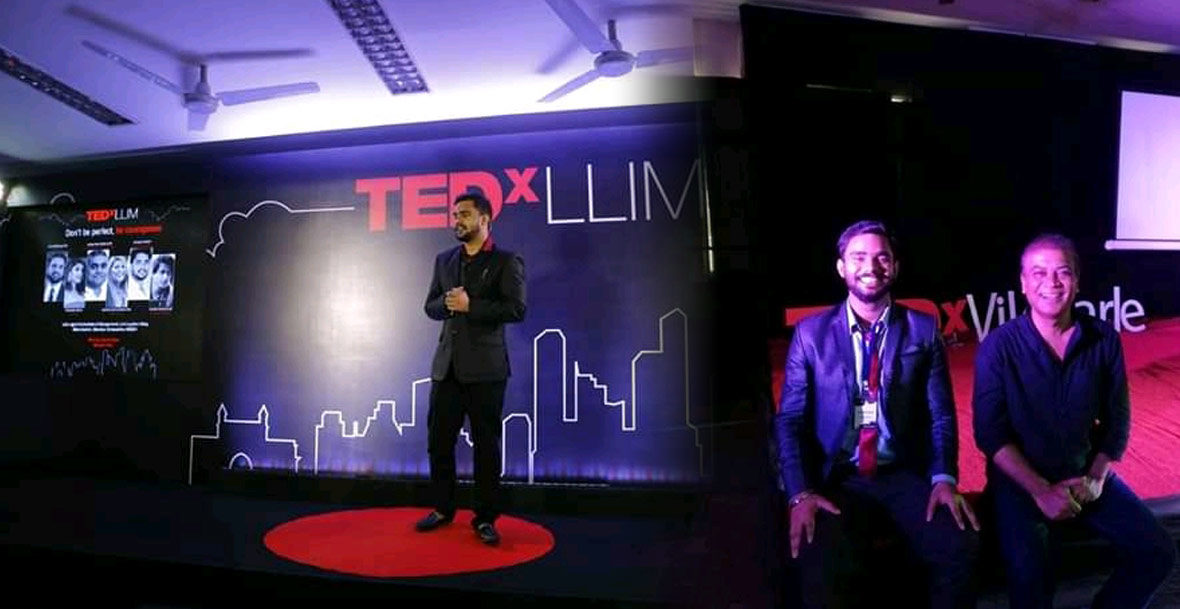 Ankush Tiwari, 25 years old, a Senior Software Engineer in an MNC, a Writer, a Poet, an Author and a founder of a literary community known as "Chand Ka Tukda". Being a literature enthusiast, he has been featured by various literary platforms and colleges including IIMs, TEDx, and Wittyfeed and delivered his TEDx speech in TEDx LLIM, Mumbai. Here he explains how courage is a savior of dreams and being imperfect encouraged him to fight furiously at every step of life. Let us know more about Ankush Tiwari Hindi Poet, Author performer, and TEDx speaker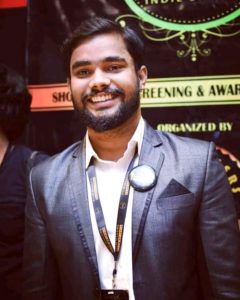 Introduction
His life journey gives hope to people to move forward and never give up. He belonged to a lower middle class. He always either ignored or made something up whenever asked about his parents'  occupation neither in his school life nor in work life. Nobody knows about his personal struggles or the fact what the financial setback does to you. Another courageous act of vulnerability is to disclose the most guarded secret here on this online platform  "
www.storyofsouls.com
".Today, his persona gives him enough pride to open up about his humble beginnings and let the emotions flow.
Family Background
His father is a security guard and his mother runs a small tailoring business from home for the last 30 years in Delhi. They had moved from a small village of UP to Delhi. due to lack of education, it was very difficult for them to find a good job with handsome salary. So, his father started doing a job with Rs. 13 /day with the uncertainty that might be he won't get paid the next day. They lived in a 150 square feet room for many years. Due to lack of money, His mother also started working in a local private school as a nanny to take care of the school kids.
Childhood situations
At the age of 6, Ankush was diagnosed with pneumonia and jaundice simultaneously. As per the financial condition, his parents took him to a government hospital where doctors refused to admit as the situation was critical. If something went wrong then they would be blamed and advised his parents to go to PRIVATE Hospital, without delay. They reached a private hospital, they had to deposit  Rs 2500 for treatment and medicines.
 At that time total earning of my family was Rs 500 rupees/month with 5 dependent members on that money, me, two of my elder sisters and my parents. The conditions were tough which brought the tougher face of his mother which rescued his life.
She borrowed the money from a lady running a tailoring factory near his house. In return of Rs 4500, she agreed to sign the contract for 1 year with the lady. The lady knew her as a nanny in the school where her son also studied so she trusted and helped. Though, Ankush's mother only studied till 3rd std, as her parents passed away and she got married at the young age of 14 years. But She made sure that Ankush returned from the door of death and she did all the best that she could to save her son from that critical condition. It was none other than his mother who became the savior, her courage to fight against the odds and her attitude of never giving up. As a mother can never let her son suffer and her presence of mind did the much needed at that moment of time.
It took around 4 years to clear all the debt and start saving for future goals. Sometimes family had to satisfy with one meal and sometimes there was no meal for the next day. Survival was tough in the face of poverty. The critical 4 years were endured by each family member.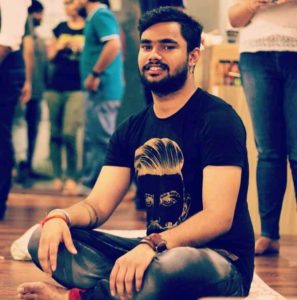 He turned to became Befriend "Raddiwala"
Since childhood, Ankush was an avid reader. He was fond of reading Hindi stories to an extent that even while traveling somewhere he carried at least one storybook along with him. To read more books, money was needed, which was not an option to ask. The solution was to befriend "Raddiwala"  i.e. a scrap collector. He struck a deal with Ankush to give him a book every week with a charge of Rs 3 per week with the exchange of books. This was the library created to pursue the hobby.
Ankush did schooling from a government school, till 5th standard with free school uniform and books. With 6th standard, he shifted to a higher secondary school which was 5kms away from his home. He walked 10 km daily to reach school and come back. Now, the books were not free so the rescuer was the created library called raddiwala. He provided the books at the 1/10th price. If books were damaged then books were taken from teachers or friends in order to continue the studies. Resources were limited but will be not. Ankush started giving tuitions from 10th std to manage daily expenses.
Take Away lessons
Winning must not be the final destination but holding the courage to continue fighting is, and sufferings help us to shine like the sun. So you have two choices, either consider the current situation as the final destination and relax or make new destinations and keep fighting with the odds. Remember one thing If we are born deprived it's alright, absolutely fine there is nothing to worry about but if die deprived then there was no meaning of our lives.
Circumstances have tried to pull me back saying, you can't, you won't and you are not capable enough. Time to time he had faced sudden extreme nudges from disappointments, but all that while I had become a deaf frog towards all the problems and considered that these nuisances are actually trying to encourage me.
Along with all the emotional baggage(s) he decided to move on…
Now, it was time to pursue engineering, high fees were always the issue.
With every problem, another solution has to be ready and this time it was a scholarship. With the scholarship, some more money was needed for which loan had to be taken.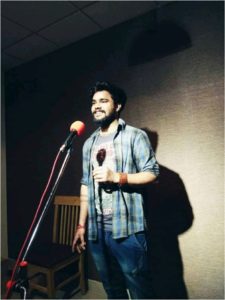 Felt too shy to share his family details
With all the hardship and financial distress made him inferior and the feeling never left. Ankush was too afraid to disclose about the occupations of parents. People would bully him and he was not ready to become a laughing stock. The fear was enough to push into isolation hole. He avoided general gatherings, movie outings, and parties so that nobody asks him about his detail of his family and he hated to lie. All the gatherings needed a contribution was also a burden on him where scholarship is not enough how the party contributions were never justified. He spent his time studying in the library, interacting with professors and visualizing a bright enriched future.
And here comes the sunshine his way…
The isolation gave wings to the imagination leading to writing regularly secretly. Nobody knew in college or any friend circle that he wrote. At the end of engineering, he bagged 6 job offers and made his parents smile proudly. As the job came, it infused more confidence. Ankush started to write openly about his poems and positive feedback from all encouraged him to write more and more. He started receiving appreciation from the various Social Media platforms, views started increasing, and recognition made him a familiar face. With all this publicity a publisher contacted him to discuss further.
Ankush contacted the publisher and shared the details of the book. The book was published in June 2018.
He is invited to perform as a guest Poet in TEDx VileParle too. He performs on various topics/subjects such social issues such as exploitation, corruption, Menta Health awareness, women empowerment, good touch and bad touch (An awareness campaign through poetry to let children know what is a good touch and what is a bad touch to protect themselves), awareness about menstruation, Beauty, Nature by writing in various genre e.g. Slam poetry, Spoken Word Poetry, Ghazal, Shayari, Muktak, Dohe etc. to make my message interesting for the audience.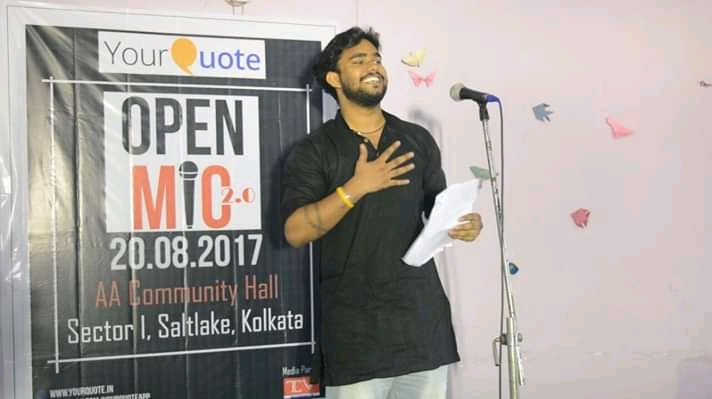 जब अँधेरा लगे तो खुद को जला लो,
दर्द दिल में चुभे तो खुद को हँसा लो,
तुम मुसीबत हो और हल भी तुम ही हो,
जैसे ही आस दिखे खुद को उठा लो,
गला है कोई दुश्मन नहीं है तुम्हारा,
अगर रोना आए तो थोड़ा सा गा लो,
डर लगने लगे हक़ीक़त-ए-दास्ताँ से तो,
थोड़ा खुद से झूठ बोलो थोड़ा छुपा लो,
ये ज़िन्दगी है इसका काम रवाँ रहना है,
जब भी मौका मिले इसे सीने से लगा लो।
Nor financial condition neither parents were favorable but Ankush defied the odds and achieved so much in such a young age. He never gave up and pursued a hobby and fought till his last breath to lead a better life.
Every obstacle tests hunger for your goal and prove to be an opportunity for winning. The struggle we face for every barrier makes you stronger and lessons learned from the struggle are unmatchable.  Life has taught him the value of keep trying and the consequences of "sheer dedication" can always turn dreams into reality. Listen to Ankush's TEDx Talk https://www.youtube.com/watch?v=Qy4-bukpzWw.
Today Ankush has performed/Hosted in almost 100 shows and judged many poetry competitions in colleges in various cities of India to date. He is a Poet/Writer, an Actor, an Activist, a Public Speaker as well as an Author of two books named "Khyalon ka Maikhana" and "Hadon ke paar bhi ek duniya hai" which are the anthologies consisting of 60+ Hindi Poetries and 100+ "Sher-o-Shayari".
His Poem says all about the significance of growing after going through despairs
**बुरे वक़्त का वक़्त**
पल दर पल गिर गिर के चलना आया है,
हमे ख़ाक में मिल कर महकना आया है।
गर्दिशों में सर पर किसी का हाथ न था,
थे कुछ झूठे वादे मगर किसी का साथ न था।
फ़क़त आँसुओं ने बहुत मजबूत बनाया है,
आख़िर बुरे वक़्त ने हमे जीना सिखाया है।
समय बेवफा होता है इस के लिए क्या रोना,
बे-इंतहा दर्द का दिल में रहना है दुआ होना।
रात एक पर्दा है और रौशनी की रुकावट है,
ग़म  की घटाओं से ज़िन्दगी में सजावट है।
ये पल जो काफ़िर हो चला है बीत जाएगा,
एक रोज़ खुशियों का भी सैलाब आएगा
थोड़ा सब्र रक्खो वो मंज़र जरूर आएगा,
जब हर मुरझाया हुआ फूल फिर से मुस्कुराएगा।
मेहनत करो आगे बढ़ो हिम्मत न हारना,
कुआँ प्यासे के पास खुद चल कर आएगा
राहों में कांटें देख कर कहीं रुक मत जाना
बुरे वक़्त के सामने बिल्कुल भी झुक मत जाना।
सीने की चिंगारी तुम्हारे जज़्बात में रहे,
परेशानियों से कह दो जरा औकात में रहे।
मौत को भी वापसी का रास्ता दिखाया है,
इच्छा शक्ति ने हर बिगड़ा काम बनाया है।
फ़क़त आँसुओं ने बहुत मजबूत बनाया है,
आख़िर बुरे वक़्त ने हमे जीना सिखाया है।
For shows and workshops, you can contact him on below social media handles,
Facebook:- @thetiwariankush
Instagram :- @thetiwariankush
Special Credits to – Deepti Chawla – Our Story Editor and compiler.
Our Rating for this Story