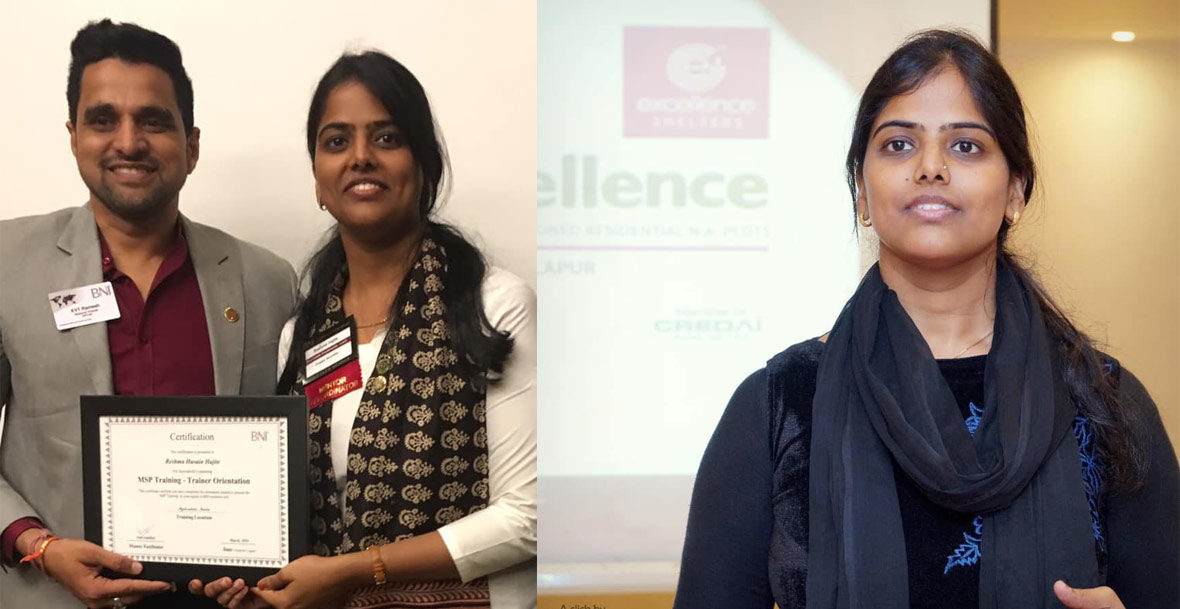 Time and again women have been breaking barriers and shattering stereotypes to make their presence felt. They are no longer confined to the four walls of their house. Rather, they're out in the field, working side by side with their male counterparts.
One such story of defying the set gender roles comes all the way from Pune. With an altruistic attitude, Reshma Hajite was driven by a desire to work for the betterment of society. She is among the founding members of the Excellence Group of Companies working in Real Estate. Not only this, her achievement is worth applauding for she has launched India's first online plot booking facility. However, it wasn't until after working a few years in the corporate world that she finally realized her deep-seated desire.
A graduate in Computers from the College of Engineering, Pune, Reshma bagged a job at Tata Consultancy Services soon after graduation, where she worked for 3 years. However, when she, along with Dr. Narendra Bharde founded the Dhyas Social  Foundation that's when she got her calling to work in the social sector.
Excellence Shelters Pvt. Ltd., and Excellence IT Solutions Pvt. Ltd, are the founding members' brainchildren. The former is based around providing legalized non-agricultural plots while the latter looks after ERP, Enterprise Resource Planning – a business management software and mobile applications. The business ventures have received staggering success and were well-accepted by people. Talking about how her dream becoming a reality, Hajite says, "None of us had any experience in real estate. So we started with land and surprisingly found huge success." Today, ESPL is present globally in more than seven countries, having sold close to a hundred lakh sq. ft. of residential plots. It is the only company in India whose ongoing projects have been rated by CRISIL, Credit Raging Information Services of India Limited.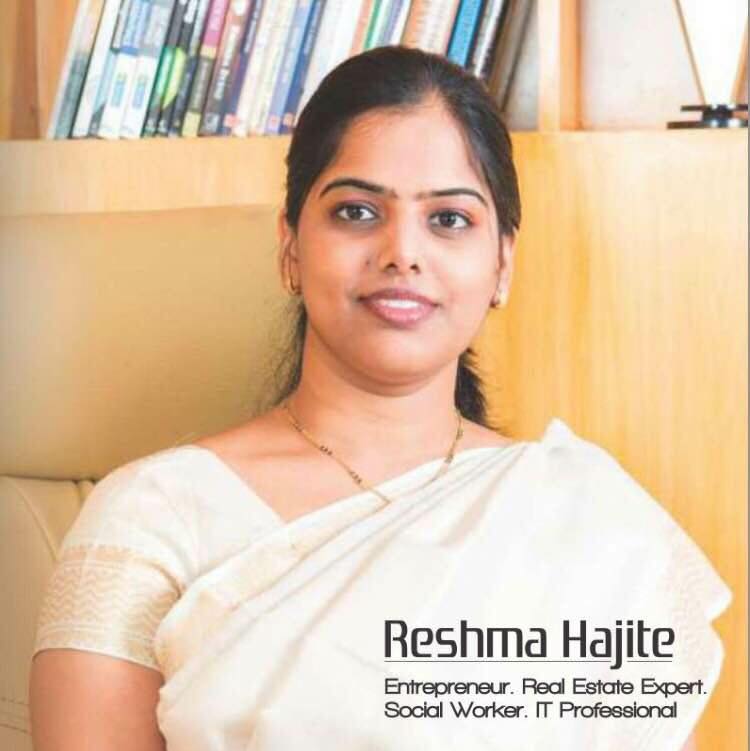 Setting her foot in a predominantly male profession was a challenge for Reshma. The clients were used to making the payment in cash so Reshma and team had to go about convincing them to accept the cheque payments. They also lost many important clients due to this. However, in due course of time, people became more familiar with white money and Reshma got their loyal customers back. The second critical point was about the legality of land. The buyers were unaware of the importance of registration and the legal process surrounding the purchase of non-agricultural plots. Even here, they had do educate them about the basic legalities to ensure a secure purchase.
Talking about her early days, Reshma says that her family was perplexed when they first heard her decision. Nobody had ever ventured into a business and Reshma's family wanted to ensure that she has a dependable source of livelihood. While her family's refusal was out of sheer care, there was a real estate agent who did everything he could to demotivate her. However, turning liabilities into assets is what she's known for and till date, she says, he's been the greatest source of inspiration for her.
Managing multiple companies can be pretty tiring but Reshma strikes an amazing balance between her personal and professional life. "I follow the 'sphere of silence', one hour of silence in the morning when I introspect on the day gone by, plan for the next, read a book that enhances my knowledge or inspires me, and pray for strength to overcome things that are beyond my control. This enables me to be in-charge of the situation," she says. An admirer of art, Reshma clears the clutter by binging on her favorite Marathi movies, writing poetry, and attending events, concerts and reality shows.
When someone's got your back, you can do even the impossible. That's exactly how Reshma's fate turned up for her. Even with absolutely no background in business, she carved a niche for herself. All this was only possible with her family's, including in-laws' constant, unconditional support. "They are my biggest strength," she beams with pride.
Having made its presence around the globe, ESPL has added quite a number of prestigious awards in its basket. Their 'Purple County' Project honored with a 5-star rating under her guidance. Recently, Mrs. Hajite was recognized by Rotary District 3131 Conference and was felicitated by the renowned Bollywood actor, Juhi Chawla. The award confirmed the company's position among the country's leading real estate companies. Reshma has been bestowed with the 'Manini' Award, 2016 by Rotary Club, Aundh. Dhyas Social Foundation has been awarded the 'Rayat Gaurav Puraskar', Mauli Puraskar and Abhivyakti for its work on the betterment of socially weaker sections.
The wonder woman, Reshma feels blessed to be born at a time when women professionals are welcomed with smiles and not suspicion, and their work is respected. She feels that choosing an uncommon profession is not a breeze, but there lies unfound happiness which penetrates within after serving the society. A contemporary, Reshma believes in equality between both men and women, and thus, her organization does not promote any women-centered policies. With a vision of a bright future, Reshma hopes to see more women entrepreneurs in the real estate. In order to serve her vision, she has flagged off a program called WIRE, Women In Real Estate to impart the know-how of the real estate business.
Our Story Teller & Editor: Kavya Mukhija
…Is a student of Psychology, a writer, a calligraphy artist, and a creative content creator. She loves traveling and exploring new places. Always dressed with a smile, she considers spreading happiness a good deed. Last and the least, she is a woman with a disability who believes that more than the disability, it is the negative perception towards 'disability' which is actually disabling.
Our Rating for this Story