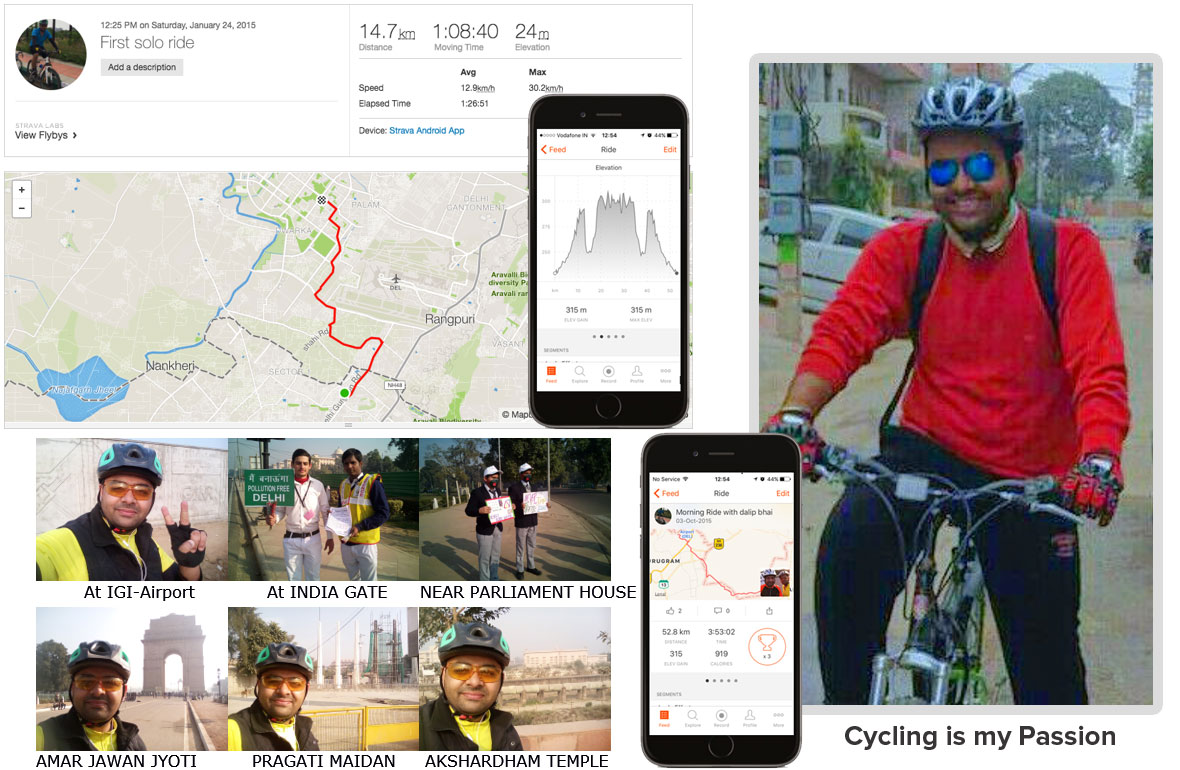 I got my first cycle in 7th std and loved cycling in the scorching heat of summer after getting back from school. I never left a chance of riding it. So I just try to awaken my cycle bug in 2015 when I moved to Gurgaon. My office was just 3Kms away so I brought cycle instead of the conventional petrol bike. To explore my stamina and interest; I didn't opt for the expensive one. I ordered Kross 26T K40 from Snapdeal which looked macho, with the steel frame and dual shockers, 18 gears (3 gears in the front, and 6 in the back) costs around 7K.Well to my wonder, the back pain which was awful from past year vanished after 2 weeks of cycling. I suffered from Osteophytes in the spine which causes back pain in prime 30s and is actually a disease of 40s.
I cycled daily for office commute around 6-8 Km and 15 Km over the weekends. Each ride in the mornings, made me feel like Hawk expanding wings and taking long flights in open skies and my lungs embracing the fresh breeze. And allows me to have "MY TIME". Cycling is like a meditation for me.
How the madness got severe
On one fine Saturday, I planned a solo and longer ride from Dwarka to Gurgaon, 15 km one side. It felt like a lot stretch for the first time. It was 25th January 2015; Obama visited the national capital for the Republic Day. India was ready to add another event in history and I was ready to test my endurance. I reached Dwarka in 1 hour 15 minutes, which is 10km/hr. like a snail on the ground. I took a lot of breaks and upon return,  my tailbone and inguen were aching severely. For lengthened cycling, one should use padded shorts to avoid hurting the significant groin area.
TIP IS: To evade severe pain from prolonged cycling, I bought all necessary accessories like padded shorts, BTWIN Jersey, gloves, sipper etc. from Decathlon. Next step was to join the riding group. Let's edge up!!
What you thought I will give up on my madness,,, Naah, it actually challenged me to push my limits further.
TIP IS: It is very important to ride with a group; support and morale get an instant boost. It was GFR-Gurgaon Fun Riders. Ten experienced cyclists will share ten different stories, and you will be weaving the 11th one.
Rides got limited to 30 Kms as dual frame cycle would drain all energy. Rear shocker gave enough bouncing to exhaust the body. It was a sign to upgrade the bicycle now!
Before the up gradation of the bike, I wanted to be sure whether I could do long rides. So, I decided to have the 53Km ride in October 2015 that means an average speed of 13.6 km/hr completed in 5 hours. Though I was totally exhausted after the ride but decided to upscale the bike. The madness and passion for cycling were increasing. I am not gonna stop dude!
The toughest decision – Which Bike
There are umpteen numbers of options for buying a bicycle and it was an eye opener. Basically, there are three types of bikes- Road Bikes, Hybrid Bikes and  MTB(Mountain Terrain Bikes). I wanted to go for an MTB, as it was more masculine with thick tires and strong frame hence fit for Indian roads.
It took a lot of research and finally landed up on Raleigh Terrain 10 with 26-inch wheel size. I bought the bike from Kamla Nagar Market and rode it back to my residence in Gurgaon covering around 41Kms. My bike seller was amusingly flabbergasted.
I rode 303.3 km in the same month of purchase of bike which is December 2015 and gained about 1039 meters of elevation.
My First Longest Ride
Political Events made my journey more memorable, I covered significant distances on these events, as the pollution rate is less, and the roads are sparsely dense. When Delhi was making new history, I was the proud contributor. 1st January 2016, the day Mr. Kejriwal had started the odd/even campaign, I decided, that I will ride from my home in Mayur Vihar Phase-2 covering a distance of 36 Km. So, total distance was 72 km. riding at 19.2 km/hour. It was the longest ride and I loved each and every bit of it, I saw people standing holding sign boards saying "I support odd/even, Create pollution free Delhi". I was elated as I was the benefactor. and completely in love with my vehicle.
When Delhiites were busy exploring options of buying one even and one odd four wheeler at home, I was feeling proud to own my two-wheeler. My Raleigh Terrain is the best!
Just outline my cycling journey:
Started in January 2015.
Moved to  Raleigh Terrain in December 2015.
Covered 863.5 Km in the First year 2015.
Covered close to 1500 Km in the second year 2016.
The third year already covered 900 Kms in 6 months, targeting 3000 Kms for 2017. Everyone asks me why mad about cycling? I say them, this is my first love undiscovered till 2014. Now, I am not gonna stop. It gave me great buddies, who are fit and more aware. I have made several friends from different nations. as my group is about cycling enthusiast. The time when the cold fresh breeze oozes your face, that feeling of freshness only a cyclist can understand. My performance and output increases in my office. I am fit and look younger. Aah…. yeah I can go on and on when it comes to my first love.
So guys, have your own story with your love! Join me in cycling or have any query regarding cycling tips we can discuss it. Yes, before I leave few things I wish to say to everyone:
Let's make Delhi bicycle-friendly with zero pollution guys:
No cycling lanes in the metros.
No Driving sense for motorists in metro cities.
Can only ride in early mornings in metro cities.
High Pollution levels.
Need to improve Bike2Work in metros, to lower pollution levels, and fitness.
So peeps! Explore surroundings with cycling!!
Story compiled and Edited by Deepti Chawla – Storyofsouls.
Abhishek Sharma
…Is a tech geek in Mobile Application Development. A passionate cyclist not just by it has become his first love for the rest of his life. He loves exploring the work now by his cycle and has great aim to complete in cycling. With all that he is doing great professionally and a big time Foodie, Gamer and gem of a Mathematician. A man with diversity would describe him best.