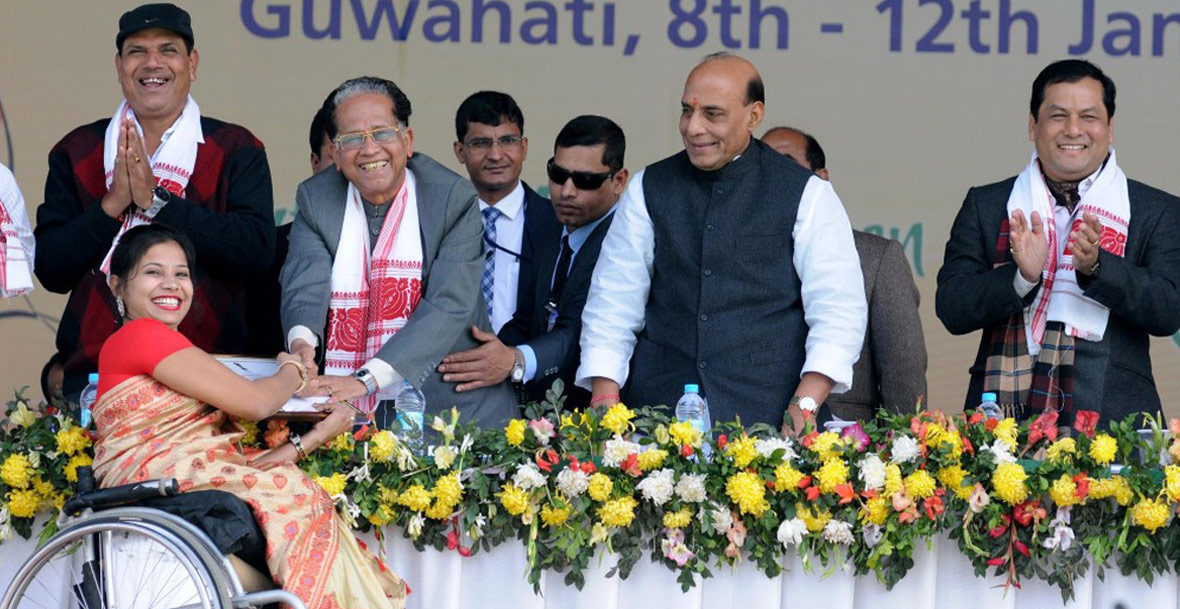 This is the story of a fighter woman and an amazing mother who fought with her physical deformity and won her battle against all odds. The 34-year-old international para-athlete, Suvarna Raj is an inspiration for all, especially the able-bodied. Not only this, she is a social worker, a disability rights activist, and an accessibility counselor. The mother of a 6-year-old boy had to endure a tough, rugged ride before reaching the pinnacle of success and setting an example worth emulating. We are sure that this motivational story of international para-athlete, Suvarna Raj will make you feel uplifted and motivated.
Suvarna had a hard-bitten childhood. She was just two when polio struck both her legs, leaving an imprint of a lifetime. As a result, she lost her ability to move around. The illness made it impossible for her to walk without crutches and thus, her wheelchair became a blessing in disguise in years that followed.
Raj completed her schooling till Grade 10 from Nagpur and stayed in a hostel away from home. She had had an inclination towards sports since her childhood. Post schooling, she pursued B.Com, B.Ed., and M.Com from Nagpur University in the year 2007 and later, Master of Social Work from IGNOU, Delhi in the year 2015, seven years after marriage.
She was outstanding in academics but her gamesmanship was equally astounding. The impeccable sports prodigy won numerous medals in a number of national-level powerlifting championships and athletics till 2007. In 2008, she married the love of her life, Pradeep, a renowned para-athlete and table tennis player. Her sports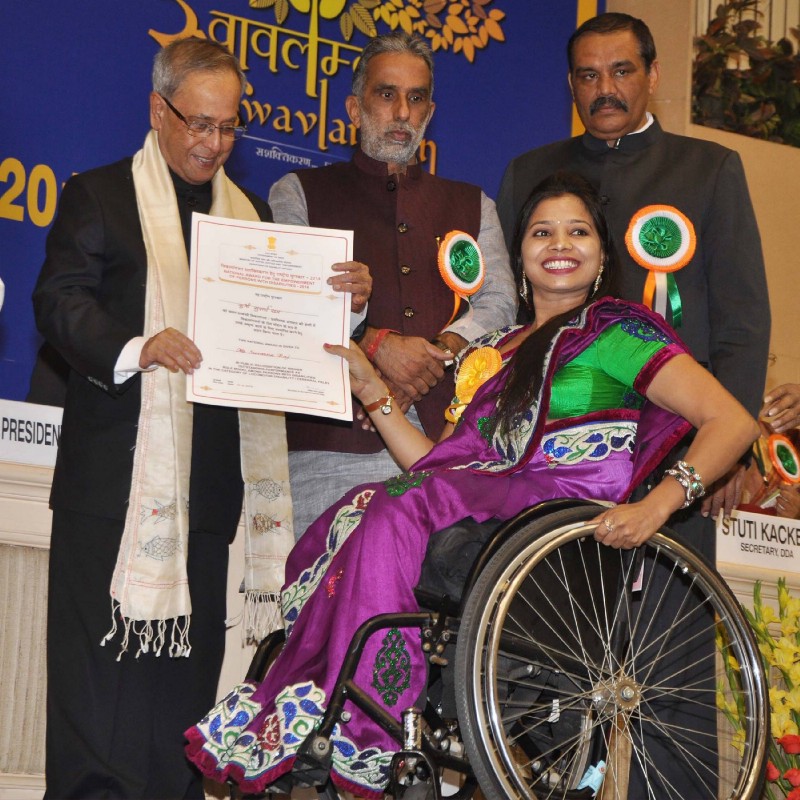 manship was redirected and she started playing table tennis. With her persistent efforts, grit and the strongest will power, she brought home two glorious medals at the Thailand Para Table Tennis Open, Bangkok, and in the following year, she represented her homeland at the Asian Para Games in Korea.
Life had just begun as a smooth ride when due to her unstable medical condition, she lost her daughter within a few days of her birth. It was devastating, so much so that she was frightened the second time. However, good old days were back when in April 2011, the couple welcomed a ray of sunshine, their little baby boy, Prasoon who was born free from any disability. However, he was in the ICU for 8 days due to his sensitive medical condition. Prasoon is now six and studies in Grade 2.
Raj had a hard-won battle against pregnancy but the moment she held her baby in her arms for the first time, her happiness knew no bounds. It was as if she was at the top of the world. The brave mother, Suvarna recalls, "Motherhood was a turning point in my life. After becoming a mother my strength doubled and I was prepared to win many more tournaments." She says that her son, her husband and her family were her pillars of strength while she all-rounded her responsibilities as a mother, wife, and a sportswoman.
Back in the day, the para table tennis player was awarded various prestigious accolades such as the National Woman Excellence Award, 2013; National Role Model Award by the President of India; National Youth Award, 2014; and the Karamveer Puraskar by ICONGO, 2015. The epitome of inspiration, Suvarna says that it is distressing to witness bundles of paperwork with no actual groundwork in the field of disability rights. The aggressive social worker aspires to change the biased perception of differently-abled. In a bid to voice the opinions of people like herself, she stepped into the political battlefront to make sure that their voices are heard and needs are met. She also wants to bring changes in the Rights of the Persons with Disabilities Act (2016) passed by the Indian Government and increase the employment percentage of the disabled from 3 to 4 percent.
Ms. Raj is ardent in making her bold voice heard spanning the gram panchayats and the Parliament of the country about the rights of the disabled. Suvarna dreams of a society in which the disabled are free in all respects, where they are not bound by the society's invisible yet powerful shackles. And, as a baby step towards her dream, she is currently working as an accessibility auditor in the Accessibility India Campaign to ensure a hassle-free mobile environment for the disabled in government buildings.
It sure was not a ride downhill for Suvarna but she was no less. She is the master who conquered the adversity and fought back right in its face.  Her exhilarating journey personifies the saying that nothing is impossible and that disability is only in the mind. Not to mention that she has raised the benchmark of strength, courage and a never die attitude and has set an example worth applauding.
Our Storyteller…
Is Kavya Mukhija is a student of Psychology, a writer, a calligraphy artist, and a creative content creator! She loves traveling and exploring new places. Always dressed with a smile, she considers spreading happiness a good deed. Last and the least, she is a woman with a disability who believes that more than the disability, it is the negative perception towards 'disability' which is actually disabling.
Our Rating for this Story