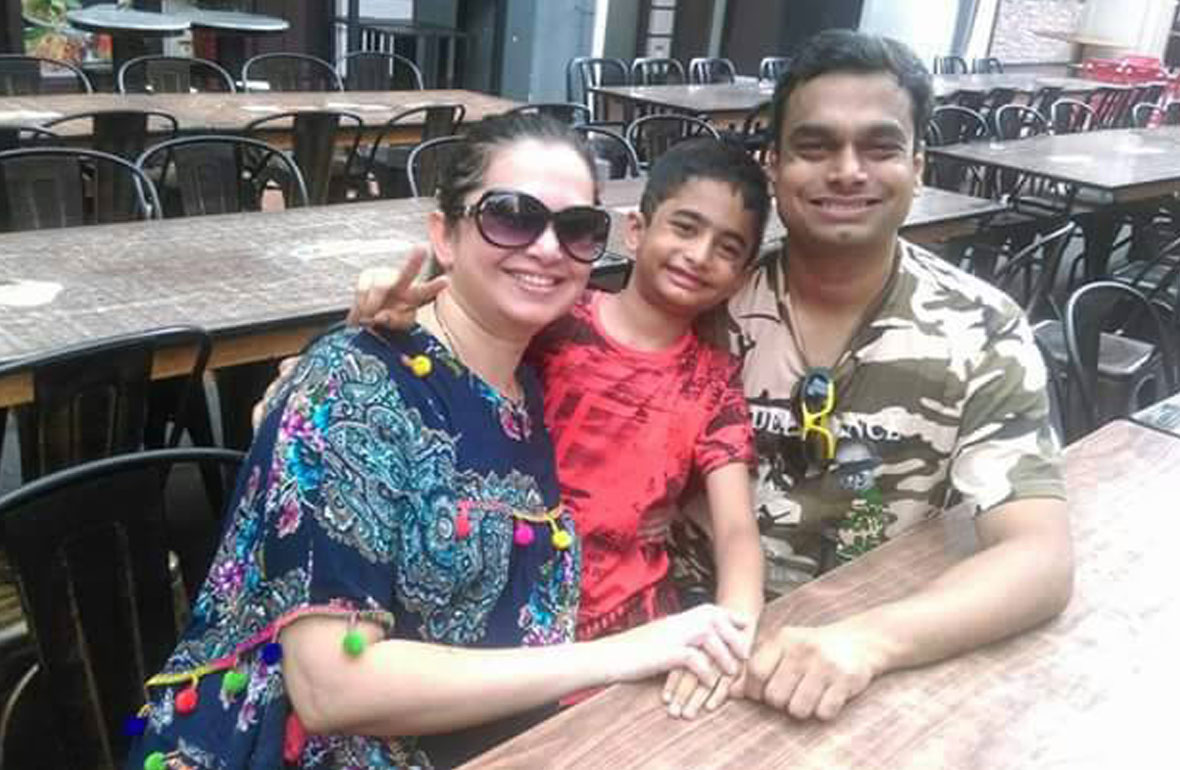 Many times we come across the stories that directly touch the heart and make one emotional. This This is a very emotional real-life story by the survivor Amit Karnad is one such story. Read in his own words…
My journey begins with my parent's struggle, love, compassion and how it all started to collapse one day. My parents, Gourishankar Karnad and Leena Karnad, made a bold couple, who decided to have a love marriage. My mother, a Catholic, took courage to marry my Hindu father by going against family and society in 1976.
In the 70's, love marriage was no less than a crime in India and hence my parents were outcast.
My mother was a homemaker and father was the sole breadwinner. They did have their share of struggles like arranging a small and happy household from scratch without anyone's help, to lead a normal life. Despite being abandoned by the families, my parents were happy as they were together and leading a happy life. They even managed to help many in their lives and are still fondly remembered by those they helped.
We were a small, simple and a happy family.
And then my mother was diagnosed with blood cancer. Yet in pain, she took utmost care of me.  This was the toughest fight for my father; he only had my mom as his partner and friend. It was painful to see her in pain. She left us on 22nd April 1992. She was 45 then. I was in 8th standard and now one of my pillars had collapsed.
The void created by the passing of my mother crushed my father. He lost the purpose of life and that took a toll on his health. I took care of my father and tried whatever I could possibly do as a kid. I tried to keep him happy even though I too felt the void and missed my mother terribly. Moreover, I had no one to share the pain, which made it more unbearable.
However, a son's love couldn't replace that of a partner, and my father too passed away on 23rd April 1999, after a prolonged illness. I was 21 ( in final year degree college ) when I lost my father, my second and last pillar.
In a matter of just 7 years, I lost both my parents. A tough phase had begun for me, where 10% of well-wishers stood up with me and 90% of relatives desired to disown me. But due to a few good neighbors, I began a new phase of my life … a long struggle alone.
Even though I lost both my pillars of strength, I like to believe that they both are happy on being reunited in heaven, making their eternal love win.
I had to start earning for my survival. When my friends were busy having fun in their under graduation days, I started my first job with a Crossword departmental store that paid me 5,000 per month, 3 months after my father's demise. The financial conditions also stopped me from completing my graduation in Chemistry.
My long desire to join the army also got crushed in the struggle for survival.
However, despite a plethora of the adversities, there was something in my inner thoughts that was asking me to not give up.
Listening to this inner voice, I resumed my studies and completed my graduation in Sociology after a gap of 3 years. It was the time when BPOs were on a rise and I began my second phase of an upward struggle.
Then, I met a girl through our community marriage center, who could relate to my story and decided to marry me. She said that she admired me having a clear mind and a strong vision. She also liked that I had no vices. I believe that it must have been a tough decision for her to take, but she is a strong woman who chooses me and trusts me.
We had common stories of life. She too had lost her father at a young age. She too had struggled to survive through a life threatening illness and achieved success in her career as a Business Development Manager.
We got married in 2007. From then on, at every step Nivedita, my wife kept on encouraging me to fulfill my incomplete dreams. I began my Post Graduation Diploma in Financial Management. Being pregnant and knowing that I wouldn't be able to be with her that much, she still supported me. We had our son, Hardik, in 2008 and I completed my Management course when he was just 2 years old.
Nivedita was at the peak of her career when she decided to leave her job to take care of our son's growing needs. We started Home Schooling him from then on. We both share the same principles and try to pass it on to our son.
Both my parents and her father have taught us how to survive and be happy and how to live a simple life. They gave us values and taught us how to be selfless in helping others who are in need. My wife has a lot of qualities that my mother had, headstrong, giving love and building up confidence in everyone, every time. A real inspirer she is!
What I have learned from life is that it is important to create financial backups through proper financial planning and insurance. Life has also taught us both that we should keep our genuine well-wishers close to us. They may come in different forms like distant relatives, neighbors or friends. Never to rely on fake well-wishers. We both make any financial or other decisions together. My wife often advises me well and due to her, we are living a loan free life at a young age.
Amit Karnad (INDIA)
…is a self-made man, a working professional in an eminent MNC. He continues to follow his passion for learning. Believer of the philosophy that there isn't an age limit to learn. He is currently learning business analytics and Mandarin and also has passed level two exam in Mandarin being a father of 9 years old son.
Our Rating for this Story