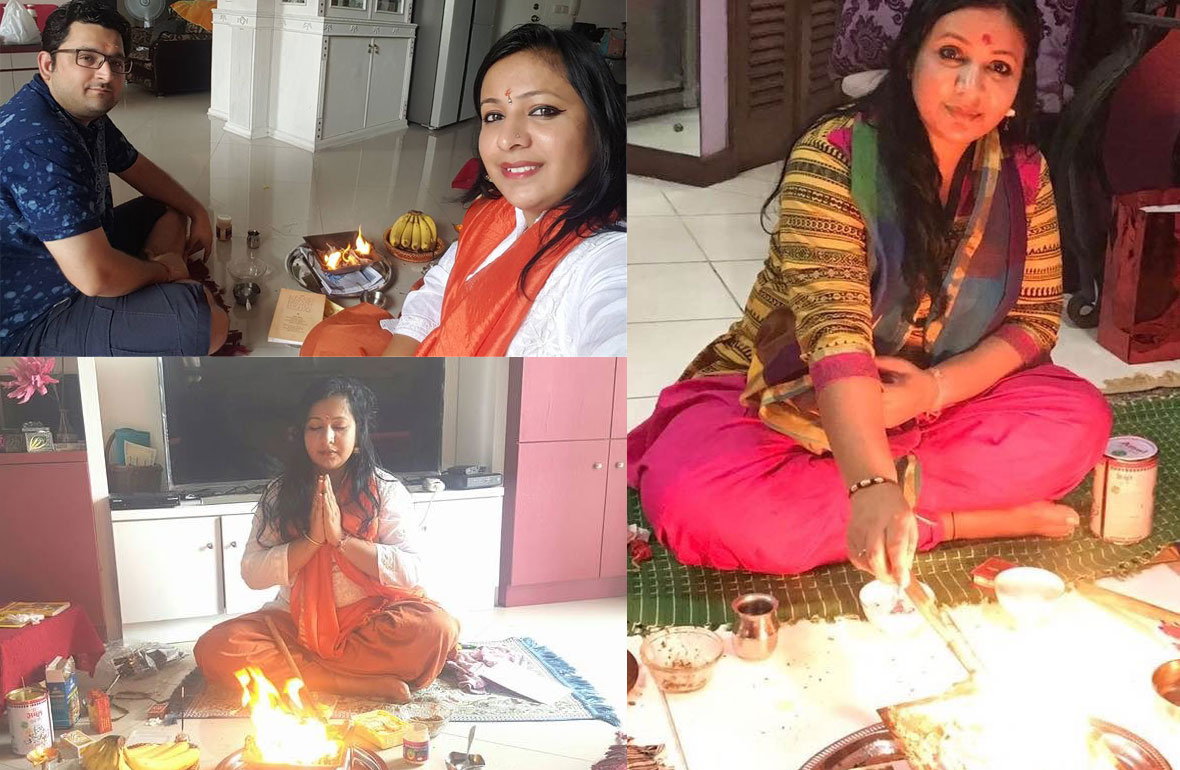 This is the rendezvous with simple lady names Kanika who promotes Hindi abroad. She possesses the knowledge to do Havan i.e. cleansing procedure using fire which is usually the rare case as in India only "male pandits" do the Havans. Her journey inspires to take a road less traveled and be happy about it.Sunita Rajpurohit (official) aka Kanika Rajpurohit claims to be social, a fun-loving lady who is ready to learn new creative ideas and apply to the life. She hails from Bikaner, Rajasthan.It is a pious place consisting of many temples and gives a glimpse of Indian cultural heritage and traditions. It is also known as "Chotti Kashi".
She was keenly interested in all type of causes and was the cultural minister in college. She was president of a political organization called  Student Federation of India  (SFI) and leaded National Service Scheme (NSS). Currently, she tenders to India Club in Jakarta as a committee member to increase the understanding of Indian culture and traditions through different events. She encourages the promotion of Indian tradition and is doing for years now.
She started as the teacher in a school, in Bikaner in RSV JNV branch and Singhania University.S he taught English, Hindi, Psychology, and Moral Science. After the wedding, she moved to New Delhi and worked as HR recruiter.Then she moved to Jakarta to Indonesia with her husband in December 2011.
She took a break from her professional career when moved to Jakarta and started to learn classical dance and music from JNICC, a body of Indian embassy to promote Indian culture in Indonesia.In JNICC, socializing was increased and learned intricated details of Indian culture. IndoIndians website helps to interact and help new expats to evolve in society.In 2014, after 2.5 years, she got the opportunity to rekindle her career again as a Hindi teacher in Beacon Academy.
Like India, Jakarta has a very rich culture, so it fascinated her. People also very intrigued with Indian culture too so I tried again my hand in participating and conducting cultural events.
As per Kanika, she is been social as all the festivals of Indian encourage to meet people. The festivals of India increases the social circle and are always part of life.She attended different programs, social gatherings and performed under JNICC, India Club, and Indian Embassy banner.After 3.5 years in Jakarta, she became the member of "India Club" and contributing to it ever since. She has another group which is in her apartment itself and encourages people to keep involved in cultural events. She is acting as the committee member of ATR which is based on her apartment's name Apartment Taman Rasuna.
Her Life motto: Enjoy the present moment, give your best shot with full passion and dedication.
Let's Promote Hindi:
Being abroad, if someone communicates in our mother tongue, automatically we feel connected. That's how Kanika felt and realize the importance of the first language which gives a sense of familiarity. Understanding the mother tongue will bring closer to our traditions and evolution of our language.Kanika already knew to read and write English and Sanskrit.But in Jakarta, Kanika chose Hindi as her subject in order to promote Hindi. This is the only way to be connected to India remotely and can pass the heritage to next generation to keep the heritage alive in foreign lands. Plus, knowing more than one language is always an addon.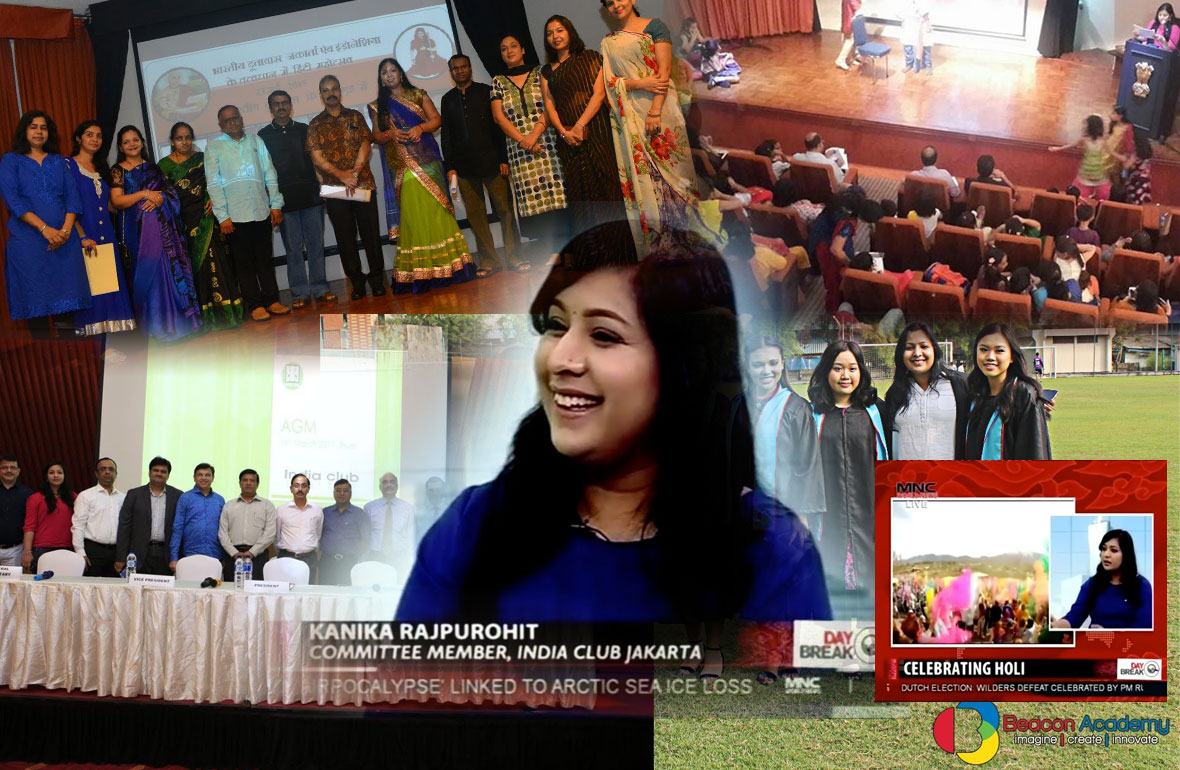 After deciding to promote the Hindi in Jakarta, she started exploring and collected her team. She and her team lay the foundation as Indonesia Hindi Association in Jakarta, Indian Embassy,  supported the cause, JNICC and IndoIndians supported the cause and extended the required help. Finally, in June 2015, the association was set up. Her association promotes Hindi and organizes Hindi competitions annually. The International Schools of Indonesia encourage our association to promote Hindi Language awareness. The association has successfully conducted two annual events. Her association is not only limited to annual events but provides assistance to people who wanted to learn Hindi and Indian culture. As inter-country marriages have also started, as an Indonesian groom or bride enters an Indian home, he or she requires a bit of language and culture assistance. Her association caters language and culture support with the whole heart.
Havan Awaits:
Kanika's education has Sanskrit as the major subject. She also did course pronunciation in Sanskrit – learned many shlokas, mantra, and songs. Being brought up in Brahmin family, Havan and Sanskrit prayers was an integral part. Kanika never knew the step by step procedure but she found a way to learn this too. She learned from "Acharya Pratishtha" who is incidentally her Kathak teacher from JNICC  too. Acharya Pratishtha used to do  Havans at home and other places. Kanika religiously follows her and used to chant all mantras with her. Acharya Pratishtha gifted Kanika a book named "Bharat Yog" written by her father Padamshree Shree Bharat Bhushan Ji which contains all procedures for Havan. Kanika always refers this book to do Havans.
A Havan is used to remove all negative energy surrounding us and awakens auspicious aura. The scared mantras chanted during havan which cleanses the environment and let positive forces in. Being from a Brahmin family and majors in Sanskrit made chanting of shlokas and mantras easy. Now Kaniaka performs havans very often and doesn't wait for any special occasion. Havan is a way to recharge and revitalize for Kanika. She insists that man, woman or child any of them, can perform havans. The only thing important here is to pronounce mantras and shlokas correctly with proper steps. Visit her page and contact her :
Our Editor – Deepti Chawla  – Team Storyofsouls