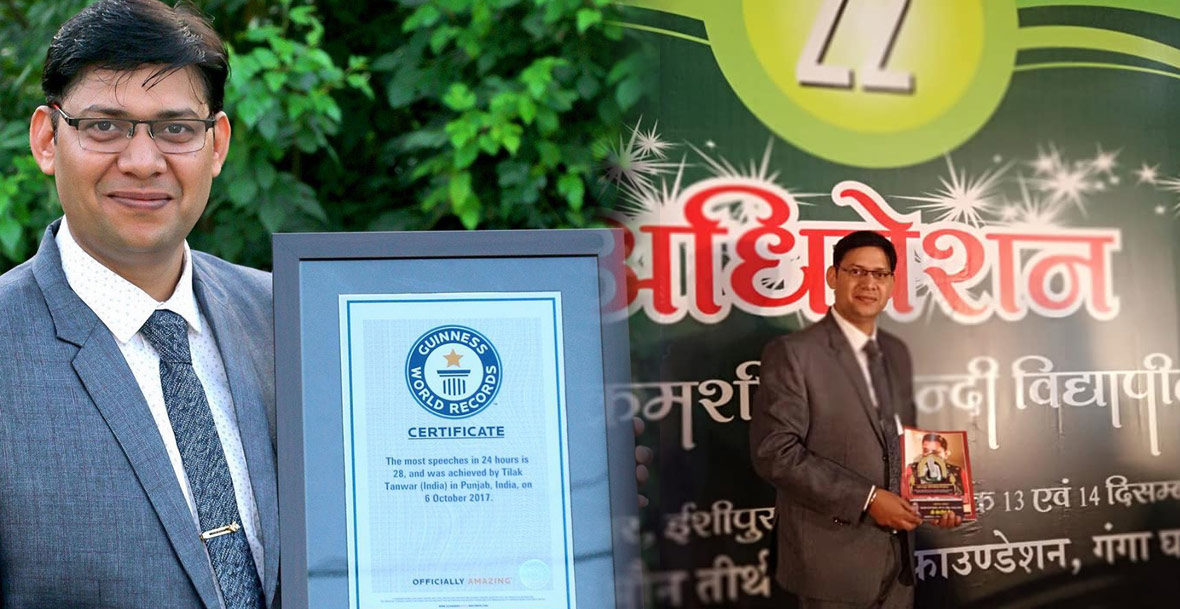 Tilak Tanwar told his friend about his dream of making a Guinness world record of giving the speech in multiple languages. His friend was flabbergasted and dismissed the very possibility. Tilak exclaimed,  "His friend was not wrong though! We, Haryanvi, are so much emotionally attached to our language that we don't prefer even to speak the proper Hindi (Our mother tongue). And here, I was talking about delivering fluent speeches in Bengali, Assamese, Punjabi, and other local languages where English is also one of the difficult languages to deal with for educated class too!" But the determination of Tilak was strong, and he had even a specific title in mind. He decided to achieve the Guinness world record of most speeches in most Languages – and this is the inspirational story about Tilak's dream.
It takes a strong will to make the way, if "you can believe, you can achieve." Tilak called this 'Belief – Achieve' formula. "Where there is a will there's a way!." This phrase kept him going. If one's mind can conceive, then it can achieve too. The journey starts with believing in yourself. He understood and determined to learn all local languages even if that was a difficult feat to accomplish. After all, it was beginning the Guinness book record.
Being an Indian is the biggest boon for us as India's diversity. Each state has a different language which acts as pearls of a beautiful string. So, he learned different words from different friends living in different states.
A Journey towards Guinness World Record
Tilak did something that no one has ever been able to do in the last 69 years! He made the record of delivering 28 speeches continuously in 7 languages while passing through 7 different cities, which took him 20 hours to realize. A similar record previously was in the name of Mr. Franco of Canada, who delivered 23 speeches in a single language- English!
PM's Sansad Committee Member Acknowledgement
Tilak has got his name registered in "Unique World Record," too. The best selling author also owns www.tilak-tanwar.com. The Modi Government's Sansad Committee Member, Mr. Manoj Rajoria, has also felicitated and honored Tilak for his immense accomplishments.
The Humble Beginnings
Tilak hails from a lower-middle-class Indian family. His father was a bus conductor and the sole breadwinner of the family, consisting of his six sisters. Mostly, his time and earnings went into taking care of the family. The meager earning was never enough for the family.
Adversity could never discourage Tilak's father despite difficult circumstances. The challenging childhood instilled in Tilak to never give up and always dare to dream big. Dreaming big will always open new doors to reach goals. Another thing, Tilak also to learned to maintain a great disposition from his father. Getting upset is easy, but keeping a positive outlook in the worst conditions will surely do wonders.
Blessed with Incredible People
Tilak cleared his Engineering entrance exam but unable to arrange fees.
It was hard-hitting to let go of engineering studies due to the unavailability of funds. Tilak discussed the problem with his teacher, Mr. Anil Sharma, who unconditionally offers his help in the form of his gold ring. Mr. Anil took out the ring from his finger and handed him over. He told him to value his studies instead of dwelling.
This miraculous gesture has left a significant imprint on Tilak. He still remembers the incident with a heart full of gratitude. The kindness didn't just stop here; Tilak took the ring reluctantly to give his jeweler friend. His friend Rajkumar Kapoor happened to be a social worker too. He understood the gravity of the situation and gave the exact amount of fees without bothering to keep the ring.
Fortunately, Tilak's father could arrange fees on time, but the tough times introduced him to most generous people. Tilak is thankful to all who were kind enough to reach out to him in the hour of need.
Decoding the Brain
Tilak authored a book called "Feed your brain, not your stomach!!".It is the best seller on Amazon. This book sites Belive-Achieve Technique.
Tilak asserted on decoding the brain, "The habits of human beings directly shape the result! Your feelings shape your thoughts, and constant thoughts form your habits. Simplifying the equation of the feelings determines the habits. In turn, determine your results or achievements. So, if you are determined to achieve success in a specific field, then you will also have to form the habits that align with that field."
Make your Dream Board
Habits are the key, but making a habit and sticking to it is another challenge.
Tilak emphasis making a dream board, writing goals, and creating deadlines with full confidence. He loves to split the task into small goals with specific deadline dates. The board becomes the anchor to reach the goals without becoming a daunting and overwhelming experience. Achieving little becomes a habit, and before you know it, you achieve the goal. Due to his achievements and demonstrated capabilities of will power, Tilak has gained a distinct reputation. He has also started motivational sessions to help the people train their brains and use their will power to overcome their limitations and enjoy life to its fullest. Right from the corporate bigwigs to students, his motivational sessions are attended by diverse audiences and help them to bring positive changes to their lives.
Tilak values life and enjoys every single moment with a feeling of gratitude. He thinks that everyone is responsible for their happiness. Happiness is not derived from externally but internally. Invest in yourself, in your skills & mind regularly. Feed the mind, not tummy. This is Tilak's final advice.
Contribute to Story Of Souls, which is an initiative where we invite people to share their stories with us. We want people to "write to heal". It is truly an Online Platform where you can share your real-life stories.
Our Rating for this Story