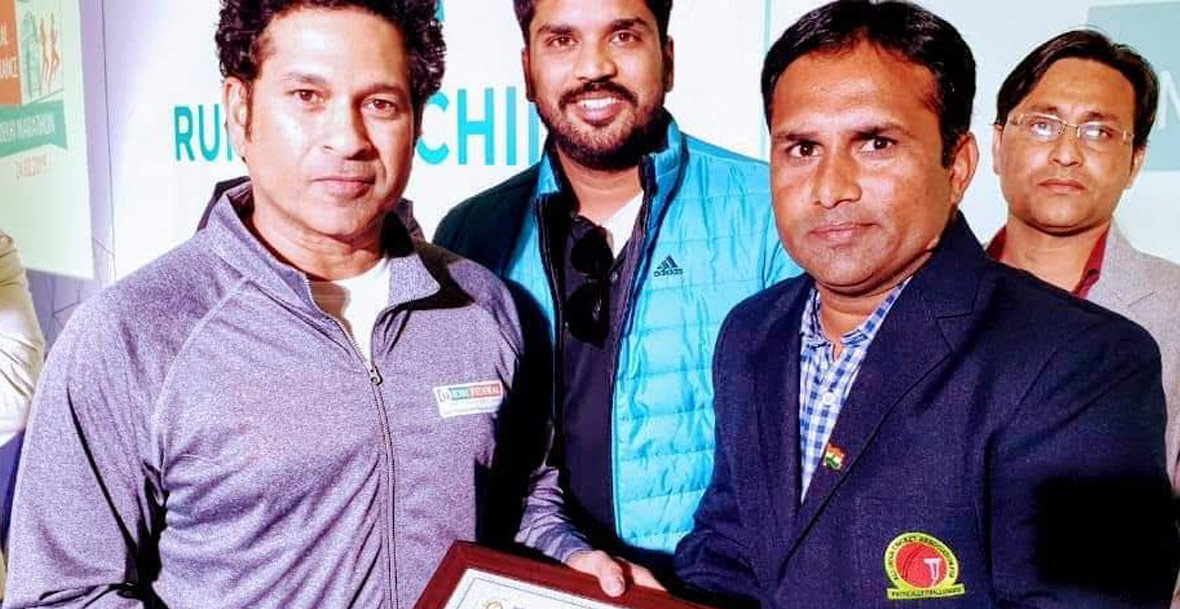 Differently-abled is generally used as a better and positive term to describe the people who are physically challenged. However, many times, we come across the individuals who practically redefine this term as "the one who has substituted the physical limitations with extraordinary courage, skills, and rock hard will power"! Dinesh Kumar is one such exemplary figure whose story is a real-life motivational tale of determination, courage, and bravery. Therefore, the story that you are about to read is not just another Cricket Story. But an inspiring real-life story of bravery, courage, and determination.
Birth and early life
Dinesh was born with physical challenges that restricted regular movements due to problems with his legs. However, a practical and self-driven persona, he never allowed the physical difficulties to affect his will power or stamina. From the beginning, he loved playing cricket. After that, his hobby strengthened as passion. It didn't take him long enough to decide that cricket is his career and life. Above all, his father, who runs a grocery shop, supported him wholeheartedly in realizing his dream.
Challenges
Cricket is the most popular sport in India that enjoys legendary status. However, it is an open secret that differently-abled cricket seldom matches if at all, get any attention from the spectators, sponsors, or the government. Even the cricket board treats their matches with a heartbreaking apathy. Cricket fans can cancel their critical engagements or happily ditch their official duties to enjoy IPL matches. But, if you ask them about upcoming games of the differently-abled cricket team !! They are clueless.
Therefore, in short, things were difficult for Dinesh when he opted for cricket as his career choice. Nevertheless, undeterred and determined, he faced the hardships and embrace the challenges to make his dream come true.
However, his obsession with cricket overshadowed academics. But he completed schooling with a handful of ITI courses.
Search for the coach and mentor 
To don the Indian Cricket Jersey, he needs an excellent grasp of the technicalities and exemplary sports skills. His search took him to the coach Sanjay Bhardwaj of Lal Bahadur Shastri Stadium, New Delhi, who undertook him instantly. His uncle, Ishwar, also trained him for professional matches.
Rigorous training
His father's moral support and professional coaching paved the success path for his lifelong dream. Firstly, Dinesh showed the best qualities of an obedient pupil and never missed the training session. In other words, he made cricket training sessions at his center of gravity. Even the coldest days of winter or scorching sun could not discourage him. Secondly, He honed his skills and certified himself as an accomplished cricket player with the perfect blend of intense passion and professional expertise.
Initial journey into the field of sports
In March 1994, he began playing cricket. After that, by 2003, he was representing his state Haryana in Domestic Cricket League, organized by All India Cricket Association for the Physically Challenged- an ambitious project by late Shri Ajit Wadekar, who acted as its founder and promoter.
First Recognition
Dinesh's extraordinary skills and passion for cricket pulled the attention. He was perfect to lead the entire team and steer it to success independently. So, he was promoted as the team captain. After that, he entirely justified the role by helping his team win several tournaments, even amidst the challenging circumstances.
Inspirational Career journey
Under his captaincy of 3 years, he demonstrated exemplary team management skills. In addition, his strategies helped the team achieve paramount success in many matches.
Dinesh also participated in Paralympics in 2015 and gave an exemplary performance. It earned accolades from the audience as well as the sports connoisseurs.
Dinesh came up as a multifaceted sports person being an excellent runner too. In 2006, he secured 2nd position in a 100-meter race completing the race in just 13.9 seconds.
While playing from the Chattisgarh team in 2007, Dinesh won the hearts of the audience with his excellent performance.
After his successful tenure as a captain of the Haryana team, Dinesh then assumed the captaincy of the Delhi state team. He took the best out of his side under his efficient captaincy from 2008 to 2011.
In another race competition, held in Delhi, Dinesh claimed 3rd poison in the 100-meter race in 10-days Para Olympic sports.
After that, in the same year, Dinesh participated in a senior, disabled athletic competition, held in Jaipur. By the end of the game, he won the hearts of many sports fans, mesmerized by his skills and stamina.
Similarly, In 2010, Dinesh participated in Delhi state paralympic Disc throwing competition and secured the second position with a commendable performance.
The organization is accredited and recognized by the All India Divyang cricket board. The pivotal turn was his participation in his first international tournament between India and Afghanistan in 2018.
Championing the cause of disabled cricketers
The professional training helped Dinesh to hone his skills and become a professional cricketer. Also, he is a mentor himself and champions the cause of leveraging the stature of disabled cricket tournaments in Haryana as a founder of the Disabled Cricket Association of Haryana. The association not only offers professional cricket coaching but also provides a stable platform to showcase talent. After the success in his initial venture as a mentor, he has now extended his scope and started inspiring the differently-abled cricket players from other states of North India, too, like Himachal Pradesh, Uttarakhand, and Punjab.
The Promising Future
Dinesh is a born visionary gifted with strong will power and outstanding organizational skills. In addition, has brought groundbreaking changes to the differently-abled cricketers of India. However, his road is full of hassles and obstacles.
Dinesh – Stands for being Responsible
Dinesh is mindful of his responsibilities and mentorship stature. He has left no stone unturned to make things better for the disabled players. From personally inviting the sports ministers to the disabled cricket matches to meet the legendary players for discussing present challenges. However, his endeavors are yet to receive an encouraging response.
The challenges ahead
While the differently-abled cricket teams of England, Afghanistan, and Pakistan are recognized but BCCI yet to recognize India's differently-abled players.
Also, the income of IPL league cricket players run in 6 figures or even more (and we are not counting massive income made via ads and media appearances). In contrast to it, the differently-abled players earn a small amount of Rs.100 (less than$2) per day!
A real eye-opener
In one of the matches, the Indian Disabled Cricket Team got an amount of Rs 8,000 during Northern Zone Cricket Competition in Delhi. However, the entire amount was handed to the player Vijendra Saini. So that he can meet the treatment expenses of his 2-month-old baby who suffers from a brain tumor. It demonstrates the extreme negligence of organizations and lack of sympathy.
Here is a player like Vijendra Saini, dedicated to the sports spirit that he participated in and performed in the match despite the dire conditions. Here is a team that, despite its struggles, decides to contribute the entire prize money to help their team members. On the other hand, neither the BCCI nor the state government is interested in financially assisting such dedicated players even to meet the critical expenses!
Lack of financial stability
In other sports, players with excellent performance are offered jobs to earn a steady income. But the disabled cricket team doesn't get such facilities. Despite his tireless efforts, Dinesh has only been offered hollow promises.
Rays of Hope
However, there still are bright rays of hope. He met Sourav Ganguly to discuss the challenges. Sourav patiently listened to him and suggested him to write to the BCCI. Dinesh is still waiting for the response. However, with the cricketers like Rahul Dravid, who is actively helping visually impaired Indian cricket teams, we can hope that the efforts of Dinesh will soon get his supporters and resources to enhance the status of differently-abled cricketers of India.
The disabled cricket is already having the advantage of best mentorship by Dinesh himself, who is struggling each day and still stays positive. All they lack is monetary resources and recognition. Its time we realize this fact and come forward to support them in a big way as we do for our own Indian Cricket Team.
Please follow and like us:
Our Rating for this Story