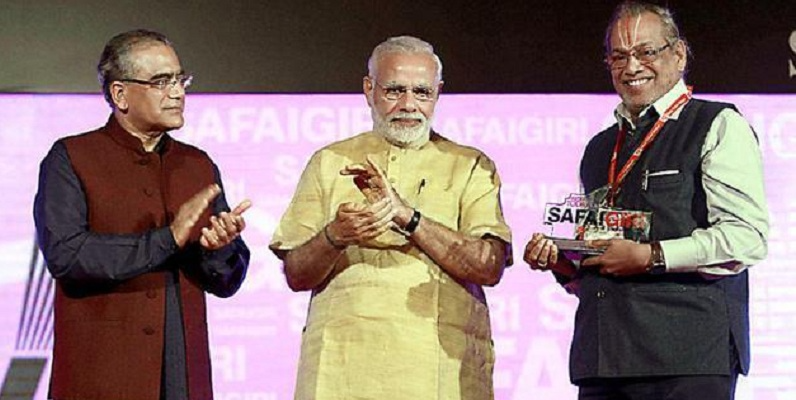 Well, life is to be enjoyed and experienced with all kinds of flavors, which quite evidently should be sweet and tantalizing. In the end when eternity knocks one can proudly declare that this life was well-lived. Where the pleasures of the flesh, vivid soothing dreams, and things which please the senses at every breath are dominant. An average man strives for such a life cause it is the smoothest and most immediate way of life. The majority of the people quite apparently submerge themselves in their base tendencies, and cravings thinking it to be happiness. But, this story is of a man for whom happiness held its true and pure worth.
His name is Dr. Rajagopalan Vasudevan who finds in chemistry the solution to a wide range of problems facing mankind. Particularly disposal of plastic waste which till his innovation came into light posed a perpetual threat to the environment. Dr. Vasudevan is a simple man from a humble background who believes in the infinite power of knowledge. Knowledge is why man is able to influence the entire planet and even beyond. He was a young man of twenty-six in the year 1972 when he starts his career as a teacher.
Subsequently, with tenacity and sweat, he advances in his career achieving a Ph.D. in Chemistry which fails to impress many. As he was still working in a polytechnic institute his Ph.D. appeared to be futile. His long years in the polytechnic institute turns out to be a boon for him as it was the starting point on the path to thinking differently. Eventually, his love for chemistry manifests with the realization that the intricacies involved in the subject have applications everywhere. Thus, from the womb of passion innovation took birth in the form of plastic roads.
The ominous issue of increasing pollution caused by non-biodegradable plastic waste became a source of immense concern for Dr. Vasudevan. He after intense research finds out that the littered indisposed plastic waste has already reached dangerous levels. Driven by the responsibility for the welfare of the future generations he began experimenting with a newfound zeal. His determination strengthened day-by-day in order to find a solution for this plastic menace.
After a decade of research, he quite successfully descends on a concrete solution. If shreds of plastic waste are added on bitumen while it is being heated at a particular temperature then the material which forms increases the tensile strength of the road. It also makes the road an all-weather one; not to forget the long-lasting nature of the road. This innovation was blessed and honored by Dr. APJ Abdul Kalam. He was also awarded Dr. APJ Abdul Kalam's memorial award for innovation.
With time his innovation achieves recognition worldwide winning him the prestigious Padma Shree in the year 2018. A man with a magnanimous heart he gifted his patented method of road-making to the Indian government free-of-cost. Our honorable prime minister Narendra Modi announced in a recently held international summit that India today has a way to utilize all the plastic waste in the world. Not even a gram of plastic will remain thus, without a single harmful effect. Dr. Vasudevan whose smile itself holds the profundity of his great work is credited with many other innovations. Corrosion-free rods, and plastone blocks to name a few.
His research has been showcased in the television talk show Satyamev Jayate. He expresses his strong belief that a ban on plastics will have an effective and positive outcome only with the growth of the plastics industry. He has become a sensation in both the media world and among young innovators. His friends, colleagues and the all-illumining Bhagavad Gita play an integral role in his day-to-day life. Without them, he says the journey wouldn't have been in the way the world knows today. The government has already built 16,000 km in Tamil Nadu, and 8,500 km across India using his method of road-making. Even marine life will benefit in the future as 1 Lakh marine mammals are killed every year because of the disposal of plastic waste in the oceans.
-Rajshwii Bhattacharya
Contribute to Story Of Souls, which is an initiative where we invite people to share their stories with us. We want people to "write to heal." It is genuinely an Online Platform where you can share your real-life stories.
Please follow and like us:
Our Rating for this Story