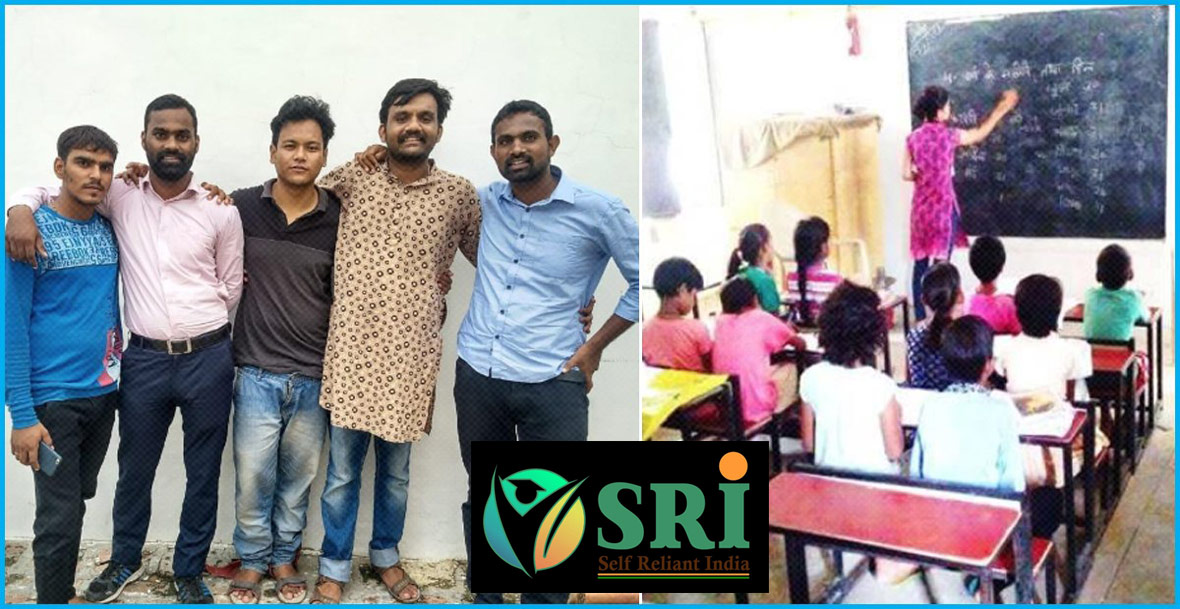 Youth is a time of fulfilling one's dreams. While most people who are in this phase of their lives aspire for a satisfying life by working for themselves, few such men, Surender Yadav, Akash Mishra and his teammate Lucky, Shyam, Deepak, Yogender vouched to do the same by working for the future of the society. They made their service a great source of satisfaction and hence making themselves stand out from the rest. Surender one of the founder and the visionary is an engineer by qualification. He did his B.Tech from Vellore Institute of Technology. Akash did his social management from the Central University of Gujarat.
How did all started?
Surender and Akash both are Gandhi fellowship alumni. Lucky and Shyam both are also an engineer and associated part-time with SRI and are a core team member of SRI. Two stalwarts of the organization Deepak and Yogender are contributing as the program coordinator and program admin respectively. This organization is the manifestation of progress and education that will unfold into a bright future through their tireless efforts.
Self Reliant India was started by Akash Mishra and Surender Yadav in Rewari, district of Haryana.
Self-Reliant India is currently operating in three district Rewari, Jhajjar and Nuh(Mewat) of Haryana. Their organization is structured by two innovative programs which are Nanhe Kalam and Whole School Transformation. Nanhe Kalam is an initiative that aims to empower the students through special help and training in government schools. At the end of the day, children are provided with additional classes of two hours to help them prepare for admission into Jawahar Navodaya Vidyalayas. They are prestigious residential schools providing quality education and are financed by the Ministry of HRD (Human Resource Development). In Nanhe Kalam children are taught Mathematics, Reasoning (Mental Ability) and Hindi as a part of their curriculum for writing the entrance exam that will gain them access to Jawahar Navodaya Vidyalayas.
Many aspiring teachers are also gifted with the opportunity to express their skills while they prepare for JBT and B.ED. These young educators (SRI Fellows) working for the organization are mostly volunteers (very less stipend) who are giving their all for the upliftment of the many deprived children in the villages. Monthly workshops are painstakingly organized for the teachers in which the different ways of capacity building are taught. These workshops are training grounds for them to build strong careers in the field of education. Moreover, as the teachers are mostly women there's no hesitation whatsoever in saying that the workshops are crystal reflections of women empowerment.
Classroom transaction and other activities being conducted during monthly fellow capacity building workshops.
Under the programs of the organization, weekly assessments are conducted to measure the progress of the students. The results of the assessments are discussed and analyzed during parent-teacher meetings to understand the weaknesses, and strengths of the student.
Surender Yadav considers his organization to be a harmoniously knit family, where everyone looks after each other, and propel ahead on the wheels of mutual trust, love and friendship. The core of the organization has been moulded from the soil of Gandhian principles of believing that in self-reliant India, there is no greater policy than honesty. The organization has quite a few remarkable achievements to share as well. In the year 2018, twenty-one students got benefited by getting admission into Jawahar Navodaya Vidyalayas. Talking of the past comparative, only 8-10% of the government school students were able to clear the admission for the prestigious school. While talking of the present situation, from Rewari district itself 35% and above students, who are continuing from Government Schools, got selected to the Jawahar Navodya Vidyalaya.
This was like a dream come true for the villagers all credit for the same goes to the team of Self-Reliant India's, whose consistent efforts are changing the face of rural India. Ninety per cent of students in Government Primary School Raliawas (One of SRI Intervention School) have enrolled in government schools due to the efforts of Surender Yadav and his team.
Whats the aim??
The Whole School Transformation program aims to transform the very system of government schools in Haryana. The aim is to make the system at par with the Jawahar Navodaya system of schools. They have improved the face and state of government schools as well. The members of the organization motivate the community to collect funds itself and then contributed it to the infrastructure and beautification of government schools. Repair of toilets, the revival of the dull walls of the schools with fresh paint, installation of green boards and whiteboards in every classroom to name a few. A spurt of lush vegetation is also visible as trees have been planted extensively within the walls of the schools. Although, there was a time when insurmountable administrative hurdles pushed their organization to the brink of collapse. Today, they are helping countless lives to make a difference.
3 Years Journey ….
Self-Reliant India has progressed for three years now and has led to the creation of creating fifty-two Nanhe Kalams who are now getting a chance to become self-reliant individuals. Also, SRI has been able to create fifty-plus Community Learning Centers, reaching more than thousands of Students and did capacity Building of seventy-plus youth. This year the organization has become partners with Barefoot college Tiloniya to help them to create role models from Tiloniya and surrounded villages.
Weekly assessments are conducted to measure the progress of the students.
One appeal Self-Reliant India has for the citizens, in general, is that they take an interest in the improvement of government schools. If anyone is passionate enough to fulfil this purpose then do contact +91 8295023543 (Surender Yadav). SRI is currently organizing crowdfunding as a part of its 2020-21 plan to benefit 750+ children in three districts of Haryana. You can follow them over Facebook
With an aim to change more lives in rural India. SRI Team is doing a fundraising campaign. Which will help them in adding more funds to enable better and educated children from the rural part of state Haryana.
Team SRI would love to have more supporters with them,so you can share this link, to support more and more kids in the times to come.
Please follow and like us:
Our Rating for this Story