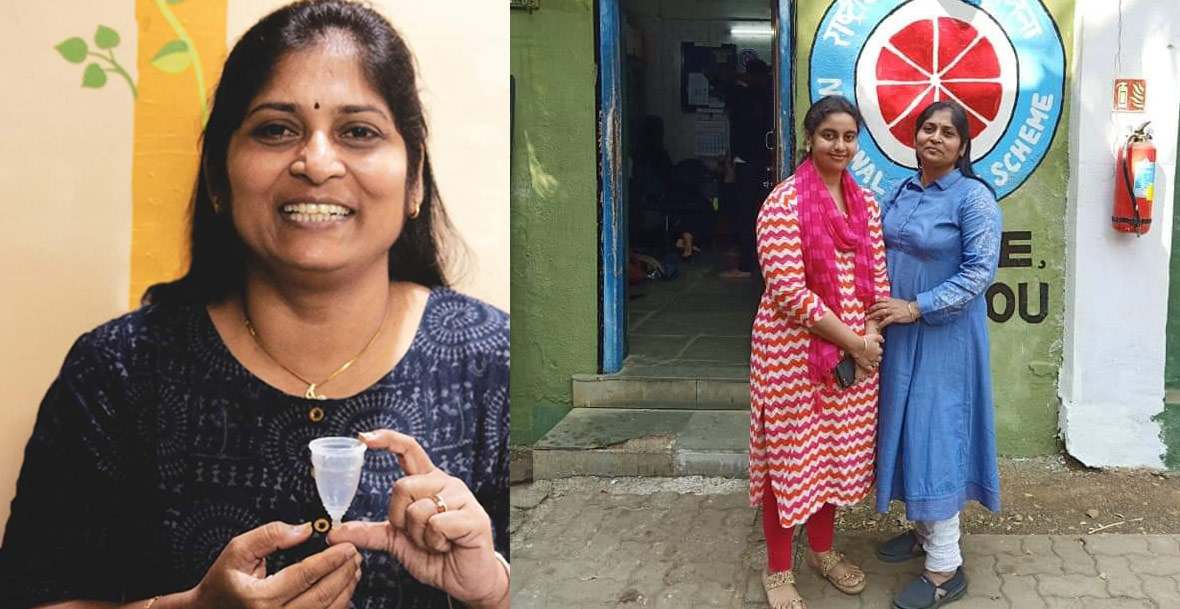 Seema Khandale – a social worker by heart who promotes menstrual cups.
There couldn't be an any better representation of freedom than the "Soul of a Woman". Here's another story of a woman whose soul is as free as the sun, toiling day and night to light up the world.
Seema Khandale, is a social activist and mother of two. Seema always had an inclination towards social work and that's what made her pursue and complete her MSW (Masters in Social Work) after 20 happy years of her marriage. She proudly acknowledges her decision to fulfilling her dream of working for society as it brought her tremendous respect and unique identity. working selflessly for others without any money is not an easy thing to do…
Seema Khandale founded Ashay Social Group, NGO in 2015. She is a mother herself, the compassion in her heart pushed her to associate herself with two major projects that feed care for the environment in the hearts of enthusiasts.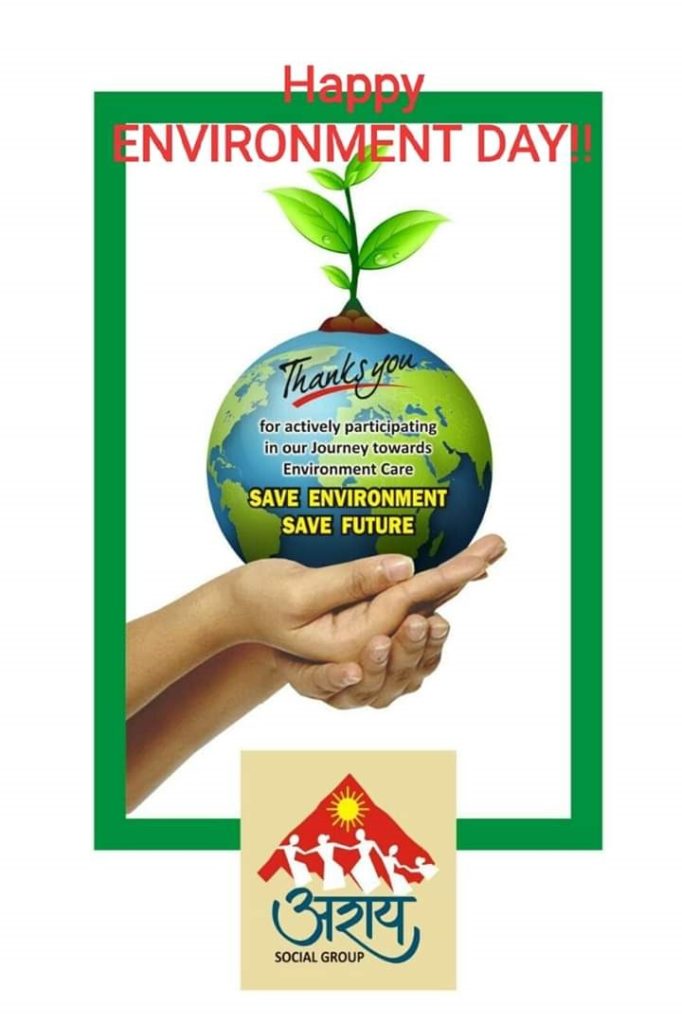 She describes her two projects as:
#Avoid Plastic Carry bags and Use Cloth bags: Mother earth bore the weight of human development fairly well until a few decades ago, humans invented plastic. Seema's project aims at eradicating this misery of mother earth. A 3R- project as she fondly calls it to- Reduce, Reuse, and Recycle. A humble initiative where the NGO asks for old sarees, dupattas, blouse pieces, etc, and manufactures cloth bags from them. The cloth bags are distributed in nearby areas for free. The initiative encourages the use of cloth bags which is of paramount importance at this point in human existence. Her team has distributed more than 28,000 bags as yet and plans to distribute more. While she might have considered selling those bags at cheaper prices, she believes in gifting as her humble heart feels that gifting is returning to the society; returning the respect and love her initiatives have received from the society.
#Awareness and Promotion of Hygienical, Healthy Sustainable Menstruations option like Menstrual Cup and Cloth pads: Menstruation is a natural process in women. Most of the women, for the sake of their convenience, use sanitary pads during menstruation. The sanitary pads are made up of dozens of chemicals and non-decomposable polymers and plastics. Seema, being a woman herself, knew the ineluctability of sanitary pads during periods and hence started looking for other environment-friendly initiatives. This quest took her to a magazine, in which she read about an object as innovative as a cup, to be used at the time of periods. Surprised at the existence of such an object she decided to try it out herself. After a few months of research online, she got her first Menstrual Cup and usage was a success. June 2016, after her first use of the menstrual cup, she realized that menses could be rash, stains, and trash free too.
Seema Khandale never looked back to sanitary pads again. While sanitary pads and tampons are the most convenient option available in markets for menstruation days, menstrual cups are the most environment-friendly ones. Sanitary napkins, in fact, are the use and throw option. On average, a female throws away 12-15 sanitary napkins every month, which would be equal to 144-150 in a year, which would equate to 6000 in a whole lifetime. Additionally, a single sanitary pad is made up of plastic which would take 500-1000 years to decompose. So everything sums up to form a huge scar on the face of mother earth.
These used napkins are thrown in our domestic waste bins which trigger a great health risk to the waste collectors. Burning these pads creates toxic fumes of dioxins which are believed to be highly carcinogenic in nature. At times, this sanitary waste makes its way into our sewage system, landfills, and water bodies. The government has introduced certain rules and regulations to manage the sanitary waste but their implementation still lies in the dark. But we too are responsible for caring for mother earth for the sake of humanity. Moreover, we must not forget the earth is the only source of fulfilment of our every need and hence we must give our best to protect it.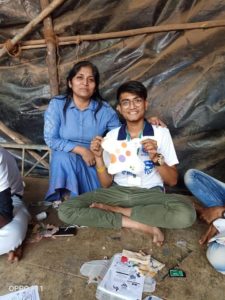 After she became well familiar with the product, she realized that the main reason why menstrual cups were uncommon was the lack of awareness and misconceptions about the procedure of use. It is said- "Be the change you want to see in the world". Seema did the same. To bring about an environment supportive change in the world, she started spreading awareness amongst the women she knew; her friends, relatives, neighbours. She bought two more menstrual cups and studied them in detail. Higher prices discouraged women from buying.
The turning point came in Seema's life when she received a chance to design a menstrual cup and she named it RUTU CUP.
The menstrual cup is a cup-like structure made up of 100% silicone, medically graded material. It is non-toxic and made up of non-allergic material. It is worn inside the vagina to collect the menstrual fluid at the time of periods. The technique to wear and remove the cup is a simple process, with no pain! The practice would lead to perfection. Minimal water is required to wash the cup which makes it more of an environmentally sustainable option.
Moreover, the Menstrual cup is a reusable and reasonable option too. Every month, women spend rupees 100 to 150 on sanitary pads which would roughly amount to rupees 1500 to 2000 in a year. While the price of a menstrual cup is approximately 1000 rupees. A single menstrual cup can be used for 8 to 10 years.
In the last 3.9 years of her awareness campaign, Seema Khandale has interacted with women of various schools, colleges, government, and corporate offices, Mahila mandals; and various other maids, Anganwadi sevikas, street women's, sportspersons, visually challenged, physically challenged and even the Doctors. She has tried her best to sensitize them about RUTU Cup. She has a wonderful achievement to her credit – she has changed the lifestyle of 2000+ women into an eco-friendly one.
Furthermore, she has aided all those who cannot afford menstrual cups, in self manufacture of cloth pads using old clothes at home. Many schools, colleges, NGO groups, have helped her to conduct such workshops. Although Seema lives in Mumbai, she manages to spread awareness to other cities either by traveling or calling the volunteers in Mumbai and instructing them about the process.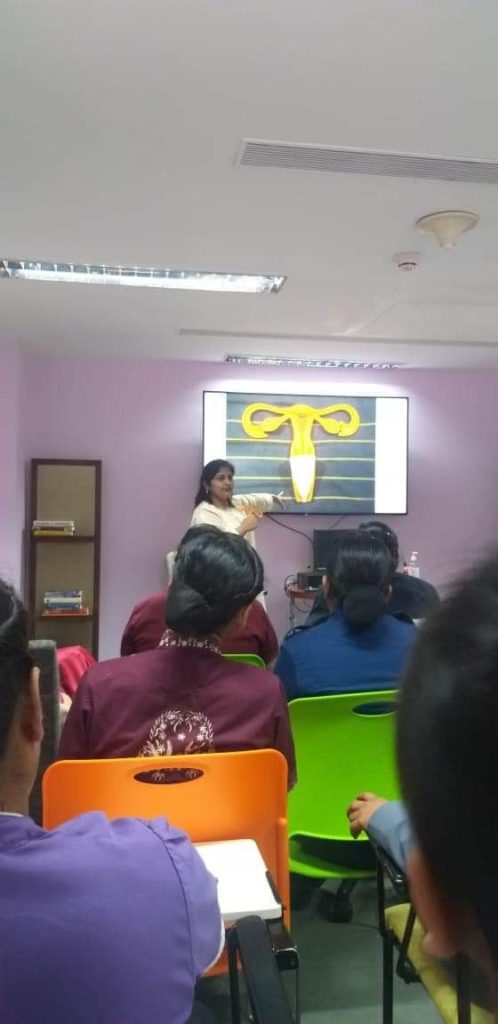 Achievements
Seema's caring initiative has brought numerous awards to her credit:
In the year 2018, she was honoured as Bai Manoos for the Facebook Live by Lokmat on the occasion of International Women's Day.
She was honoured by Lokmat as Social Entrepreneur Awards 2018 for her social work.
On 11th Dec 2018, she was honoured by Bahina Bai award, for working for Women's Health, by Gurunath Foundation, Muktainagar, in Guidance of Shri Eknathrao Khadse Sir and RakshaTai Khasde in Bhusawal.
She received Tarunai award from Jantaraja Pratishthan, Pune.
She was honoured by REA Foundation, Panvel.
She has been a speaker at grand motivational events like TedxKharghar and TedxTaraBaiPark.
She has been elected as 'Top 30 Awardees' as "Dhasu Woman" from over 1000 nominations.
She was awarded Best 5, In Maharastra, by Fandry Foundation.
She is being featured by better India, The wonder woman world and Samachar live.
Seema has devoted her life to social service. She is a social enthusiast who works her best not just to save the environment but also to enable zero compromises on the side of humans. The best and sustainable way to care for the environment is by developing safer, environment-friendly alternatives to polluting objects and that's exactly what she did.
Seema Khandale's zest for making a difference to the world, combining with her spirit of serving others through her caring ways and genuine initiatives is truly inspiring to many of us.
Ma'am, at the Story of Souls, we wish you all the best for your caring endeavours. May you continue to touch everyone's lives in your wonderful ways!
Our Storyteller:
MD. Danish Arman.
About our writer in his own words,
I grew up in the soothing shade of qualities like hardwork, sincerity and dedication and they eventually got imbibed in my life.
"NO MATTER HOW TOUGH MAY SEEM THE CLIMB
KEEP MOVING, KEEP FIGHTING ONE WIN AT A TIME."Reach him at: email id.  
Contribute to Story Of Souls, which is an initiative where we invite people to share their stories with us. We want people to "write to heal." It is genuinely an Online Platform where you can share your real-life stories.
Please follow and like us:
Our Rating for this Story