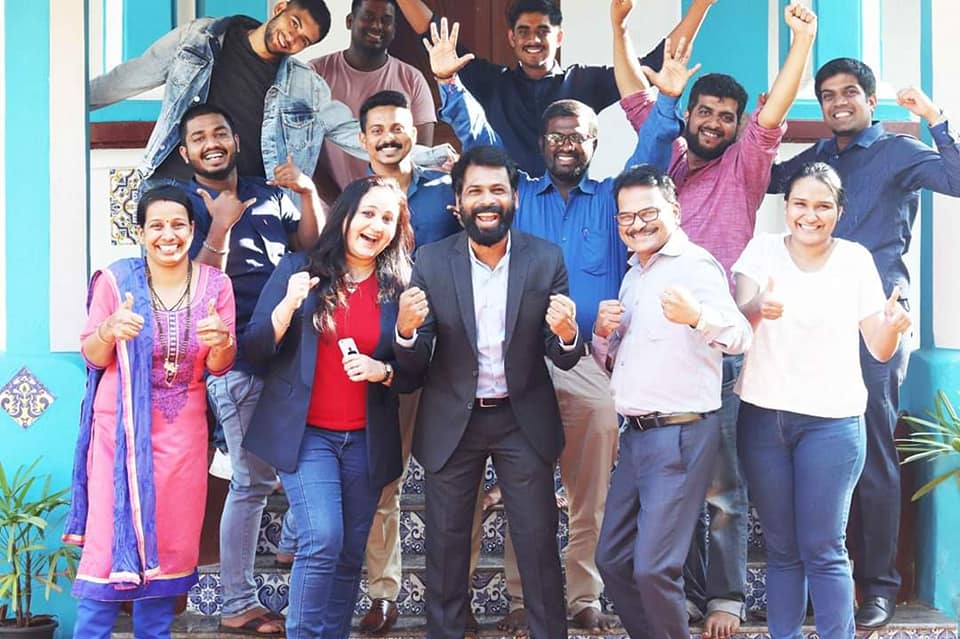 Suren Kolkankar – From Struggling In Grade 12 To Becoming Goa's First NLP Trainer – and the Founder & CEO of SK Consultancy – who are providing Training and Coaching services. He is today, a Motivational Speaker, International NLP Trainer and a Peak Performance Coach, this is his Inspiring Story.
History is a witness that remarkable academic performance is the key to staggering success ahead in life. It is valid to some extent. There are some forces beyond fantastic scores that push us and pave the way to make our dreams a reality.
One such story comes from the Tourist Paradise of India. Suren Kolkankar was born in the Western state of Goa. His maternal grandfather was an MLA and had served as a freedom fighter during Goa's struggle for independence from the Portuguese. He had also built 32 schools in his constituency to spread awareness about the need for a strong educational background among the locals. As much as Suren's grandfather was academically active, Suren was academically repulsive. Therefore academics and he didn't get along very well, and he could clear his Grade 12 only after three crucial attempts. While Suren's parents were worried about their son's future, relatives and neighbors added on to their emotional agony. They taunted and passed comments about how on one side, Suren's grandfather was building schools while Suren could barely make it in exams.
After completing high school, Suren parted ways with continuing his education and stepped into the field of networking instead. "The field brought with it newer, greater learning. And this was when I was inspired to tread the path of a motivational speaker," recalls Suren. In 2009, after having conquered his dream to become a motivational speaker, Suren trained to become an NLP practitioner. After five years of burning the midnight oil, Suren got his break – his first-ever NLP training in 2014. He became Goa's first NLP trainer. Since then, he has been imparting precious laurels of knowledge through NLP training.
Even after finding his true calling and becoming independent, people's snide remarks did not stop. They'd tell him that no would listen to someone who hadn't even completed his higher education. However, Suren used his failures as stepping stones towards success from a young age. He focused on his goal and lent a deaf ear to all the gibe that came his way.
Apart from the derogatory mocks, there were other weaknesses that Suren had to conquer before he could make it big – spoken English and stage fright. It was challenging, but he worked on himself until he was who he wanted to be. He would shiver on stage but never give up whatsoever. To counter this, Suren read about 500 books. He says, "Whenever I read a book, I first make notes of the things I like, try them out myself and then share them with my students."
After completing high school, the first book he read was 'The Magic Of Thinking Big'.
To date, Suren has trained over 25,000 people, conducted over 500 motivational training programs, and carried out close to 100 NLP training. His trainees include sports physiotherapists, sports consultants, executives, psychologists, therapists, coaches, navy officers, etc. Suren's biggest inspiration was his mother, who was the binding pillar for his family after the death of his father when Suren was 15.
In 2017, Suren founded a platform called, 'Aspire' which provides an open space for everyone – from truck drivers to cleaners – to showcase their talent and share their inspiring stories — born from Suren's firm belief that every person is a champion.
By 2024, Suren dreams of making an impact in the lives of 2000 independent entrepreneurs in India so that they can establish their start-up businesses. With a firm belief in his self, Suren strived to achieve what he had always dreamt of. All he had was his unshaken self. There were adversaries. However, Suren knew how to get through.
Last but not least, excellent academic scores are not the key to a smooth road to success.
Writer:
Kavya Mukhija is a student of Psychology, a writer, a calligraphy artist, and a creative content creator. She loves travelling and exploring new places. Always dressed with a smile, she considers spreading happiness a good deed. Last and least, she is a woman with a 'special ability' who believes that more than the 'special ability,' it is the negative perception towards 'disability', which is disabling.
Contribute to Story Of Souls, which is an initiative where we invite people to share their stories with us. We want people to "write to heal." It is genuinely an Online Platform where you can share your real-life stories.
Please follow and like us:
Our Rating for this Story