love you mother in law
Friends, at the time of one's marriage, every girl desires to have a dream boy as a perfect match: who would accordingly complete her life in the way that she has always dreamt, imagined, and watched in films or movies and read in fiction or books.
To make this dream come true, she is happily and willingly ready to embrace every aspect of life and to go through all the unexpected ups and downs that may have been strewn along her path. So, while most of us, go through this inevitable transition of life thinking it to be a not-so-happy experience: I want to share with you a different perspective.
All marriages are made in heaven, they say. As for me, I can say that my marriage was indeed made in heaven. When I realized my dream love story, it was sealed with an amazing gift: which was even more precious than all the wonderful gifts that I received during the marriage itself!
For me, this is also an extraordinary relationship that I share with a loving person who came into my life during what I would call as a definitive and a transformative stage of one's life. This person is my mother-in-law, but it is with great love and with much adulation that I call her my new mother.
So as I begin to pen down, I ask myself a question about where and how to begin? This is because in these years my new mom has touched my life in such beautiful and myriad ways that it becomes almost difficult to select and pinpoint only a few of them. Yet I will try in my humble way to do justice.
The unexpected proposal
I clearly remember. It was the year 2014 when I had gone for my favorite pilgrimage. It was there that I had asked my patron saint to grant me one of my wishes during the coming year: The first one was to grant me the gift of marriage with a good prospect. And the second one was: to help me go abroad to fulfill my dreams of further studies in my chosen field. That day I had prayed to Him with all my heart. It was after completing my prayers, that I returned home both happy and contented.
While on my way back, little did I know that my life was about to change. Little did I realize then that an unbelievable miracle was about to happen; and that my prayers had indeed been answered and accepted: most beautifully and intrinsically!
Yes, it was within six months of this incident that I received the most-awaited proposal for marriage.
Needless to say, my parents were happy and delighted. But I am over joyous for two reasons: one I got an opportunity to live life in a new city. Secondly, I could realize my dream of living partially on my own in a place away from my home. By all means with the grace of God, I prepared myself to embrace a fresh new beginning. Start a beautiful chapter of my life!
All about my new life and learning:
After my marriage, my shift has been so smooth. My new family and parents accepted me whole-heartedly.
On my part, I wanted to make sure that it was also a time and an opportunity for me to learn, introspect, and grow in my life. The most important step I took towards achieving this end was to watch and emulate my new mom in her ways: related to home, work, life, love, community, etc. Slowly but gradually I started learning from my new mom: small things that she almost always did in really big, immeasurable ways!
My new mom is a daring lady, and many times she has illustrated this by standing up for what is just, true, and worthy in life. This trait of hers is what I want to hold very close to my heart, and start to practice in every sphere of my life: whether small or big, tiny or mammoth.
Furthermore, its always a sheer pleasure to watch mom when she communicates through her refined and impactful, calm but firm words. I have noticed time and again that her speech goes miles and miles in winning everyone's hearts! Nowadays, whether speaking to customers at work or to any loved ones at home. I always try to smile and communicate happy vibes. While I share my message with genuine eye contact. I must say has added a sheen to my personality. This has made me a better communicator. Most importantly, I feel I am a more loving and amicable person.
Mummy has always been a business person. Her dignified dealings with customers, her caring attitude towards workers and Karigars (tailoring and embroidery specialists), and her meticulous and methodical delivery of work vouch for her ability to be a people's person. Hats off to her.
Apart from this, what I admire about mummy is her inner drive and passion to teach me quite tirelessly. And ultimately when I learn and achieve her level of perfection, she can participate and celebrate in my success by giving me due credit. Indeed it is only someone of her calibre who can think and act selflessly.
If there is one thing that mummy holds proudly and beautifully in her precious armament: it is her radiant smile. It is with this smile of hers that she can conquer many difficult moments in her life. Moments that many would dispense off as unpleasant or even unwanted. But only mummy can take the best out of such moments and enjoy them to the core. This is something I always want to absorb in my life and embrace in my day-to-day conquests: whether it is related to life, love, or work. I love you mother in law
Another fascinating aspect of mom is her unrelenting ability to complete a monotonous task without a logical break. It is with much fondness that I love to watch her blend. Her zestful creativity along with the perfect amount of meticulousness. This is found in everything that she creates. Whether a dress, a piece of artistic delight or even a tasty dish.
Whenever mummy introduces me to her friends, she says: "meet my daughter." Trust me, it is indeed a heart-warming moment when a daughter-in-law is addressed like that!
Trusting others is easy, but to trust oneself is rather difficult. Time and again, I have watched mummy closely and observed one amazing thing about her… In her times of triumph as much as in her difficulty. Mummy has stood her ground always. She has kept up her words strongly. Trust her gut feelings which come to her very naturally. I am happy and proud to say that it is time and always that she has emerged as a winner. With her positive thoughts, words, outlook. Actions being her best ally, her power-tool, her shield, and also her comforter. From all the precious virtues that one can count together. That makes her a truly outstanding person. It is this special and most inimitable quality, I want to continue to absorb, embrace and cherish in the years to come.
Adding cheer and colour to everything around her:
Apart from all the learning, there is a fun side in my mother-in-law. This attracted me more towards her. The undying spirit to enjoy life in a wherever situation. Be it is lavish cooking at home or organizing an event. Or it is attending an overnight Hindi classical music session. Else, going on long uncomfortable road trips. I have seen her enjoying every bit of her me-time with joy. This vibrant smile holds me in awe of her time and again!
Bringing a new daughter into our house:
Recently my brother (in-law) got married. And with similar gusto, love, and care that my mother-in-law brought the younger daughter-in-law into our beautiful house. In the same way, she brought me a few years back. As I witness this wonderful moment, it brings to me a great sense of happiness. Very few daughters are blessed to have a tender, loving mother-in-law. love you mother in law
With a toast to the unique and special person that you are: here's wishing you happiness, health, and long life for many years to come, my dear mother-in-law – SHAMIM OLIA.
Love: Alifia.
Our Storyteller: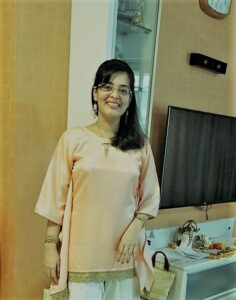 Hi, I am Alifia, I am a senior creative writer and a communication consultant. Writing is my passion, and reaching out to youngsters through my words is something that I truly love. I have written short stories for online journals, feature articles for magazines, as well as motivational writing for numerous newspapers and online blogs. My passion is to explore the opportunity to write for children and youngsters, especially motivational writing, counseling through words, as well as fun and learning-oriented topics for them. I also take up the group as well as individual learning sessions that motivate children to coordinate and communicate better! Reach her at
Linkedin ID. 
Contribute
 to Story Of Souls, which is an initiative where we invite people to share their stories with us. We want people to "write to heal." It is genuinely an Online Platform where you can share your real-life stories.