.One fact which we don't realize is that life is unpredictable! You don't have any clue what is going to happen the very next moment.  Precisely, this is about Aditi Anand, who was a work-from-home mom and was quite content being with what life has given her. Until one fine day, when she got to know that her husband is no more with her. It is when her story of struggle, being independent, and managing family along with her fears started. As Woman's Day is approaching, go through this inspiring struggle story of Aditi after losing her husband.
Meet Aditi Anand, who is presently a single mother with two amazing kids and a working professional. She knows what she wants from life and how to get there.
Let's hear from her how she revamped herself from being a homemaker to a thorough professional and, most importantly, a loving single parent.
Her Story:
Ours was an arranged marriage that took place in 2001. It was not a love at first sight. But yes, I must say that he made me fall for him by his patience and calmness, which is rare to find in today's men. We had an amazing and somewhat perfect life with our shares of ups and downs. And had two lovely kids; a house which we turned into a home, a big car and a great professional graph of my husband.
But, as we all know, happiness does bring sorrows along.  It was in the year 2011 when my life turned upside down. As my robust and loving husband's diagnosis was not properly done. And before I could realize what has happened, I lost him in a month due to jaundice.  Due to a lack of proper treatment, he left me with two small children aged 8 and 4.5 years.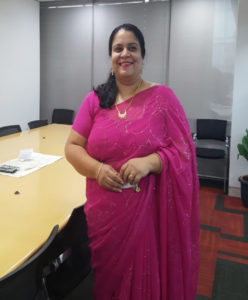 I don't know what should be the next thing and how to lead a life alone. I wanted to die too, but that very moment my kid's face came rolling to me. And I told myself that I could not go weak. They need me, and I have to stand up for them.
I am a qualified professional, but I was not working after my kid's birth. Yes, I was freelancing, but that was out of my choice and on my terms. But now suddenly there was a need to earn full-time to maintain the regular flow of income.
Fortunately, at that time, there was an opening that matched my profile, but at a junior level, in my hubby's office. The Center Head asked for my CV and hence started the long process of various interview rounds. I was nervous as hell as I was going back in the business after a break of almost ten years. Those two months, while facing continuous interview rounds, were very tumultuous. I was not mentally ready to have a fresh start and that too alone this time. Making kids understand about the fact that their father is no more with them and, deciding to make a comeback in the job again and leaving kids behind.. made me more anxious. But as the situation arises, I made myself bold and learned to focus on priorities and not my fears.
While waiting for the results of my interviews at my hubby's organization, I started working part-time in one of the companies where I was freelancing before as I cannot afford to sit ideally and I opted to work for my sanity.
Whenever I am at home, his memories hit me even harder and make me feel cry all the time, each thing reminded me of my hubby, but I had two small kids who were even more terrified than me, I guess. I braced myself and became a tigress, divided between protecting her cubs and going out and work
I reminded myself to focus on what to do now. Therefore, I charted the things that needed to be sorted out on an urgent basis. First and foremost, I paid for my house and car loan from the money that I got from my hubby's office after his death. Next was to collect all the investments that he made at various places. I say my hubby has always kept me well informed about all his financial investments, and he made it a point to make me "NOMINEE"  at all the places. That somewhat but not entirely made it easier for me to follow up with the financial institutes. Still, it took me 2.5 years to get all his dues.
Meanwhile, I got a job in his office. After that started the process of proving myself at my workplace, taking care of the house, kids, and running around for his dues, it was a long battle. Now, after almost eight years of my consistent struggle, when I look back at it, I realize where I am today. During these years, I did what was required to be done, and with God's grace, support from my in-laws, and my maternal family's mental and emotional support, I started climbing up the professional ladder.
All through this, I didn't let my kids see me crying. I used to cry while driving in the washroom. But one thing it was apparent, I will not be a weak mom. At the same time, I remember my hubby till today and speak to him in my lone times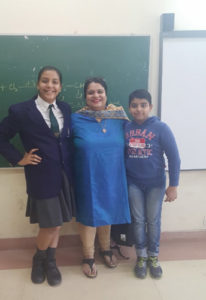 Today my kids are very proud of me, and thankfully they are kind, confident, and have learned to be kids to a single mom. I still remember Sandeep was a doting father to both his kids. They had started their international trips in their cribs. So when he expired, my son, who was almost five years old, asked me innocently, if he would ever be able to fly again. It broke my heart, and I decided then that no matter what, I will give the same lifestyle as their father had given them. And I can proudly say that I have been able to keep my promise till now.
Talking about my in-laws and me, Sandeep was the only son of his parents with no siblings. Though we stayed separately, my in-laws are a tremendous support. Because of them only, I was able to give my all to the job as they used to take care of my kids when back from school in the afternoon.
I am always around them in their good and bad times so much so that they refer to me as their son today. Now that's the biggest compliment a daughter-in-law can get! My parents and brother are with me through every thick and thin, and they always ensure that I should not lose focus of my life and stay positive each time.
I never stayed alone in the night before my hubby died; a kind of darkness surrounds you when the home is quiet. But here I am, it's been seven years that I stay alone in my house with both the kids.
I also had my share of ugly and evil comments pouring in from neighbors and relatives. But I knew how to handle them and shut their mouths once and for all. I had my moments of weakness and helplessness; I accept I cannot be brave all the time. Sometimes some situations I handled with patience and some with an iron hand. It was obvious that I will not let society think that I am a vulnerable woman.
I have my own set of good friends in my neighbors and office. I trust them and take their advice when in doubt. Some of my colleagues have become my lifelong confidantes.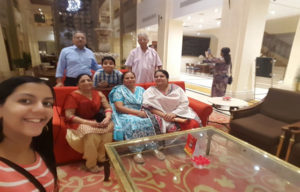 Today. Kids have grown up and have become my support system. They know what is right and what's wrong about society and how to handle things their way. Even till today, many a time I am not very sure, whether the decision I am taking is a right one or not, I do have my conversation with him (still my angle in heaven -Sandeep). Once I do it, he ensures to send me the answers in one way or the other. This one's for you, my eternal love, I hope that I have not disappointed you in any way whether it's your kids or your family.
Before signing off, Aditi says, "I believe that the present is where you can create the future. If you work hard and stick to your priorities and goals, your future self will be incredibly thankful."
This emotional story is edited by our editor  – Meera AK