There are two ways to express one's love for one's motherland. One, to join the armed forces and become a part of the human wall deployed at the borders to protect the nation. Or, two, work in the background to empower those unsung heroes who put their lives at stake only to protect their country.
Expression of Patriotism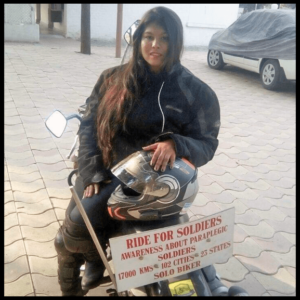 Mitsu Chavda is one such patriot, biker, and bike lover who hails from 'The Diamond City of India,' Surat. Founder of the nationwide solo bike trip called Ride for Soldiers, Mitsu travels around the country on her bike to make the masses aware of their brothers and sisters fighting relentlessly on the borders. A graduate in English (honors) and Bharatnatyam, Mitsu loved watching the news. The routine was almost a part of her diet. While she hopped from one channel to the other, she came across news pieces that impacted her thoughts. These news pieces talked about abuse and suicide among the youth. It was the time when Mitsu pledged to do something about it.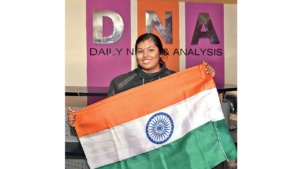 From a New Bike to a New Passion
What followed next might seem a tad bit impulsive, but it was the first step in making Mitsu the woman and the biker she is today! The Surat-resident ordered a secondhand bike from OLX and learned something she did not know – biking! Her first bike trip from Surat to Mumbai was truly incredible – shares Mitsu. It's a beautiful feeling to see the mighty Gateway of India finally – Mitsu told herself! It took her 11 hours, 6 hours more than average.
The Cause of Kindness
Revealing the reason behind a noble and kind deed as this, Mitsu says, "Even after losing everything, including their body parts, these soldiers continue to strive for merit and acceptance, which they rarely receive. This is why I want to make the public aware of them." Mitsu's inspiration is her friend, an army Major and a wheelchair-user. After her tryst with her friend, she decided to delve deeper into the lives of paraplegic soldiers. As a result, Mitsu surrounded herself with books to amass knowledge about their lives.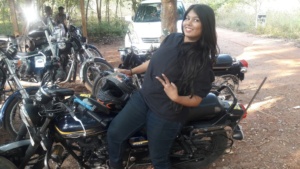 Inaugurated in 2017, Mitsu undertook a 5000-kilometer- long journey as a part of her initiative. She, with her fellow bikers, traveled across 12 countries from Gujarat to Odisha. Mitsu shares that while traveling, her primary aim is much more than simply biking to distant lands. As she travels, she visits schools, colleges, and clubs where she addresses people. While doing so, she shares her insights, thoughts, and feelings to mobilize the thoughts of her listeners. She reminds them of their sacrifice and asks them to promise her to never disrespect a soldier ever again.
Overcoming Dark Clouds and Chilly Winds
Biking is a hobby that is primarily associated with men/boys. Mitsu also faced several challenges on the road to nurture her baby initiative- Ride for Soldiers. Mitsu recalled that often, people treated her like a man because she would be decked up from head to toe in biking attire. Even her long hair would be immaculately tied and hidden under her helmet, giving the impression that she was indeed a man.
There were other times when her fellow bikers undermined her biking capabilities. A significant difficulty that she faced was a lack of public toilets for women. She recalls that there were times when she couldn't find even a single toilet in a 200-km stretch. However, as they got to know her and her noble cause, their behavior changed. She says that the support from the Indian Defence Forces has been monumental in her journey as they offered her food and accommodation.
Mitsu also had a hard time getting her family on board to support her in her cause. Her father, an auditor, and her mother were never in support of the idea of their daughter solo-biking. However, as they found that Mitsu is on the road for a good cause, they gave in and supported her with their everything. Despite being an inexperienced bike rider, Mitsu said that biking groups embraced her with open arms.
In 2018, Mitsu completed a 17,000 kilometers long journey before reaching back home. She feels proud whenever she honors soldiers who have been disabled while on their duty.
Accolades and Appreciation
Mitsu's efforts have gathered applause from far and wide, including the Indian Army, the President of India, Defence Minister of India, Home Minister of India, and the Chief Ministers and Deputy Chief Ministers of all states. In a bid to honor the spirit of 'soldiering,' the Indian Army observed 2018 as the 'Year of Disabled Soldiers in Line of Duty!'
Biking into the Future
Mitsu believes that life is a beautiful gift, and it is essential for us to realize our higher goal or purpose in life. Mitsu also aspires to raise awareness among the youth of the country to be emotionally stronger. She wishes to empower the youth to make the right decisions and not fall trap in insignificant life situations. Life is much more than trivial matters, and hence we must strive to find the one thing that adds value to our life!
Our Storyteller: Kavya Mukhija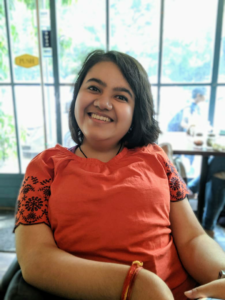 Kavya Mukhija is a Psychology student, a writer, a calligraphy artist, and a creative content creator. She loves traveling and exploring new places. Always dressed with a smile, she considers spreading happiness a good deed. Finally, she is a woman with a disability who believes that more than the 'disability', it is the negative perception towards 'disability,' which is disabling. Reach out to her on Linkedin Id. 
Contribute to Story Of Souls, an initiative where we invite people to share their stories with us. We want people to "write to heal." It is genuinely an Online Platform where you can share your real-life stories.