Almost all of us have this love-hate relationship with our parents at different stages of our lives. Mine was no less. Long after you are all grown up, you realise that they have done a lot and sacrificed a lot for you.
We begin to reflect on the tiny memories that we had pushed and locked away somewhere. We realise that they are our real heroes.
I can proudly say that I have more than one hero in my life.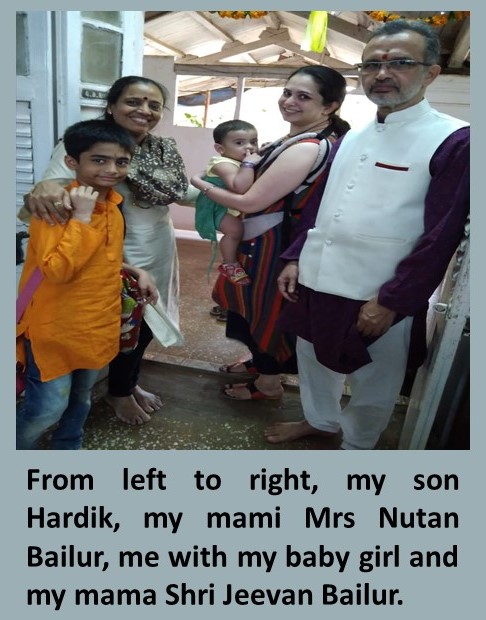 I was a sickly child which made me miss my school and studies a lot. But I did have great teachers who understood my capabilities and my shortcomings and guided me well, giving me the freedom to learn the way I wanted, the way I could. I still turn to my memories of my teachers, Mrs Priya Kulkarni (English), Mrs Shanta Pathy (SS), Mrs Godbole (Arts), Late Mrs Shobhana Bijur (Principal) on how they helped me in my circumstances, guided me and gave me the confidence to face this world. I have implemented their unique methods of teaching in the way I teach my students now.
In the muddled mess of a childhood, lie a few sweet memories of my grandfather, father and brother, carrying me around, teaching me things, showing me the world and its endless possibilities. One can say I was practically half home-schooled cause I was more at home than in school due to my health.
My Grandfather, Late Shri Gopalkrishna Kowshik, used to carry me around the house and veranda when I was a baby, singing bhajans, shlokas and telling me stories of Gods. He even taught me pooja vidhis. He instilled in me the strength of faith, self-discipline and love.
My father, Late Shri Kishore Kowshik, taught me everything by example. When things were to be repaired, he took out his toolbox and showed me how to use screwdrivers, pliers etc to repair electric and telephone wires. When there was a celebration at home, he cooked scrumptious meals for the guests and taught me many tricks of the trade. He made me a book worm and we used to spend late nights reading novels. He even got me a library membership. He used to prepare the displays of stalls for his office exhibition which always won accolades and prizes. He used to stay focused and sit for long to work on his projects or anything else that he undertook.
My mother, Mrs Shrikala Kowshik is an epitome of sacrifice. She had to struggle to manage the entire house of a joint family with relatives visiting often as extended family, on a mere salary of my father. She sacrificed a lot of her time to keep everyone happy. Our house used to have many guests, relatives visiting us most often. Most of her time was spent in the kitchen to made sure no one, including our guests, went hungry. Her father, Late Shri Shridhar Rao Bailur was a freedom fighter and a poet. His birthdate and mine are the same so everyone believes that somewhere a bit of his writing skills have been inherited by me. I never got to meet him as he died before my parents married, yet hearing his stories from my mother, I see how his qualities of self-sacrifice have reflected in my mom.
My mom has inherited her cooking skills from her mother, Late Mrs Prema Bailur. Everyone in our family always calls her to ask for recipes that her mom had taught her. She is full of talent and I learnt a lot of special art from her like knitting, sewing, painting etc. She also is expert in Sanskrit and has written a few books in the language. I followed her passion for creative arts and languages to try to become a good teacher to my students.
My brother, Bhushan Kowshik, is eight and a half years older than me. He took care of my every need and still does. He never allowed anyone to scold me in my childhood. Now too he is very protective of me. Even though he stays far away, our brother-sister bond remains strong as ever. He taught me the use of computers and how to fix problems related to them, whether hardware or software. He never got tired of my persistent questions and always answered me patiently. He taught me to persevere behind what we don't know and explore options.
My maternal uncles and aunties are my unsung heroes who have showered me with love and cared for me a lot. My eldest maternal uncle, Late Shri Jitendra Bailur, like my father, had a helping nature. They both never looked back nor said no to anyone who sought help. My dad was a medical rep and had a vast knowledge of medicines and thus helped a lot of poor patients get medicines at discounted rates. My eldest maternal uncle was the glue that kept our family bond strong. Everyone went to him to seek his advice on problems they faced, be it relatives, friends or colleagues. Jiten mama taught me to be humble and kind to everyone.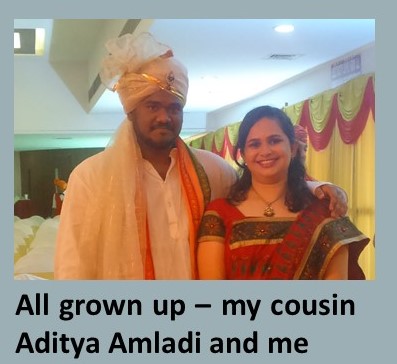 My youngest mama, Shri Jeevan Bailur and his wife Mrs Nutan Bailur, dote on me. Both of them have taught me the importance of having a strong bond between relatives. Both treat me like their daughter. Nutan mami always knows what everyone likes. She has also taught me to put care and thought into gifting to others. My Elder mama, younger mama and mami have taught me the importance of family, love and trust. Any of the family members had problems, Jeevan Mama and Nutan Mami are always there to help. They are the silent heroes who seek nothing but always give. People of few words, they know what to speak, when to speak. I have learnt to be patient, understanding of everyone's temperament and how to try and hold a family bond together because of them.
My two maternal aunties who consider me as their daughter, always made sure I got what I needed during my student years. My elder Maasi, Mrs Mridula Dhareshwar with her husband Shri Mohan Dhareshwar has taught me to never give up hope. Leading by example they have instilled in me the strength needed to face the toughest times in life with a smile. They faced so many situations in life with a big smile and never showed any signs of giving up. They have taught me to believe in myself and my inner strength.
My younger maasi who is my mom's cousin, Mrs Geeta Amladi and her husband, Shri Anand Amladi, have shown me the path of truth, love and understanding. They treat me as their own daughter as well and always took care of my needs. They also taught me valuable lessons of how important it is to invest and save for the future. They inspired me to make a very important decision in my life for which I am always grateful to them. They both have guided me and supported me. I have always called them to seek guidance during tough decisions in my life.
I am privileged to be the only sister in my maternal side of the family and thus all my cousin brothers, younger or elder dote on me. Although we hardly get to meet due to time and distance, we still manage to keep in touch every now and then and make sure we spend festivities together.
My elder cousin, Mr Manish Dhareshwar has been an inspiration of how to follow your passion even at a later age in life. His love for photography which he cultivated after the age of 40 has shown me that I too can pursue my passions at any age and that seeking knowledge has no age limit. He has also showed me how we can face difficult situations in life in a calm way.
One can not only learn from their elders but also from their younger siblings. My younger cousins Tejas Bailur and Aditya Amladi dote on me and never forget to wish me on my birthday…even if I am guilty of forgetting to wish them on theirs. They both even used to save their pocket money and buy gifts for me during Rakshabandhan and Bhaiduj. They both are immensely talented in music and have inspired me to persevere one's goals without giving up.
Who says small kids can't inspire? Both my son Hardik and daughter Hridayaa show me that miracles do happen. Both are miracle babies. Considering my ill health, doctors had told me that I may never get pregnant. But breaking all odds, my son Hardik was born premature, with an enlarged kidney and a thin valve. He suffered severe pain for many years but we had to wait for him to grow strong enough to have an operation. At the age of 9 he underwent a 5-hour long surgery. The pre-operative tests were too painful, but he gave me courage instead of crying. Seeing him endure his pain and the will power to get better quick, gave me strength to face my demons.
I had planned to adopt a child ever since I was in college. This dream of mine came true when on the day of my son's operation, we got confirmation that a baby girl was ready to be adopted by us. We had applied through CARA about a year before. We didn't even see her picture they sent. We just saw the birthdate which was 31st August, 3 days after my son's which is 28th August. We decided, this is it. We belong to her and she to us. It was as if meant to be. Her smile, her cheerful attitude, makes me believe in a beautiful future.
I have faced a long history of health and family problems. Depression hit me every step of my life. I was a loner, even in a crowd. But both my kids inspire me to look forward to the future and keep me giving strength to come out of my depression every time. Even through tough times, the strong invisible bond between me and my family members has not weakened.
Then there are those who are not related to you, yet create an everlasting bond of love, care and protection. One of them is Dr. Jairam Iyer. He is my brother's school friend. Since childhood, he has considered me as a sister and never missed a single Rakshabandhan or Bhaiduj, no matter where he is. He cares for me and gives me timely advice. I have a deep respect for him and admire his achievements through adversities.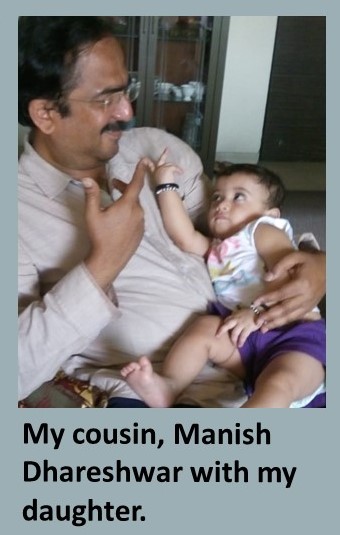 This article won't be complete without mentioning my other rakhi brother, Late Farhad Wadia. He was my husband's childhood friend, but considered me as his sister. He faced a lot of difficulties in life, lost his parents at an early age, lived alone. Yet he was happy always. Always helping and cheering others. He used to love to ardently celebrate each festival with us. I have never seen or met a person with so much enthusiasm other than him. The day he died, I felt that I lost one of the pillars of support in my life.
I have had many friends in my life who I always treasure. But my story won't be complete without mentioning two important friends in my life – Sandhya Jadhav and Shrikala Nalkoor-Stalekar. Sandhya has been a powerhouse of strength, tolerance, endurance. She gives her all to help others, to take care of her family in every problem. She has the biggest genuine smile on her face, even in difficult times. Her never give up attitude shows me the ray of hope from darkness to light every time. Her kindness has been misunderstood by quiet a few people but I know how much she sacrifices her own health and happiness for others, whether they are related to her by blood or not. Whatever I say about her would be very less.
Shrikala has been my friend since my marriage. We met through community get together. I got to know her slowly and felt a strong bond between us growing. She inspires me to persevere my passions, just as she does in her life. Her happy go lucky attitude is addictive wherever she goes. I want to always be like that – happy go lucky.
All these people have been a great source of inspiration throughout my life, leading with examples and not by advice. I have observed how they interact with everyone, how they tackle difficulties in life and how they keep faith in good karma. I have seen them all go through difficulties in life headstrong, determined and come out victorious.
There are many people in my life from whom I have learnt a lot of positiveness. The list is unending. All of them who I haven't been able to mention in this story are a very important and integral part of my life. They are my family of friends. I have been lucky to have met them every step of my life, from school to now, and continue to hold a very special place in my heart for them.
Without them all I would have not been the person I am today.
Our Storyteller – Nivi Karnad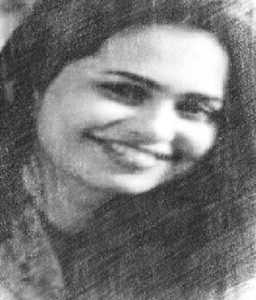 An avid reader from childhood, Nivedita Karnad (pen name Nivi) has kept her passion for writing poems and life experiences since college days. Her drive to write comes from her adventures and experiences. She feels that through writing one can express one's inner feelings, making one free from the burden of life. Thus, she began a new journey in content / creative writing with www.storyofsouls.com
She left her thriving career in business development in interior design to dedicate her time towards home schooling her children and follow her passion for writing. In her free time her love for languages inspired Nivi to start Sanskrit Fun Learn classes from home. This further led to parents asking her to teach other subjects in similar way. Today she has about 15 students, each one unique, who show passion towards learning new things in a different way.
Nivi believes that learning should be fun and is dedicated towards making tough boring subjects, interesting to learn by using engaging methods with her students. She encourages her students as well, to read and write in different languages, just as her teachers had inspired her to. Reach our writer at: Nivedita Karnad.