Hima Das is 19-year-old India's golden girl from Assam. Nicknamed the Dhing Express, this young sprint runner, became the first Indian athlete to win a gold medal in a track event at the IAAF World U20 Championships.
Born near the town of Dhing in Assam to farmer parents, Hima Das was an unknown name until she proved herself. And since then, there is no looking back to her successes. It all happened because of her hard work and her determination.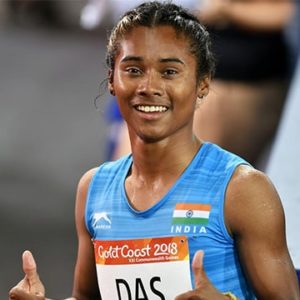 The sprinter has enjoyed a meteoric rise. Hima has five siblings, and she is the youngest of them. She went to Dhing Public school. She played football with the boys at her school and wanted to pursue a career in football. However, the prospects were limited in women's football in India. Therefore, she turned her focus towards sprint running on the advice of her school physical education teacher.
The Early Life
Hima's rise, from working in the rice fields of Assam to winning gold for India, is quite inspiring. According to a report published by ESPN, Hima, after winning the 400m race of the Federation Cup, tried to call her mother to share her joy in getting the opportunity to represent India at the Commonwealth Games. It took a long while for the call to get connected because of the low mobile connectivity at her village.
Her mother's response to her winning the race and representing India is also something that will warm your heart. The publication quotes her mother, Jonali Das, saying, "Commonwealth Games? What's that? Will you be on TV? Then it's probably a good thing".
Journey till now
Hima Das continued to register victories in her name one after the other. In September 2018, she signed a deal with the Sports giant Adidas. Adidas has a track record of helping athletes across sports to realize their dream and reach the peak of their careers. Hima Das received an endorsement fee between Rs. 10 to 15 lakh from Adidas along with racing and training facilities across the globe. The company has also manufactured a boot with her name on it.
In July 2019, she went on an incredible winning spree and bagged five medals in a month.
She bagged 200m Gold in Poznan Athletics Grand Prix in Poland with 23.65 seconds on the clock.
She won 200m gold at the Kutno Athletics Meet in Poland in 23.97 seconds.
She won 200m gold at the Kladno Athletics Meet in the Czech Republic with 23.43 seconds on the clock.
She won the gold medal in the 200m race at Tabor Athletics Meet Czech Republic. Time was 23.25 seconds.
She won the gold medal in the 400 meters in Nove Mesto, Czech Republic. Time was 52.09 seconds.
In 2018, in the same month of July, she bagged the gold medal in the 400 m event at the World U-20 Championships 2018 held at Tampere, Finland. This victory made her the first Indian sprinter to win a gold medal at an international track event.
In 2018, she received the prestigious Arjuna Award for her outstanding achievement in National Sports. She is also India's first-ever UNICEF youth ambassador. She is the only athlete from Assam after Bhogeswar Baruah to win a gold medal at an international event.
Hima Das- the girl with a golden heart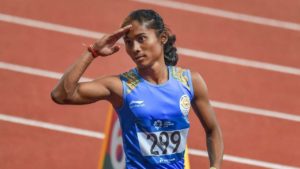 Hima Das has made India proud on and off the field! The girl has not only won accolades for India but also our hearts with her gesture of donating half of her salary for Assam floods. She also urged the corporates to come forward and help the people trying to battle the rising water and diseases every day. "Flood situation in our state Assam is very critical, 30 out of 33 districts are currently affected. So I would like to request big corporates and individuals to kindly come forward and help our state in this difficult situation", she wrote on Twitter after donating.
She is a hero on as well as off the field. A true sportsperson, Hima Das, is an asset to our nation, and we need to cherish and rever the asset.
Storyofsouls thoughts:
We feel that its high time that we should give respect to all the north-East Indians. They are the people of India and are doing so many things to make India feel proud at the International levels. Let's support them and spread brotherhood amongst everyone!
Our Storyteller – Nishtha Sood
Nishtha Sood is a law enthusiast apart from an avid reader and a passionate orator. She has a practical and frank opinion on everything under the sun. She is also When she is not cramming and penning down her thoughts for various elite platforms than she loves to sleep to heal.