SUSHMA SWARAJ
"Duniya ki sabse badi se badi samasya ka samadhan hota to sirf samwad se hi hai, yuddh kisi samasya ka hal nahi hai," quoted by a great political leader when asked about the war.
Sushma Swaraj, a Supreme Court Lawyer, a senior leader of Bhartiya Janta Party, who also served as the Minister of External Affairs in the first Narendra Modi government. She became a Member of Parliament for seven times and Member of Legislative Assembly for three times. She also became the youngest cabinet minister of Haryana and also became the first woman chief minister of Delhi but for a short period.
EARLY LIFE
Born on 14 February 1952 at Ambala Cant, Haryana to Hardev Sharma and Shrimati Devi. Her father was an RSS member. Sushma Swaraj did her schooling from Sanatan Dharma college in Ambala Cantonment and gained a bachelor's degree in Sanskrit and Political Sciences. After that, she pursued Law at Punjab University, Chandigarh. In 1973, she also started practicing as an advocate in the Supreme Court of India. After Emergency, she joined the Bhartiya Janta Party, and later, she became one of the national leaders of the same.
PERSONAL LIFE
On 13 July 1975, in mid of crucial times of emergency, Sushma Swaraj married her fellow advocate, Swaraj Kaushal. They both got together at the times of Emergency. After that, he teamed up for the defense of socialist leader George Fernades. He was also a member of parliament from 1998 to 2004. The couple has a daughter who is a graduate of Oxford University itself.
ACHIEVEMENTS
In 1977, she became the youngest Cabinet Minister in the Government of Haryana at just 25 years of age.
Sushma Swaraj also became the first female spokesperson of a national political party in India.
She has many firsts in her name such as BJP'S first female chief minister, Union Cabinet Minister, General Secretary Spokesperson, Leaders of
Opposition and also Minister of External Affairs(second).
She is responsible for implementing the foreign policy for Narendra Modi.
As External Affairs Minister, she played an important role. And she even played a pivot role in bringing back the 23-year-old hearing and speech impaired girl, Gita from Pakistan to her nation, India.
She is the first and only Outstanding Parliamentarian female MP.
She also served as the President of the Hindi Sahitya Sammelan in Haryana for four years.
In recognition of India's support in evacuating citizens from Nepal during an earthquake in 2015, Swaraj accepted the prestigious Grand Course Of Order Of Civil Merit, which was conferred by the Spanish Government.
POLITICAL LIFE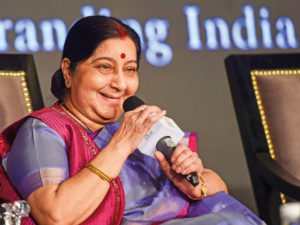 1977-82: She became a Member of the Haryana Legislative Assembly.
1977-79: She became the youngest cabinet minister of the government of Haryana.
1996: She became the Union cabinet minister of information and broadcasting.
2009: Deputy Leader of opposition in Lok Sabha.
2009-2014: Leader of Opposition in Lok Sabha
2014-2019: Minister of External Affairs in The Union Of India.
DEATH
Sushma Swaraj suffered from a heart attack on 6 August 2019. She was rushed to AIIMS, Delhi. Later, she died from cardiac arrest. She was cremated with full state honors at Lodhi Crematorium, Delhi. Known for her warm interactions, she will always be living in the hearts of her friends and family. She was the only person who was even loved by the opposition party leaders.
Wiki Link – Sushma Swaraj: The uncompromising leader
Contribute to Story Of Souls, which is an initiative where we invite people to share their stories with us. We want people to "write to heal." It is genuinely an Online Platform where you can share your real-life stories.