A five-time world champion gearing for the next Olympics- that is how I was introduced to Mary Kom. The woman battled within the ring and outside of it too. She was born in a tiny village called Kangathei in the state of Manipur. She grew up in abject poverty that demanded she becomes a substitute parent for her three smaller siblings. Her story begins with a simple goal of eradicating the hardship her family faced.
To achieve this aim, Mary gave her all to sports. She switched many schools without consideration of academics, at which she also excelled. Her true love was boxing; the only sport she had not championed at a young age. But her parents did not consider it a game intended for women and discouraged her participation. Her first battle of the ring was to leave her hometown and get admitted to the Sports Academy located in the state's capital, Imphal. She was 15, and the admission to sports academy her world changed for the better.
At the Academy, coach Narjit Singh spotted the real potential of Mary Kom. He knew that he had in his hands a star that could make the nation proud. Under his aegis, Mary began to train for the state boxing championship. However, she did so in secret because she knew her parents, especially her father, would not support the decision. After she won the state competition in 2000, her father turned around and began promoting her chosen profession.
After that, a year later, she moved to New Delhi to prepare for the National Games.
For the next four years, Mary continued to train and compete. She also fell in love with K Onler Kom, whom she married in 2005 after dating for four years. After that, Mary took a hiatus from boxing and focused on her relationships. After the birth of her first two kids, she plunged back into the world of boxing. It was in 2008; Mary earned the silver medal at the Asian Women's Boxing Championship in India. The same year she saw around her neck a fourth successive gold medal at the AIBA Women's World Boxing Championship held in China.
From that point on, the career of Mary Kom has been a force of nature. She has won one after the other awards, medals, and recognition in the field of boxing around the world.  Just a few of her achievements are:
A gold medal at the 2009 Asian Indoor Games in Vietnam
Gold medal at Asian Women's Boxing Championship in Kazakhstan in 2010
A 5th gold medal at AIBA Women's World Boxing Championship in Barbados.
At the 2010 Asian Games, a bronze medal in the 51 kg class competition.
Another gold at the Asian Women's Cup in China.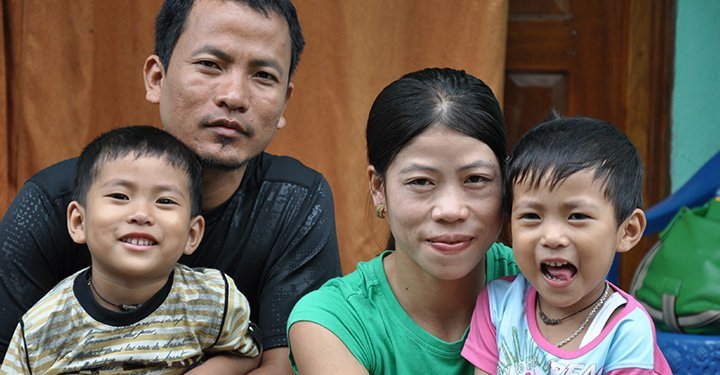 Above all, to add a feather to her already full cap, she became the first woman in India to get a place in the Olympics. She reached the peak when she qualified for the AIBA Women's World Boxing Championship in 2012. Mary qualified every round at the Olympics. But after a brave and worthy fight, she ceded in the semi-finals to Nicola Adams. Even though she didn't clear the semi-finals, she still stood proud and tall in the third position. It gained her first medal in the Olympics – a bronze.
The tale of Mary Kom is a story of struggle. She struggled with poverty; she struggled to juggle various roles. From being an elder sister with the burden of responsibility to being a girl who dared to step in a field that was dominated by men, Mary did it all. She faced each obstacle as it came and confronted to overcome them all. She attained, at a young age, heights that most of us don't even dream.
As I was regaled her a life story by The Eivine Renny, a close friend of mine who works for the reputable Web Designing company in Tirunelveli and Chennai Digital SEO, a few things struck me.
A healthy heart and the will power to eradicate every problem can take anyone far on the path to success.
We should live life as we want to and not as others command us. If Mary Kom had sat back when people told her not to step into the arena, she wouldn't have accomplished so much.
Believing in yourself and your abilities are crucial to victory. In spite of the gender bias and hunger Mary tackled, she never let go of the certainty that she could be the best boxer
One should always be grateful for those who aid us in achieving our goals, just like Mary has been.
I hope the account of a woman who broke glass ceilings left, right, and the center also becomes an example for you. Power, pride, and sense of achievement come when you remove fears and impediments from the roots.