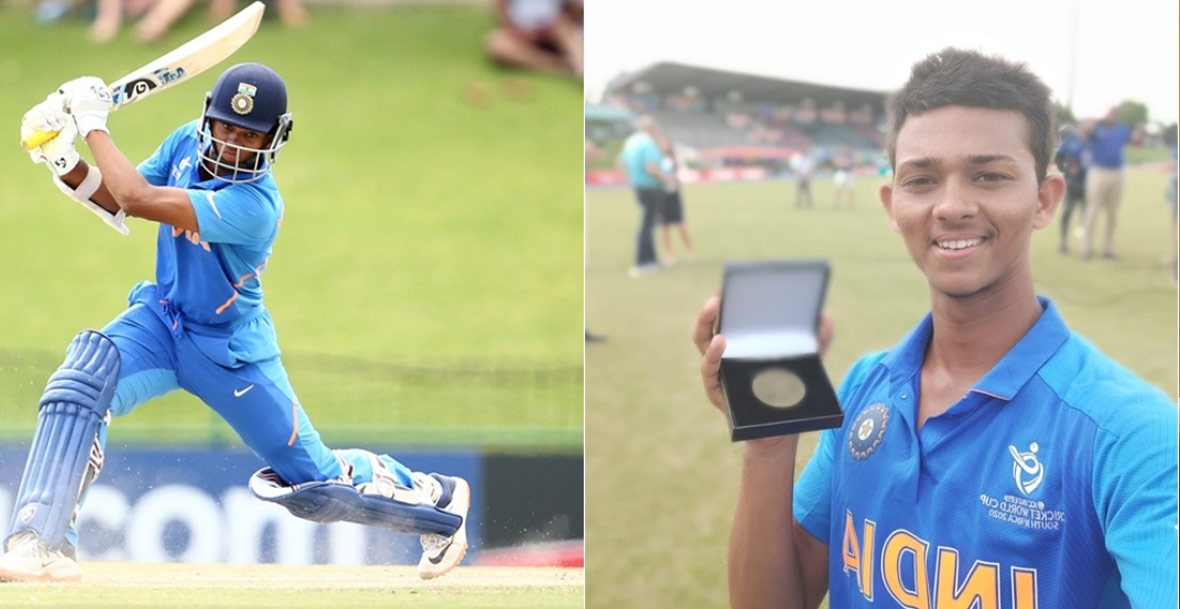 Yashasvi Jaiswal – Rags to World Cup
The grit to follow the dream of playing cricket for India to playing for India U-19. Our small problems will vanish in front of Yashashvi's struggles.
No opportunities, no support, what left was an intense desire to play cricket for Mumbai and pursue that dream at any cost. Life, till joining the U-19 team, of Yashshvi Jaiswal was a roller coaster dream and perseverance kicks in the strength to move forward. From sleeping in a tent to selling pani-puris to doing all kinds of odd jobs to playing in U-19 IPL with a top score can give chills to any social media-cum-PBG addict teenager.
Bhadohi to Mumbai
Yashasvi hails from Bhadohi. His father is Bhupendra, a small-time shopkeeper and his mother Kanchan is a housewife. Jaiswal moved to Mumbai to pursue cricket at the age of 10 years. His father was already hand-to-mouth and managing four children. Yashasvi convinced his father to move to Mumbai. Although, Allahabad was a closer choice. Allahabad also had a history of producing star cricket players Mohd. Kaif and Hyder Ali, Ranji Trophy veteran. The junior selection came to be a challenge and so Yashasvi convinced his father to move greener pastures which were Mumbai.
Mumbai – an infinite struggle
Yashasvi Jaiswal started practicing at Azad Maidan (Mumbai), but survival for his father is getting tedious. His father was not in a position to stay there and support him. Yashasvi moved to the Kalbadevi neighborhood. He took shelter in dairy in return doing some small work. The balance of cricket practice with work was impossible for a small boy of 10- 11 years. A shopkeeper kicked him out as he couldn't do his mere job. Yashasvi moved to his uncle's house in Worli. But struggles never ended. His uncle Santosh also could not accommodate him. He managed to make him stay in a tent in the Muslim United Club. He slept with groundsmen.
With the pinch of loneliness, homesickness and no resources Yashasvi started to push more. His dream never let him give up and going back was never an option. He stayed back with no money to become an inspiration today. He lived with groundsmen in the Muslim United Club's tent at the Azad Maidan ground in Mumbai for three years. He endured every struggle at every step to be closer to his dream. He was paying the full price for his dream to materialize. He never shared his struggles at home. Who would allow his son to face so much pain for an unattainable dream in a big bad world? The monetary help coming from Bhadhoi was never enough so he started to sell pani-puri at the same Azad Maidan during Ram-Leela after scoring his centuries in the day. The peer pressure kicked in but Yashasvi tried to not budge. His peers would come to have pani-puri at his stalls and his cheeks will turn to red with shame while serving them. If life is giving curve balls then he can't run but to face it with some grit which drives him to Mumbai. Many nights went empty-stomach as cooking has also been done by him. He survives by scoring and playing games with older boys to earn Rs 200-300 to survive a week.
It was a constant fight for survival and enduring every day for the next meal. There were lunch and dinner and Yashasvi has to make Rotis. His cries couldn't reach Bhadohi. The lack of amenities is a daily struggle. How much does a boy endure this type of burdensome situation? He almost matched the description of a daily wager but his unmatched love for cricket made him survive the challenging phase. In the era of 2020, a part of the population lives without electricity and no access to the privy at night. Living in a tent daily with no access to the toilet is not as adventurous as a camping tent. He chuckles and calls his meals without amenities a candle-light dinner. This inner strength was soon taken care of by one of the coaches at Azad Maidan. As every dream has to find its path to be fulfilled.
Hope shines
Local coach-cum-scout Jwala Singh soon took left-handed Yashasvi Jaiswal under his wing. Singh too belonged to Uttar Pradesh. He could see himself in Yashasvi. His talent was of course appealing. Jwala explains how dedicated he was. He starts practice before dawn and till night. Jwala recalls 12-year-old Jaiswal could face Jwala 'A' division bowler with easy comfort. Jwala could see himself in Jaiswal. When Jwala arrived in Mumbai from UP, he didn't have a house to stay in or any godfather. Jwala boasts about Jaiswal as a gifted batsman with 49 centuries in the last five years in his kitty. Jwala had played the junior age group for Mumbai and had a stint at the MRF pace foundation along with Zaheer Khan.
He gave Yashasvi a place to stay so that he can concentrate fully on cricket. Jwala became his legal guardian. Jaiswal is now a part of his family. Jwala's wife Vandana takes care of the nutrition of Jaiswal. Mumbai is the hub for young cricketers. How could it acknowledge the struggle and talent of Yashasvi who is just starting out? But Mumbai welcomed him with open arms as Yashasvi started scoring consistently to be in the top spot.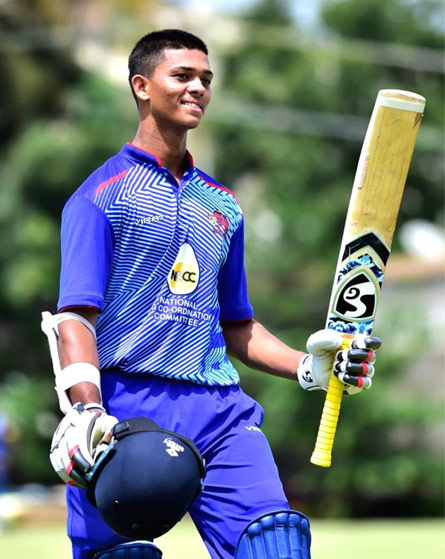 Mumbai U-19 coach Satish Samant says Jaiswal will be the next big Mumbai cricket player. Satish is in all praise for Jaiswal and explains how Yashasvi can read every bowler's mind. He molds and adapts to different situations. Most U-19 players try to play as many shots as possible. But Jaiswal plays with a calm and concentrated mind. Samant boasts Jaiswal as an uprising star who doesn't have a smartphone and stays away from social media demons. Jaiswal's talent and focus will take him to many places as he is already becoming a whole new abuzz in Mumbai.
High-grade cricket pressure is the same as his daily struggle to not to give up his dream. For him, mental pressure is never off the radar. It stays in daily life for years instilling the strength every single day to play better, to get the next meal and to be better than the last day. Jaiswal is confident that he'll keep scoring and getting wickets with ease but whether he could get something on his plate is still uncertain.
Jaiswal recalls his days with shame when he had no money and he had to borrow food from his teammates. He had money but hunger still persists.
Former captain Dilip Vengsarkar took left-handed Jaiswal under his wing and backed him financially. Jaiswal toured England with Vengsarkar's Academy. He is in all praise for the upcoming star, Dilip appreciates Yashasvi's determination at such a young age of 13 years and excel in all conditions.
Achievements:
Jaiswal first came to the limelight in 2015 when he scored 319 not out and took 13/99 in a Giles Shield match, an all-round record in school cricket, which was recognized by Limca Book of Records.
Jaiswal made his first-class debut for Mumbai in the 2018–19 Ranji Trophy on 7 January 2019
In October 2019, he became the youngest cricketer in the world to score a List A double century in Vijay Hazare trophy.
In December 2019, he was named in India's squad for the 2020 Under-19 Cricket World Cup.[13] He became the leading scorer in the tournament and scored a century against Pakistan in the semifinal.
He has been signed by Rajasthan Royals for ₹2.4 crores (US$340,000) to play in IPL 2020
Adjudged the Player of the Tournament in the Under-19 World Cup 2020. Bangladesh carried the trophy, but Jaiswal took the individual honors by scoring 400 runs overall and 88 in the final.
Contribute to Story Of Souls, which is an initiative where we invite people to share their stories with us. We want people to "write to heal." It is genuinely an Online Platform where you can share your real-life stories.
Our Rating for this Story
Please follow and like us: