Cruiser Bike rider Josh
 Introduction:
"Jobs Fill Your Pockets But Adventures Fill Your Soul".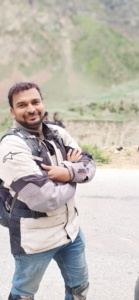 Let's introduce you to the adventurous and limitless man of India. Mr Josh Daniel Putti, owner of Fisheries Startup. A man who has been recognized by the URF World Record. He is the First Indian solo rider who travelled from India to Singapore(Back) on Motor Bike covering the whole 7 countries. Cruiser Bike rider Josh Daniel Putti is the first Indian man who attended Asia's Biggest biker fest.
A Multifacet Personality:
Along with being a passionate traveller, he's a great social worker. Cruiser Bike rider Josh Daniel only wanted his life to be about influence, social justice, supporting others, and creating hope in a world full of problems. By helping the poor, providing food to the homeless, assisting orphanages, distributing blankets exactly as social workers do.
True Humanitarian:
Also, he is assisting one such orphanage in Uganda, Africa. He knew everything can't be done all alone but something can be done & that's the first step he took towards his journey. Here when he decided to join an NGO to learn how to speak to many people so that he could learn and start his own NGO. He also established feeding centers, counseling centers & fish farming startups so that poor people could earn and homeless refugees could survive. All this was not so easy for him to manage all alone, he faced a lot of obstacles along the way.
Point of view:
"Helping one person might not change the whole world, but it could change the world for one person".
As a storyteller, the story about Josh Daniel Putti is so inspiring indeed!
Often in life, it is easy to pity someone but it takes some courage to live their life. Mr. Josh has the courage to leave his home and live a life without food and shelter. His experiences motivate us to help the needy in any way that we can. A simple help of ours can bring a smile to someone's face. "Just live and enjoy every bit you have. It's a very beautiful journey as he merged his dream and passion altogether." – this is Josh's message to all.
Journey:
"Fill your life with experiences, not things. Have stories to tell not stuff to show".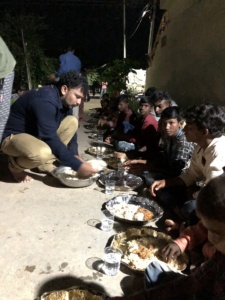 Josh's journey began when he left from his home in his early childhood. In that term, he lived a life of destitution for two long years. During these two years, he lived on his strength, experienced, and survived life without any food, work, shelter, or family support. Here when he perceived that the poor people don't have the best of everything, they just make the best of everything they have. Although, in his journey, he did face some setbacks like the financial expenses for both motorbike and Orphanage.
As an individual, Cruiser Bike rider Josh Daniel handled everything alone from imparting help to the needy to imparting education to the poor children. He faced a lot of difficulties in managing the children of different locations under one roof and other concerns related to their health. But his vision was crystal clear in his eyes and he knew he wanted to give light to the dark lives of those people and children. He learned life is all about being generous and kind to needy people.
His passion:
Everyone needs a partner to spend their entire life. Joshua found his love of life in his motorbike. He follows one golden rule in his life: "If you don't love what you do, you won't do it with much conviction or passion. It's not necessary to always have a life partner as a human being, some love their passion as Daniel loved his motorbike. The love and care he shows to the motorbike and its accessories are nothing less than taking care of an infant. For him "Riding a bike is an art, something one does because of a deep feeling within you." – Daniel shares. He merged his passion and dreams altogether, so he does both travels and helps others to bring an actual change with his soulful partner, his motorbike!
Josh's Achievements:
. First Indian to attend Asia's biggest biker fest- Burrapa biker fest-2020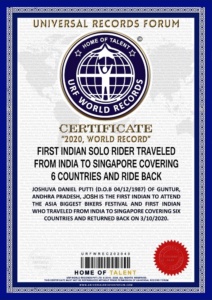 . First Indian solo rider to travel from India to Singapore covering the whole 8 countries and ride back.
. Have 6 bikes and the Himalayan is his favorite.
. Riding for the last 4 years.
. Recognized by URF WORLD RECORD.
RiderJosh foundation:
Established by Josh Daniel Putti, commonly known as Rider Josh. Basically, from Andhra Pradesh but stays in Shillong. Being a well-known and passionate Motor Bike Rider has made the Foundation work towards educating people on safe driving, road safety, and following the Rules. It's continuously on a journey of empowerment. During this pandemic, he is continuously on roads supporting the workers and homeless people with masks, sanitizer, gloves, food, etc.
African Mission
Africa NGO, he has got 90 kids with them. We take care of them completely. The orphange is located on the border of Uganda and Cango!
Future Plans: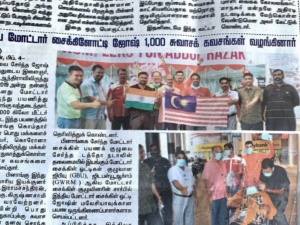 By God's Grace, Daniel Josh Putti plans to startup a Nursing home, a Home for people with special needs, and to complete a world tour on his motorbike so that he can reach more and more people to help.
"Believe you can and you're halfway there". With complete courage, he continues helping people and achieving his goals.
Conclusion:
"Love is not patronizing and charity isn't about pity, it is about love. Charity and love are the same -with charity you give love, so don't just give money but reach out your hand instead".
For Daniel, it's not the ending, it's just a start to bring a smile to the faces of people. He always encourages people to help the needy and spreads a message across the world. Few tips he likes to share with passionate travelers like him are: "In this situation of the pandemic while traveling keep some useful stuff like gloves, masks, biscuits, water bottles, etc so that on the route anyone needed help could be served."
Truly, Daniel Josh Putti's whole journey of his gives us the motivation to help others. Keep travelling & keep inspiring sir!
Before we SignOff
Contribute to Story Of Souls, which is an initiative for the common man. Here we invite people to share their stories with us. People come to us and say that as we write we are able to introspect and HEAL. "Write to heal" It is genuinely an Online Platform where you can share your real-life stories. You can also visit our Youtube channel to gain more information.