Storyteller Saiyanshi Pathania
Learning from a youngster…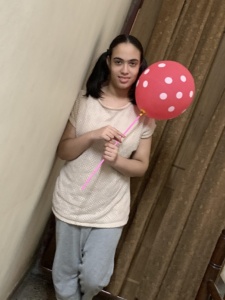 Friends, often we think that youngsters learn more from us… but here's a story of a youngster from whom I have learned a lot…
This story is much closer to my heart than any other I have written so far as this story hits home with a lot of emotions & deep learnings. This story is about a teenager who has never seen her disability as a roadblock. People may see Saiyanshi as a differently-abled person. But I see her as more capable than us who think of ourselves as normal human beings. She shows us that disability is a matter of perception.
Saiyanshi's childhood 
Saiyanshi was born prematurely. At that time, doctors had almost given hope and had told her mother, Pallavi Pathania, to prepare for the worst. But, Saiyanshi was born a fighter. She was in the ICU in an incubator for the first two and half months, fighting against all odds that were thrown at her one after the other. Her mother was not able to even see her for the first month. When Saiyanshi finally could leave the ICU and come home, she had to face even greater challenges.
Saiyanshi's challenges
So, as a Pre-term baby, all her developmental milestones kept getting delayed. But her never give up spirit didn't stop her from learning the basics. Her mother also stood by her patiently, making sure she would learn to walk, talk, run, and do a lot more, as all toddlers do. Pallavi had to make her heart like a rock when she saw her tiny miracle trying very hard to learn to do daily activities of life. But she was also the proudest when Saiyanshi achieved each goal in a step-by-step way.
Saiyanshi's schooling
Soon came the time for her to begin the next chapter in life, that is school education. Saiyanshi enjoyed going to school, meeting her teachers, making new friends, learning new things every day. But soon at the age of 5, came a setback when teachers informed her parents that she had learning difficulties. Therefore, options like removal from the school system or putting her in a school for the differently-abled were given. Pallavi had to make a tough decision to quit her job for her daughter, but this decision was not so tough for her as clearly Saiyanshi was more important. Their to and fro struggles for various assessments and therapies had now begun.
Saiyanshi's unbelievable achievements
Throughout all this, Saiyanshi showed great patience, endurance, and willpower. She never complained or threw tantrums of not wanting to continue the therapies and tests. Many professionals who evaluated her gave up and tried to convince her parents that she would be able to achieve only certain goals and that she had limited capabilities. But it was as if Saiyanshi wanted to prove them wrong. She surprised even her skeptics and moved on, conquering and learning. Her hard work and determination were the guiding light and strength for her mother to keep going.
Saiyanshi's love for stories 
Storyteller Saiyanshi Pathani loved listening to stories since she was a baby. Though she could not read on her own much. That's when she found a way to make everyone around her read to her. If she wanted to hear a story, she would pick up a book she wanted, take it to her mother, and with a smile, give it to her to read. Indeed, no one could refuse that cute enthusiastic smile. She made her own beautiful world of imagination full of words that accompanied her and gave her courage to achieve her milestones.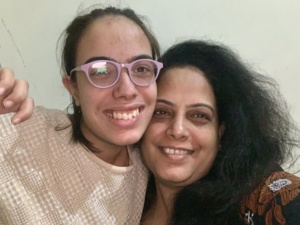 Storyteller Saiyanshi Pathani loved picture books more. She was a visual learner. Being surrounded by many pictorial books, she got inspired and curious about creative arts. From here began her new journey and love for the Arts. The continuation of therapies improved her communicative skills a lot. She gained more confidence and found her voice to express her feelings. But the recent Covid-19 Pandemic created another roadblock. Now her therapy sessions and classes had to start online. Yet another challenge she faced bravely, learning how to use new technology, making sure that her journey never stopped. Being at home gave her parents more spare time to spend with her. Here the road of life turned into a new opportunity for Saiyanshi as a storyteller.
Storyteller Saiyanshi Pathani 
With the help of her mother, Saiyanshi started a You-Tube channel named Spin a Tale. She uses this medium to express her true feelings and teach positive values to her viewers. The stories are not only for kids but also for the entire family. Anyone who loves hearing stories can visit her channel @ https://www.youtube.com/channel/UCTN_0so-Em9NYnRPJwN-HEw
Limitless Saiyanshi!
Today Saiyanshi's channel is loved by her viewers. This young teenager shows no sign of stopping. I am sure she will keep on finding new paths and achieve much more in life. Indeed, Saiyanshi proves to everyone that only our thoughts, fears, and mindsets limit us. She is limitless, doing even what we would think twice before doing. She proves that there are many ways of learning new things in life. One has to be on their toes, think out of the box, and not tie themselves in the routine rote learning.
As Robert Frost says at the end of his poem 'The Road Not Taken' –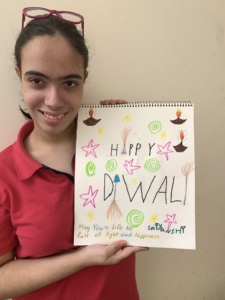 "Two roads diverged in a wood,
And I took the one less traveled by,
And that has made all the difference."
Saiyanshi's mom 
Pallavi Pathania strongly advocates every parent forget society's expectations and limitations. Be the change to get things changed. Stop comparing your child to others. Know that every child is different and has different capabilities and limitations. Every limitation shouldn't mean the end of the road.
According to Pallavi, one must also stop living in fear of what-ifs, and prepare today for any possible or impossible tomorrow. Parents must encourage their children to achieve their full potential. Saiyanshi is a perfect example and source of inspiration to not only children but also parents. Her current teachers describe her as steel wrapped in fur. Truly, she has strong determination like steel, and she has a high level of empathy and sensitivity like soft fur.
Saiyanshi has a bright future, and one day soon will become an advocate of the differently-abled. She will become the voice for the voiceless. This is what her mother Pallavi believes strongly in and gives her full support and blessings.
Our Storyteller: Nivi Kishore 
An avid reader from childhood, Nivedita Kishore (pen name Nivi) has kept her passion for writing poems and life experiences since her college days. Her drive to write comes from her adventures and experiences. She feels that through writing one can express one's inner feelings, making one free from the burden of life. Thus, she began a new journey in content / creative writing with www.storyofsouls.com
She left her thriving career in business development in interior design to dedicate her time to homeschooling her children and follow her passion for writing. In her free time, her love for languages inspired Nivi to start Sanskrit Fun Learn classes from home. This further led to parents asking her to teach other subjects in a similar way. Today she has about 15 students, each one unique, who show passion towards learning new things in a different way.
Nivi believes that learning should be fun and is dedicated to making tough boring subjects, interesting to learn by using engaging methods with her students. She encourages her students as well, to read and write in different languages, just as her teachers had inspired her to. Reach out to her LinkedIn ID. 
Contribute to Story Of Souls, which is an initiative for the common man. Here we invite people to share their stories with us. People come to us and say that as we write we are able to introspect and HEAL. "Write to heal" It is genuinely an Online Platform where you can share your real-life stories. You can also visit our Youtube channel to gain more information.