You're going to read the success story of two young and truly enthusiastic personalities who have believed in themselves and did tremendous work in their respective lives. Now let's proceed to their interesting story… DAX BAMANIA & KASHYAP DAVE.
Meet Dax Bamania: An Indian Entrepreneur, A Bestselling Author, A Motivational Speaker, A Business Consultant, and a Growth Partner. 🙂 
About Dax's birth & life
Dax was born in a small village named Veraval (Bhidiya) in a middle-class fisherman's house. At a very early age, Dax had seen his family struggling to strengthen their economic conditions.
Thus, from his childhood, Dax was very focused and determined in whatever he was doing. He completed his primary education in his native village, and then after, he went outside for further studies. But from the age of 13 years, only he started working with different things.
Dax also worked at various small things such as assistant in a small clinic, in charge of cyber cafe, in charge of the Education Institute.
Dax worked professionally for many organizations in Centre Director, State Director, Corporate Trainer, Motivational Speaker.
Early Life
From the age of 13 years, Dax started working as well, and thus he learned many things from these different types of experiences. Dax was also involved in different small-scale businesses in the initial days of his education, such as Mobile and SIM-card selling, Small coaching classes, Freelance training, etc.
Well, Dax is not from any IIT/IIM or any India's blue-chip institution, but yes, he has acquired a mindset that makes him more versatile and empowered.
Dax likes to learn continuously, and this is what makes him truly different from the rest. He has attended workshops across the globe and got trained by renowned personalities of the world.
Present Life
Currently, Dax is the noteworthy CEO and founder of TIGI HR Solution Pvt. Ltd.
He has started this firm with a vision and mission to create maximum employment across the globe. Dax's initiative, TIGI HR, is a top-notch recruitment company across pan-India.
Dax believes in innovation and thus, tries to keep innovating their services at TIGI HR. He is also an investor and growth partner for many businesses. Dax connects with spirituality to balance and explore his personal and professional life. He believes in Karma yoga (path of action).
.Apart from this, Dax is also the best-selling author of "PRODUCTIVITY PROMOTER." It is a compelling book that reveals the secret of promoting our efficiency to our highest level. In this book, he tells us to be a conscious person and push yourself in the right direction and in the right way.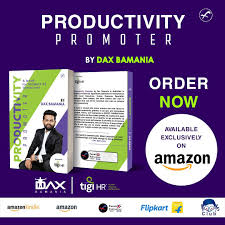 Dax Bamania's Achievements: 
 – Best motivational speaker in India by Wikilistia.
– Recognized by Vyapaar Jagat and Business Connect.
– Also selected for the pride of Bharat-2020.
More Achievements: 
– An author of the highly praised and bestselling book " PRODUCTIVITY PROMOTER."
– Featured in the list of Top Influential Business Leaders by CIO Look.
– Consider as A Leading Name in the HR Solutions Sector.
– Appreciated and nominated as Asiaone Young Asian Entrepreneur 2019-20.
– Listed in News World Inc and also got awarded by the top business leader of India.
– Dax's work and efforts praised by many influential personalities such as Gujarat's CM Vijay Rupani, Dr. Radhakrishnan Pillai (Deputy Director of CIILS Author 15 Best Seller Books Including – Corporate Chanakya, Chanakya Neeti), Dr. Pravin Parmar, Bhavin Shah (Founder & Chief Mentor of I.M.Possible Training Solutions Author of Achieve What You Want), Sanjay Shah (Chief Mentor of SMEBusinessGuide.com, Author of Business Management Simplified), Shradha Musale (Founder of Future Tayari, Indian Model and Most Popular Actress) and many others.
I want to conclude the story of Dax Bamania with one of his great quotes. He says that 'You need to imagine yourself in your desired dream, and the Universe will take care of manifesting it into reality.' –Dax Bamania.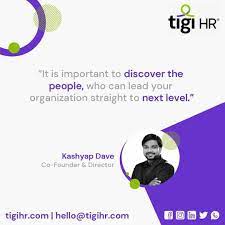 About Kashyap Dave
Let's meet another wonderful personality; Kashyap Dave, the co-founder of TIGI HR, is an entrepreneur, a CFO & a start-up coach!
Kashyap was born in a Brahmin family, where knowledge is the most essential and vital thing. Hence he was a smart and clever kid from his childhood.
Kashyap completed his primary and diploma education successfully. Then, for higher education, he opted for engineering and he also accomplished it with extreme sensation.
Like Dax, even Kashyap has not graduated from any big institution in India, though he has a very structured and clear attitude towards his life. In the second year of his engineering, his college organized a Science Expo. In this event, Kashyap named himself as a volunteer. He was bright and trustworthy. Therefore, he prepared himself as a leader of all the volunteers. He was made responsible for organizing the event properly. And with enough self-confidence and clarity, he effectively communicated with everyone and appropriately guided the team also. Lastly, the event ended successfully and he was recognized by all his teachers and by his principal.
Early Life
Slowly but surely, Kashyap discovered that he has communication skills, and he also possesses a skill of a productive leader. Thus, during his engineering, he joined the Direct Selling industry. He got experience as a royalty business leader and motivational speaker handling more than 500 youth under him. Also, Kashyap had worked with renowned RO and water purifier companies. His work got recognized by Start-up Info, The Enterprise World, VyapaarJagat, Business Connect, and many more esteemed organizations.
Kashyap started his professional journey at the age of 22 years with TIGI HR. At this age, he realized that India, which is home to more young people than any other country, is running out of time to harness its youth's potential to drive economic growth. To utilize this youth and provide them with the right platform, Kashyap and Dax have taken the initiative in the form of TIGI HR has taken the initiative to create the maximum leaders and employees in society.
Kashyap Dave and Dax Bamania work with perseverance to make TIGI HR evolve. And that's the reason why TIGI has 500+ esteemed clients, and they are ready to give their franchisees across pan India to get in line with his ultimate vision.
Thus, the above was the story of a young and committed Indian entrepreneur Mr. Kashyap Dave.
Friends, here are the three key lessons to learn from DAX BAMANIA & KASHYAP DAVE:
 Glance to the future:
DAX BAMANIA & KASHYAP DAVE, two savvy entrepreneurs, enter a market that already existed and made a space in this cut-throat competition.
Therefore, future-focused strategies always win out over present-focused ones.
Capitalize on oneself:
You need to invest in yourself before investing in anything else by focusing on improving your skills, education, and experience. Without self-investment, you won't be able to build a business, let alone sustain one.
Debt is viable:
Debt is scary to take on, especially when your idea isn't a sure bet, but almost everyone on this list got a loan at some point to establish early momentum. As long as you have a plan to pay it back, debt can be a valuable tool. And they have always taken many calculated risks.
Freinds, even as Dax & Kashyap are doing amazing work in the form of TIGI HR to provide maximum employment in the world, we wish these two lovely youngsters at storyofsouls.com all the very best for their future!
Our Storyteller: Neet Patel 
Contribute to Story Of Souls, an initiative where we invite people to share their stories with us. We want people to "write to heal." It is genuinely an Online Platform where you can share your real-life stories.