Phoolbasan Bai Yadav is a popular name in Chhattisgarh rural area because of her remarkable work in the field of women empowerment and child rights. She comes from a place where living conditions are not very good, and Maoist are active. She has helped 1000's of women fight against poverty and gender bias. We will explore how this rural woman became an epitome of woman empowerment in this inspiring tale of Social Activist Padmashree Phoolbasan Bai Yadav.
Yadav was born on the 5th December 1969 in Sukuldaihan, which is a remote village in the Rajnandgaon district in Chhattisgarh. She is an early dropout from school and got married at the age of 10 to a cattle herder. Due to illiteracy and unemployment, she lived in a very poor condition, and that brought a desire in her to do something different and more.
Her first step to being a Social Activist
In a desire to give a better life for herself and her family, Phoolbasan started participating in the activities in her village by the government. These activities were of self-help groups as a means to women empowerment. Her village collected money to send the women to learn cattle rearing.
In no time, Phoolbasan realized the benefit of being part of such groups. She then planned her group, including 'Pragya Mahila Samooh", Kiraya Bhandar, and Bazae Theka. It was her first step in the social activism world. After this, she established fair price ration shops for the people below the poverty line.
Later she clubbed all her different social groups under one umbrella known as the Maa Bamleshwari Janhit Kare Samiti, an NGO named after Goddess Durga, which started with 11 women.
NGO and her Achievements
The NGO and its various groups have played a very vital role in empowering women. They have not just helped them stabilize financially but has also improved the living conditions of the villages.
The NGO started with 11 women, and now it has a total membership of 200,000 members. Also, there are about 19000 self-help groups of women and 2325 young girls group. They take membership of around Rs.2 per week by each member, and surprisingly, they collected approximately 150 million in their first collection. These NGO's keep a close eye on the working of government departments.
These groups are also part of health and sanitation programs. They have been working for pulse polio initiative, and they encourage others to support their activity and extend their work.
They have also worked for the betterment of childcare and started the mid-day meal scheme in 1741 schools. Their other initiative is Bal Bhoj in a lot of schools and anganwadis. They have helped to prevent 570 child marriages under district administration and have organized 33 underprivileged weddings for girls.
More achievements
Through their efforts, nearly 625 villages have prohibited the consumption of alcohol.
Adopted 2800 children.
Phoolbasan has helped stop open defecation in many districts, without any government help. She started this way before our PM Narendra Modi announced the swatch Bharat Abhiyan. Now she is the brand ambassador of PM's Awas Yojna.
Yadav has always done all by herself without any financial help from the government or non-government organizations. She says that there are no banks in her district, but they deposit amounts in many different banks. They have won the trust of the banks that provide money 2-3 times against the amount collected as the loan.
Phoolbasan's  Contribution
She is still an inspiration for the masses and continues to work towards women empowerment. Focussed on creating more awareness, she spreads the word so that more and more women can join and be self-employed and independent.
She has taught women to save money, and just by their combined savings, they have managed to gather 25 crores.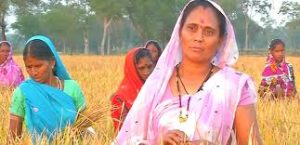 Phoolbasan also wanted to help unorganized women, exploited, and oppressed with social and economic empowerment. Her efforts have helped many women in building an identity, gaining respect, and their position in society. They have all to thank Phoolbasan for her significant contribution.
NABARD gave 900 crores to Phoolbasan and the groups to use for women's self-employment in the district of Chhattisgarh.
Phoolbasan's contribution is remarkable and endless. She has not taken a step back since she incepted.  She has also managed to get her hands-on education; she makes sure of the complete attendance of the children from the village, especially girls.
Yadav and her team have set up 30 milk cooperatives in 10 villages, which produce 3000 liters of milk in a day. Phoolbasan plans to build a mini Amul in Rajnandgaon. She is also producing organic fertilizers under her company Maa Bambleshwari.  Around 17000 women are involved in this project and have sold 500 tons of manure in 2 years. They earn 10,000-15,000 a month, which is well. She wants to inspire other families and women and stop them from migrating to cities for their living.
Phoolbasan's Achievements
Her contribution to the literacy campaign in her district was commendable. She has also won the Maa Bambleshwari Award by the state Minister for her "Save Water Campaign."
Since 2001, she has been working towards the campaign mentioned above. She has built 20,000 water soak pits with the help of women and their resources.
She also carried out 5,00,000 sapling plantation in 2013
The Mini Mata Samman that earned her price cash of Rs. 1 lakh has also awarded her. She utilized this amount for the education of 52 Sc/St kids; she has adopted.
Phoolbasan has also helped tribals in forest areas for women empowerment. She has organized a Pad Yatra of 344 kilometers for them.
Phoolbasan has been rewarded and recognized for her efforts and work in various fields. She received the National Award for the best performance from NABARD. Three years in a row, she received Maa Bambleshwari Award by the district administration.
She was also awarded for Women Empowerment from the Union Bank of India
In 2008, she received the Jamnalal Bajaj Award, in the category for development and Welfare of women and children.
In 2012 she received the coveted Padma Shree Award.
She has also been awarded by Stree Shakti Govt. of India award
R. Jindal award, Bhagwan Mahaveer award, Lifetime achievement award, Indian pride award, Surdutta Award, Aamodini Award, Sadguru Award, and the list goes on.
Conclusion
No one can measure Phoolbasan's work with just the number of awards. These are just appreciations for her incredible work, dedication, and contribution to her district. She is a massive source of inspiration for Women.  Her polite behavior, sincere goals, skills, and her dynamic personality has brought her success in all her endeavors.