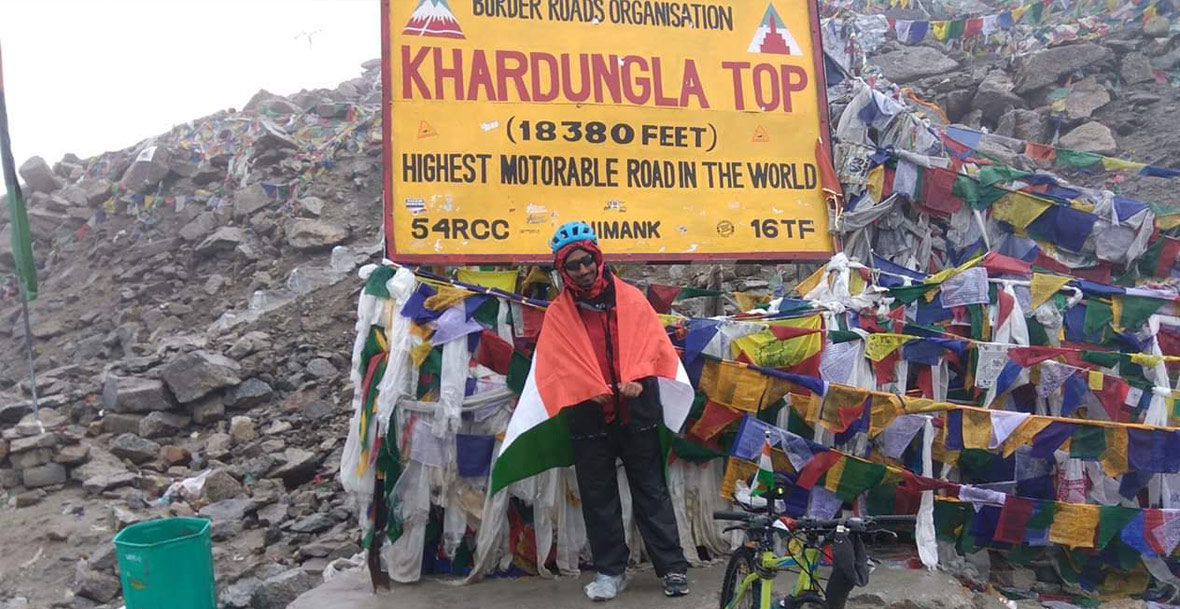 Here we present yet another inspirational story. It is the story of Manoj Sharma, son of retired Army soldier G. L. Sharma, who has served in the army for 34 years. His mother, Kamlesh Sharma, is a housewife. A student of the Army School of Agra, a place well known for its discipline and overall development of students. Since childhood, Manoj's inclination has been towards sports. He wanted to be a good sportsperson and wished to be the Sports Captain at his school. This inspirational story about the struggles and successes of a cyclist, Manoj Sharma, will undoubtedly impress you!
Upon reaching the 6th standard, he was passionate about playing cricket. He was a unique bowler in his team as he could bowl from both hands, which was indeed a rare talent. Over the period, he became the best bowler of his time and also the captain of the team.
But, his passion became a matter of regret for him because cricket was not a part of the school curriculum as Cricket had never been that popular in schools. They had volleyball, which was more popular, so he diverted from cricket and started playing volleyball. Initially, his seniors mocked him as he was not a volleyball pro. Manoj was dedicated. Hence, he practiced and made sure that he became the best volleyball player in his school.
Finally, in class 11th, he became the Sports Captain, and his team won the Basketball Central Command tournament in his school. It was a commendable achievement for a student at such a tender age.
Manoj proved himself as an all-rounder and the only student who had played four tournaments of 4 different sports in a year. The four games he played were basketball, football, volleyball, and badminton. Unfortunately, he failed his Physics exam, and his competitors took his failure as an opportunity to be the School Captain. According to them, Manoj will not be able to clear the compartment exam. If this would have happened, then all the dreams of Manoj would have shattered.
As the School has the rule that only those students, who will clear all the subjects in the 11th class, can apply for the School Captain's position. However, Manoj was pretty determined and was not willing to miss this opportunity, so he worked harder was finally promoted to class 12th. Though he joined the class almost a month later, he was pleased as now he stands a chance to become the School Captain. Further, by clearing this examination, he will now be able to fulfill his dream of taking admission to an army school. So, nothing comes easy; we have to be persistent and determined.
Now, the next milestone for Manoj as a student was to win the title of School Captain. That year the council members changed the process of selection. The selection was to happen through voting and elections. Three more guys were competing for the position of Captain. Nevertheless, as they heard that he was promoted to class 12th and saw him filling the form, they opted out. It boosted Manoj's confidence and morale.
The incident was quite a memory to him. When he started filling the form, he kept asking for more sheets to write about his core achievements. The looks on the other boys' faces explained everything, and they eventually quit.
Achievements
Even today, no one has been able to break his record of playing four commands, and he is still quite appreciated for it. Manoj was also a part of 4 cricket tournaments, one district indoor tournament, one state tug of war, and the list goes on. He was a member of NCC camp, too, and judged as the best player at all NCC tournaments. Not only he won a cup in CATC camp for Agra – 2 UP NCC battalion but was also a champion in Karate.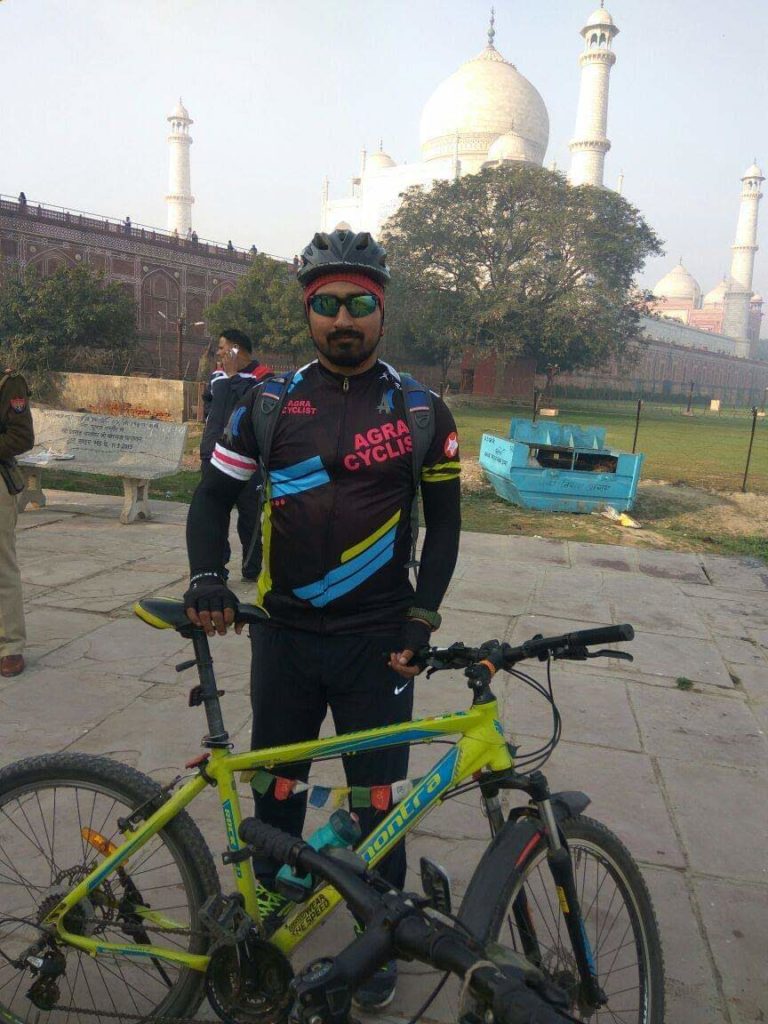 His Strength
People always ask him how and from where he got so much strength and capacity? He answered with a smile that "It came from my mother." He gives the entire credit for his success and achievements to his mother, who supported him at every step and worked equally hard with him. Manoj is an achiever because of his mother.
His mother used to wake up at 3 AM and work until 11:00 PM. During his school, when Manoj played a part of 4 commands, he had to go for practices, then attend school and tournaments; managing everything was a tedious task. His mother acted like a super mom who always encouraged and pushed him to give his best in every field.
Being a soldier, Manoj's father was always on the border front. His mother played the role of both a mother and a father, and she did that very well. Manoj had two younger sisters too. Manoj's mother sacrificed her entire life while bringing up her three kids. Her routine includes picking-up and dropping kids on her cycle, turn-by-turn.
The family even had buffaloes at home, and it was entirely the mother's responsibility to take care of breeding of them too! She had put in tremendous efforts to make all her kids independent in their lives. She taught them never to give up in life. Her mantra of life is – perseverance is the key to success. His mom stood has a pillar in raising the bars of the family to the next level, where she can see her kids doing a fair job in their professions.
It is rightly said that a mother can do wonders for a family, and we can see this in Manoj's story. Two younger sisters of Manoj have also achieved great success, today one is in the teaching job in Ghaziabad at a convent school, and the other one is an athlete and is currently working with Manoj. She has recently been part of MTB Himalaya and Agra to Delhi run.
Manoj's cousin Lt. Col Nayan Sharma helped him with the financial requirements and also his friend Kishan Raj Sing who has been his consistent support and Sachin Sharma of Kanhiaya Cycles. Without whom his success would have been incomplete.
His College Life
After Manoj's schooling, he got admission to St. Johns College and opted for Commerce stream. At the same time, he also got involved in a computer business with a partner but was not very happy with his work profile. Therefore, he decided to quit and focused on what he had always been interested. He again started playing at the tournaments. He played volleyball and represented his college and university. Manoj was happy being an athlete.
Organized Several Tournaments and events
Eventually, Manoj started his own sports club called Zoxhins. His club held volleyball and cricket tournaments. However, somewhere still, there was something that was lacking. Manoj always wanted to do something great, so he aspired to become an Army officer and started preparing for the same. He worked very hard and cleared CDS exam thrice but could not qualify the SSB. After that, he also tried his hand at other fields and gave related exams. He passed five bank exams, including the interview round.
Still, he could not make it to the merit list. Thrice he appeared for selection in railways and the post of sub-inspector but could not make it through the final selection round. After a lot of struggle, he finally cleared the MES exam. But his hard luck that he never received a joining letter from there. To date, he is waiting to receive a message from there, and he still could not figure out what was the confusion or issue that he never got a letter.
Finally, he chose a different stream altogether and went for B.Ed from Jaipur University. He taught and prepared kids for competitive exams. His students respected him a lot, and some of his students cleared in Police, Railways, and MES exams. They did not just make the exams but also got through the final selection rounds.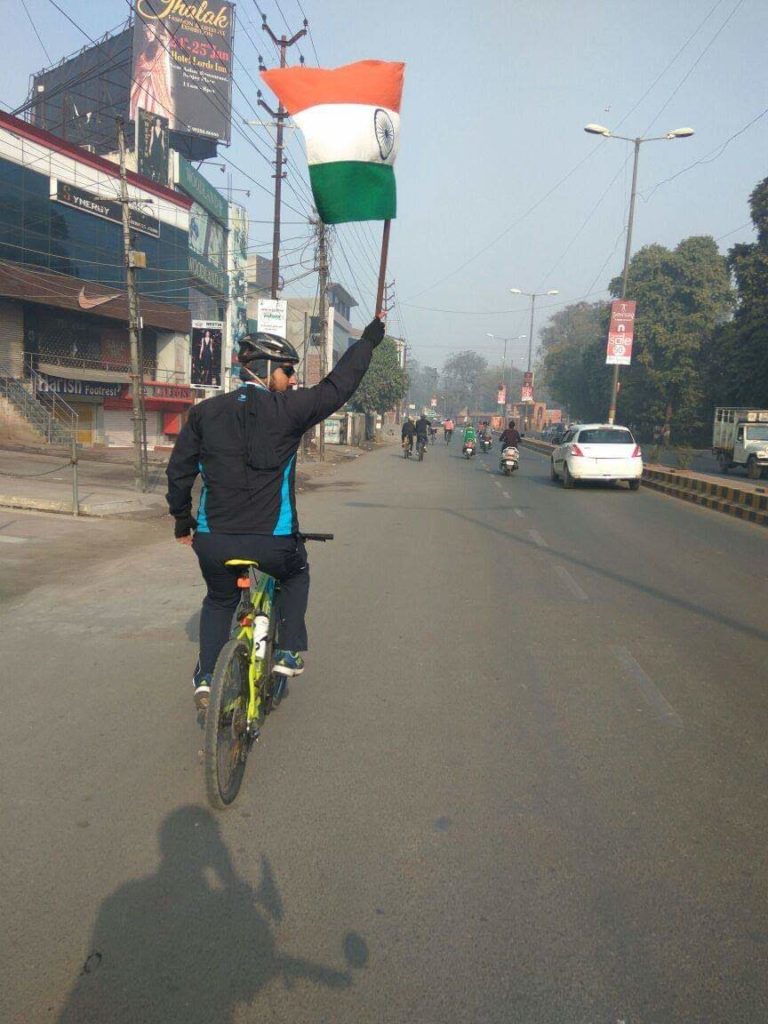 His Childhood Dream
Manoj was still not satisfied, and his frustration level was soaring as he could not achieve anything that he liked or wished. Long back during his childhood days, he had dreamt of traveling all over India on a bicycle. This idea clicked him again, and he quit everything and started to plan his trip.
The first thing on his list was budgeting. He asked for sponsorship, but everyone, mostly, refused. He then turned to his childhood friend Suchit and discussed the idea with him. Suchit became interested and brought in a few more friends to join them for the cycle trip. Now they were a big gang. They started planning the route, where would they start, and everything else about the trip. Here began their practices. Manoj and his friends owned fundamental models of cycles without any hi-tech technologies or gears etc. A lot of other cycle riders had advanced versions that cost between 30k-1lac. But still, these guys practiced and managed very well.
They were to commence on 14th June by train from Agra to Kanyakumari, and from Kanyakumari to Ladakh, they had planned their cycle tour. As per the route, which was all on height and with steep roads, they were smart enough to practice a lot. They used to practice late at night on the streets of Agra, which gave them open roads with less traffic.
The Cycle trip was not just for fun, but it also had a social motive. Manoj wanted to spread a message of awareness among school students. He tried to encourage them to use cycles more and even donate organs. They also told them that how donating organs would benefit many lives. Their cycle gang, known as Gorgan, has clearly defined their message and purpose.
They started their tour, and when they reached Gujarat, it was raining heavily because of the monsoon season, but they still kept riding their cycles. Though they were all drenched, their determination was firm and stubborn. Even with their bleeding toes, they decided to reach Agra instead of halting or breaking their tour. They had almost reached Gujarat. Their entire team showed the utmost dedication and focus, and none of them were quitters.
When they reached Agra, there was too much chaos due to the weather conditions, and then looking at their weather conditions, their parents asked them to stop the tour due to the massive landslide on hills. There was a tensed war atmosphere in Jammu. Hence, their parents were concerned. But Gorgans were stubborn towards their aim. They rested for a while and prayed to God, and with belief in their hearts, they started again. By God's grace, they reached Manali safely.
Now the toughest part of the journey had started, which was from Manali to Leh. They had gathered their hearts and soul for this ride, as they had practiced a lot for elevated roads, it got a bit easier for them, and they finally reached Leh.
After reaching Leh, the last part of the journey was about to commence. This last run was the toughest of all. It was the most challenging of the entire race. The trip was from Leh to Kardungla, the distance was 39kms, but it was a very tough route. Those 39kms seemed like 39000kms to them with such steep roads and at such a height on the hills. It was not an easy job to reach the highest way in the world.
When they finally made it to the last point, tears of joy rolled down their eyes and even while telling me about this. They were all delighted. That moment was a very proud moment for all of them, and the feeling of joy was so intense. They felt they were on cloud nine, and this finally gave Manoj the utmost satisfaction. It made him realize that yes if you have a will, you have away.
After this achievement, his self-confidence had boosted up, and he kept making records on his cycle. The next route for him was the golden triangle, which he finished in 3 days. It started with Agra, then Delhi, and back to Agra. The experience of traveling on the cycle all over India was a dream for Manoj, but after achieving a few targets, it started turning into a reality for him. He also covered Etawah to Agra in just two days. The then chief minister of UP had inaugurated the longest cycle track of Asia.
Currently, he is playing Badminton with army officers. He lost the last tournament he played against his best buddies from the army team, and that is why there is no regret or remorse for losing. Badminton was one of his passions. But his real dream is to travel the whole world on his bicycle. He wants to complete India tour, and then his next target is India to Maynammar and Thailand. After this trip next is India to London. His dreams are big, but his will is more significant than his thoughts. Manoj is also a part of Agra's cycling team, which holds around 100 members.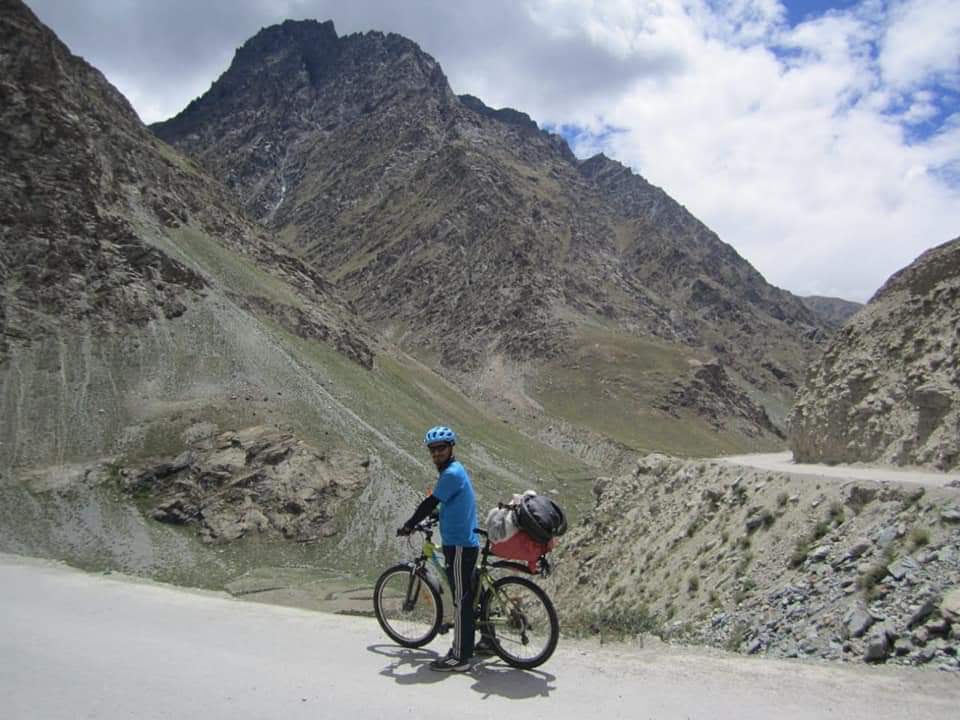 Founded Yodha Academy
He has started an Academy for students who aspire to be a part of army school and Sainik schools. This academy is called the Yodha Academy, and its motto is to be a warrior, not a worrier. Manoj prepares kids for the army and Sainik School. This year their first batch passed, and they gave excellent results in Sainik schools. Manoj made a big announcement that he would provide free education to martyrs kids. He would prepare them for the army and Sainik School irrespective of the numbers. Whether the kids are 10 or 10,000, education would remain free for them. It is a big thing to do. In this world, people do not even advise for free, and Manoj has big plans.
Manoj has also organized Agra's half marathon, MTB Taj freedom Ride, Agra on pedals, and many more such events. Sports have been closest to his heart, and he has tried every possible way of spreading and encouraging people to indulge themselves more in games.
Manoj's father, although, an old and retired officer, participates in marathons. And his athletic sister keeps participating in some of the other sports tournaments like running or cycling.
Overall his journey has had lots of ups and downs, but he never gave up on his dreams and desires. So always have a strong and focused vision, and no one will ever be able to stop you from reaching heights.
Our Rating for this Story
Please follow and like us: