Writer Story Meghna Khanna
At times a simple story can really touch and warm the heart like none other. Storyofsouls.com is happy to present one such story which is of a common girl with a determined heart. Meet Meghna Khanna, whose story is gonna inspire you to follow your heart towards the passion. Listening to your heart above what others have to say. Irrespective of what your age is and in which profession you may have been working.
Meghna's passion for writing since childhood
Meghna Khanna used to write poems and submit them for her school magazine. She had inherited the writing abilities from her father and his grandfather (Lt. Shri. Balraj Khanna). She kept collecting all those and hiding them in a box so that no one sees them. Like many people in the writing world, even she feared feeling judged by people and thought it cannot be a career.
When writing became more than just small poems
While growing up writing was her go-to-friend, her secret keeper, or venting out partner. If you ask her now, she says, she might not have many old writings with her now as she just wrote them as a way to express them at that very moment and then lost them.
The moment which became a turning point 
While studying in class 11th, she came across an instance of gang-raped famously known as Nirbhaya case. A Delhi girl was brutally raped on the moving bus and died after a few days. "It was when I realized the power of words within myself for the first time," says Meghna. She feels that rape is a topic on which no family talks openly, opinions of people
differ, and generally, it is said 'what can we do about it'. That is when she wrote a poem addressing her mom and asking her the question "Kyu layi mujhe iss dunia mei maa." (Why did you bring me in this world, MOM!).
A step towards making her passion a profession
After schooling, Meghna took admission in Journalism and mass communication in GGSIPU, Delhi. That time she was much clear about her career. She listens to her heart and makes writing her full-time career. Till this time, Meghna has discovered her half true-self. She still has to travel her self-evolving journey. Meghna shares she has stage fear and constant fear of judgment. While she is doing her studies or internships. She is never keen to participate in any extra activity or committee in school or college.
After doing around 8 internships under different newspapers, channels, agencies, and even PR firms, Meghna got a job in college itself.
Professional life
Under the Writer Story Meghna Khanna, things were moving fine for her when working in a national daily. One day she realized that this is not what she is meant to do. She thought that she does not know who she is anymore, and she needs to find that out first. It is the time when she is just writing for others, covering news and doing reporting. However, she felt that it is no what is wants to do.
In December 2019, she quit her job as a Sub Editor in the newspaper and started writing again. This time, she is following her heart while writing. After leaving her job in December 2019, Meghna was not clear what she wanted to do. All she knew was that she wanted to try new things. Seeing what shoe fits her foot the best. Revisiting her old writing account on Instagram – @when_mk_writes – she started sharing her poems, write-ups, quotes, stories there.
Moment of Fame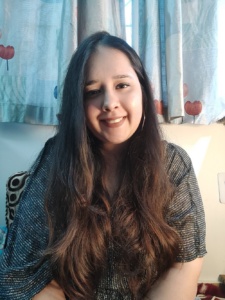 One day, scrolling Instagram randomly, she saw a post in which an organization ask for entries for open mic. She filled the form and went straight to perform at the open mic on February 9, 2020. That's when it began. Writing and performing – that's where Meghna actually belongs! and she evolved on her self-improvement journey and better me!
Combating her fear for stage and judgments, Meghna (known as Mk in the writing world), just went all out with new poems and new platforms from that time on!
Unlocking dreams
Discovering the poet in her, Meghna made a big move towards her passion. In Feb 2020, she signed up as a performer in an open mic that was organised in Delhi on Feb 9th. And then on 16th, 21st, and so on, the journey continued. She also performed the old poem, "kyu layi mujhe is dunia mei maa.." on the Women's Day special event hosted by Soch Theatre Group.
Combating Lockdown
Soon after a series of events, the lockdown happened and all the future events were cancelled. The only way to perform was online so she just took that road and started performing with various platforms on Instagram and Youtube.
In the course of performing with Soch, TheProjectquote, People Places Arts, and Kavya Corner, she even had the opportunity to have her solo paid show on Zoom.
Her online talk show & achievements
Apart from performing as a guest, Meghna has also been hosting a very interesting chat show on her Instagram handle. Wherein she invites people from all aspects of life and talks about different topics with them. The show name "The M Show" has hosted guests from Music, Art, Fashion, Literature, and so many fields. Even Mr Bijendra Kala (the famous Bollywood actor) came to her show to talk about his role in Amazon Prime Original – "Gulabo Sitabo".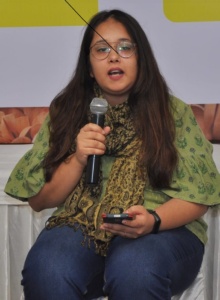 After a year-long journey of sharing poems and being termed as a 'serious' writer. She is experimenting with the new Instagram features – "reels"! Trying to put out her content in a fun way. On Jan 2, she celebrated her first Instagram/writing birthday. Also announced a Giveaway in partnership with a designing studio.
Present Avenues
Currently, Meghna is a core member of Kavya Corner Foundation –  an organisation that promotes Art, Culture, and Literature, ad with the help of proper guidance in the organisation, she is experimenting with her writing style too.

Instagram
Today, having more than 2k+ followers on her Instagram account, Meghna juggles with a plethora of things there. Be it her new poems or Thursday thoughts; motivation to combat Monday blues or sharing her own experiences with the audience; Meghna's journey, to make relatable and real content for her audience, goes on.
Take home message 
Truly, every person in this world is born to make a difference in the lives of others. While Meghna Khanna discovered her passion early in life, each one of us can also discover at any age.
Wishing you many more inspiring milestones, Meghna!