Happy to introduce you to an inspiring woman Dr. Shauli Mukherjee who strives to change our society. Friends, Dr. Shauli, is an educator, a motivational speaker, and above all, a thought leader.
Friends, it's true that life is not easy for any of us. To go through the challenges of life, we must have perseverance and, above all, confidence in ourselves. We must believe that we are gifted for something and that we must attain this thing.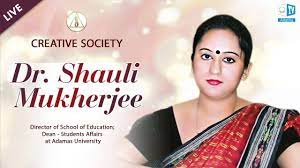 Indeed it's wonderful to know that Dr. Shauli Mukherjee has succeeded in entirely devoting her life to the advancement of child-centric and activity-oriented education.
Currently, Dr. Mukherjee is working as the Director of School of Education & Dean of Student Affairs at 'Adamas University, Kolkata.'
More about Dr. Shauli Mukherjee
"To carry a positive action, one must develop a positive vision."
Dr. Mukherjee has been in the arena of education for over more than 20 years. She is associated with premier educational organizations both across India and abroad in a senior advisory capacity. Being an extraordinary motivational speaker, she is regularly invited to numerous National and International Conferences, Summits, Conclaves, and Events.  She shares her insights on the futuristic and transformative education role.
Purpose of Education
Dr. Mukherjee sincerely believes that meaningful education aims to develop lifelong learners, creative thinkers & responsible global citizens. Her purpose is to equip citizens to face the challenges of an uncertain & constantly changing future.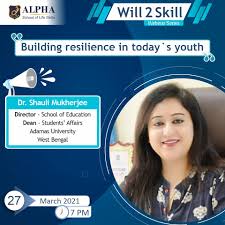 Educational institutions playing a significant role 
According to Dr. Mukherjee – "To achieve the entire development of children, extra-curricular activities play a vital role. If these activities are encouraged, then I think children will manifest holistic improvement." – says Dr. Shauli. 
During the pandemic, Dr. Shauli has also stepped into the higher education domain. Also, she had taken charge as the Director of School of Education and Dean-Students Affairs at one of the premier universities of repute in Eastern India.
STEM WORLD SCHOOL – an initiative by Dr. Shauli Mukherjee
"I believe all of us have a personal responsibility to make a positive impact on society."- says Dr. Shauli Mukherjee.
Dr. Mukherjee had been the founder principal of the Stem World School. It is the first STEM School in West Bengal.
Sharing a few insights about her experience, Dr, Shauli says: "Setting up the first Stem World School in West Bengal is not an easy task. Moreover, the activity-oriented teaching-learning process, experiential learning, a stress-free curriculum resulted in the increased happiness quotient of the children.
"Apart from this, the professional development of the teachers at the Stem World School has resulted in their empowerment too. They are the fundamental enablers and influencers of a robust and progressive educational system." – shares a vibrant Dr. Shauli.
Indeed, it's a matter of honor to share that: Dr. Shauli's STEM World School has been awarded as the 2nd best International Day School in West Bengal by the Educational World.
 Further recognition & Awards
Dr. Shauli Mukherjee has received numerous awards and accolades in these years.
First & foremost, she is the recipient of the World Peace Award 2021. Additionally, she has been awarded for being among INDIA'S TOP 50 WOMEN LEADERS IN THE EDUCATION INDUSTRY by the Academic Council of ULektz. She is the recipient of the International Excellent Academic Leader Award 2021 and the International EduX Icon Award 2021 as the Best Professor from West Bengal.
Friends, there are many more awards on Dr. Shauli's platter. Sharing a few of them with you… Dr. Shauli received the Order of Merit Certification for securing a rank in M.A Examination in English at the University of Calcutta.
Dr. Mukherjee also received the EduExcellence Certification of Professional Achievement in Education in 2015.
She also received a Certificate of Achievement by Education Today for exemplary contribution to education in December 2016. Under Dr. Shauli's stable leadership, STEM World School was recognized as the 2nd Best International Day School in West Bengal by Education World India School Ranking 2016.
Awards received by Dr. Shauli 
She also received the National Quality Excellence Award 2017.
Dr. Shauli has been nominated for Excellence in Instructional Leadership from India's entire eastern region by NDTV Education Awards 2016.
She has consequently received Brainfeed School Excellence Awards 2017 & 2018 as the best Infrastructure School among the top schools of West Bengal and for the best Innovative Practices, STEM Education, and Academic Excellence.
She is also the GEM OF INDIA AWARD recipient at the 82nd National Seminar on Excellence and Nation Building in All India Achievers' Conference 2017, New Delhi.
The STEM World School has been nominated as the Best Emerging Innovative International School in West Bengal by WorldWide Achievers, New Delhi, under her leadership.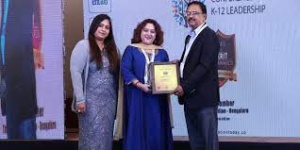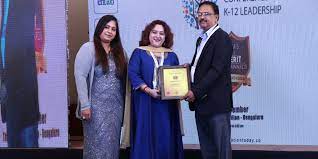 She is the recipient of the National Education Leadership Award 2018 in Commitment to Excellence in Education. Also, she received the Peerless ABP PRATIBHA SHWIKRITI Award 2019. The first STEM World School was awarded for extraordinary leadership in the field of Pre-Primary education by Education World in 2018 under her able mentorship.
Dr. Shauli received the Dr. Sarvepalli Radhakrishnan Award 2020 for a contribution towards nation-building.
She received the GURUPNISHAD SAMMAN 2020 by Charles Walter's Society for Innovation & Research (CWSIR). Dr. Shauli has been the recipient of "GURUVARYA SAMMAN 2021- Harvest The Nurturer" by Harvest Educational Transformation Solutions. She also received the Bharatiya Ganatantra Samman Republic India Honour from Swarna Bharat Parivaar, among many others.
Indeed, it's commendable, Dr. Mukherjee has received so many awards.
Mukherjee Current Designation/ Association
 "Multitasking is the ability to secure everything up simultaneously." Dr. Mukherjee is one such woman who is handling multiple responsibilities with so much grace and enthusiasm. She is the Executive Director of IDYM Foundation; she is also the Ambassador of Commonwealth Entrepreneurs Club, UK; also she is the Peace Ambassador for India for Global Peace Foundation UAE. Truly hats off to her! 
Her current responsibilities in one frame
Dr. Mukherjee is the Director of School of Education & Dean – Students' Affairs at Adamas University, Kolkata. She is the Chairperson of the Departmental Student Grievance Redressal Committee for School of Education. Also, the Vice-Chairperson of Faculty Council of School of Education.
Dr. Mukherjee is the nominated Member of the University Board of Research. She is also the Nominated Member of the University Internal Complaints Committee (ICC) for matters about sexual harassment at the workplace. Dr. Shauli is also a Nominated Member of the University Internal Committee for Students with Disabilities. Moreover, she has been a Nominated Member of the University Academic Council.
Dr. Mukherjee is the Senior Administrative Officer of the University Internal Quality Assurance Cell (IQAC). She is the National Executive Member (India – East Zone) of the Global Edu- Leaders Forum. The Executive Director (Curriculum) also of Charles Walter's Society for Innovation & Research (CWSIR).
Dr. Shauli is the Honorary National Advisor of the Sports Academy Association of India. The Advisory Board Member of International Internship Global University, an advisory board member of Indo-Canada Education Council, and an advisory board member of the talk room. Moreover, she is the brand ambassador & academic advisor of the Women Reform Organisation. In addition, she is the Brand Ambassador & State Educational Advisor (West Bengal) for Wednesday Times.
Dr. Mukherjee is the Chairperson of the Education Board of HOPE AMBASSADORS & CHILDCARE ORGANISATION. She is the Chief – Institute – North East at IGC Indian Golf Circuit. Also, the Honorary Patron of India Power Talk.
Honestly, it's impressive to meet an achiever like Dr. Shauli Mukherjee!
Our Storyteller Views
Friends, in conclusion, our storyteller@storyofsouls.com wants to share her views about the wonderful person called Dr. Shauli Mukherjee with you. Go ahead and read it.
 As a storyteller, this story is so close to my heart. I believe that Dr. Mukherjee has set an example for all ladies. Our society has not been so great for women's growth, but such an inspiring woman makes the world feel proud. Women empowerment is one such topic. But seeing such a gradual change in society is a proud moment for the nation. I am so excited to know more and more about ordinary people who emerged as a star.
She is having multiple responsibilities but handling all her responsibilities so gracefully. Being a highly positive and optimistic person. she believes that everything happens for a reason. She is not scared or apprehensive about anything in life and accepts life happily the way it is.
Friends, I request you all, especially all beautiful ladies in this world, to go through her interviews. Her words, her beliefs, her actions are all so empowering. I believe you will get motivated after reading this story and more by listening to her motivational speeches.
To sign off, I would say: "Learning is a treasure that will follow its owner everywhere."
Do visit, Dr. Shauli Mukherjee's official account.
Contribute to Story Of Souls, an initiative where we invite people to share their stories with us. We want people to "write to heal." It is genuinely an Online Platform where you can share your real-life stories.