The successful business woman story – Neetu Singhal Nav Drishti Times Founder Story:
When a Vision meets a Visionary…  A Talent meets an Ingenuity &
A Charisma meets a Personality… expect the Divinity of Grace to follow!!
Introduction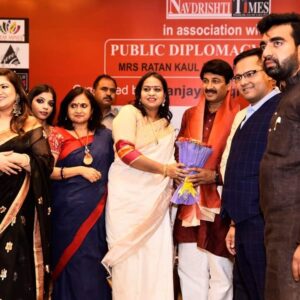 This is one graceful story of a charming lady whose life has been nothing less than a fairy-tale: by being the perfect ideal for a dutiful daughter & daughter-in-law, a loving wife & a doting mother, she has completed every role given to her with an easy and effortless charm that has left many around her truly inspired in every way…
Happy to meet the versatile & thoroughly influential lady of recent times Neetu Singhal Nav Drishti Times Founder, story An iconic newspaper & magazine Navdrishti Times.
The mission behind Nav Drishti
Based in New Delhi, the Navdrishti Times is a newspaper initiative by Neetu Singhal with a mission to inspire more & more women towards their empowerment from all walks of life… "Indeed it is an upcoming and evolving platform for the ladies. To help them find their lost voice, new horizons. Yet another aim of this platform is to discover fresher perspectives to life's various problems. This newspaper in the English language is a powerful tribute. For all those crusaders who dare to be different and successful." — gushes an upbeat Neetu…
Up for a cause
Neetu Singhal's passion for creating a revolution in thoughts & ideas have been nothing new to her. She derived this inspiration from her parents and grandfather. Her grandfather truly believed in serving all sections of the society, especially the downtrodden. Surprisingly, even after her marriage & motherhood, Neetu continued to channelize her love & dedication in the field of Social Work. This is possible only because of whole-hearted support of her in-laws and husband. Even today, Neetu Singhal Nav Drishti Times Founder dedicates success to her family.
So while Neetu had continued to inculcate her passion in the field of Social Work. Also, service to society for more than two decades, there was a new awakening that is about to happen.
Birth of Navdristi Times
By now, Neetu had set her heart on her new-found love in the field of journalism & communication… The birth of the newspaper, Navdrishti Times brought a new & fresh direction to her life… the word 'Navdrishti' in the Hindi language literally means: "a new direction". Being the Chief-Editor of The Navdrishti Times has helped Neetu to realize her dreams. Her desires, and aspirations for bringing change in the society in a truly transforming way. Neetu started a magazine platform called Icons & Crusaders. To honour and to bring together diverse people who have made noteworthy achievements.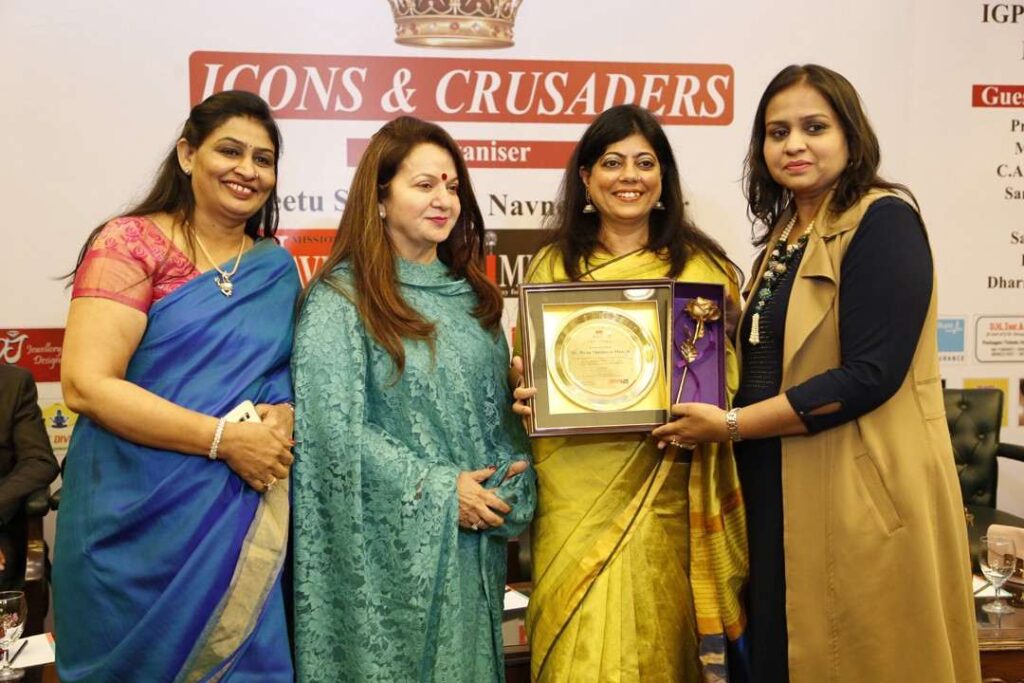 While her educational background instilled in Neetu a strong set of values & high morals of life, it was her spiritual bent of mind that helped her sail through every storm of her life. Apart from that, her closeness to her family & to her culture, have ensured that she stays firmly rooted in the all-encompassing foundation of love & faith always, shares a radiant Neetu.
Regardless of being the daughter-in-law of a famed & highly-acclaimed BJP political party worker as well as the wife of a well-established businessman of his times, Neetu has emerged as a truly strong, spiritual, independent, confident, inspiring & nurturing leader in making; she is a self-made woman in every sense of the word.
Neetu's Association
Apart from being the leading light of her own newspaper initiative Navdrishti Times, Neetu has proactively participated and been associated with many prominent & prestigious organizations in the past and present such as Akhil Bhartiya Aggarwal Sangathan,  Akhil Bhartiya Vaish Samaj, Mahila Mandal Punjabi Bagh, Muskaan KK memorial trust, Navjyoti India Foundation, Anmol Moti Mahila Society, Akhil Bhartiya Agarwal Sammelan, Nishkaam Sewa Sansthan,  BJP Karol Bagh Zila, Lions Club, RWA KaramPura, LifeLine Insurance & Financial Experts, Sanwari Women Empowerment, Heart & Soul Women Rising, Beti Bachao Beti Padhao; Shekhar Bharti, Delhi Pradesh & Shri Agrasen, while continuing to don many different hats at the same time being advisor, president, director & secretary to them at different points in time.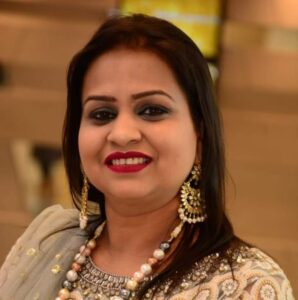 Achievements
Some of Neetu's prominent contributions in the field of social work have been: Talent hunt program, SEWA ka Mahayag & Women Role model.. .Neetu has been extensively awarded for her work too, she has received Bhagidari Jan Sahyog Samiti (presented by Supreme Court Judge of India), International Women Achievers award. She grabs the Green Earth patron Foundation award for excellence. She was awarded as the Lions Club International Best Regional Secretary for the year 2014 & 2015.
More Achievements
For 4 consecutive years, receive Max Bupa Outstanding performance award towards her contribution to the health sector. Indeed, Neetu has been a non-stop contributor to society. It is her actions that have made life easier for a lot of families. A recent milestone is when Neetu won the Human Achiever Award. In May 2016 with a certificate for her work and recognition from the prestigious Navjyoti India Foundation.
Truly, Neetu Singhal Nav Drishti Times Founder Story an incredible lady of our times, hats off to you ma'am!
Our Storyteller:
Alifia Olia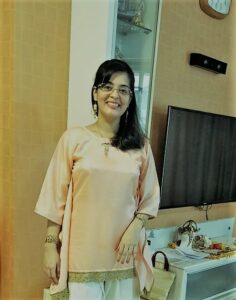 About our writer, in her own words:
Hi, I am Alifia, I am a senior creative writer and a communication consultant…Writing is my passion, and reaching out to youngsters through my words is something that I truly love. I have written short stories for online journals, feature articles for magazines. Motivational writing for numerous newspapers and online blogs. My passion is to explore the opportunity to write for children and youngsters. In domains such as motivational writing, counselling through words, as well as fun and learning-oriented topics for them… I also take up the group as well as individual learning sessions that motivate children to coordinate and communicate better! Reach her at LinkedIn Id.
Contribute to Story Of Souls, which is an initiative where we invite people to share their stories with us. We want people to "write to heal." It is genuinely an Online Platform where you can share your real-life stories.