It is said that there is no greater disability in society than the inability to see a person as more. – by Robert M. Hensel.
Friends, this story is of Ravindra Singh. It is of resolve, of changing the world's perception towards the disabled. It's of overcoming one's drawbacks and being truly self-dependent.
Struggle since birth-
When Ravindra Singh was born, his parents' joy knew no bounds. Every parent plans a certain future for their child. But for Ravindra's parents, their plans suddenly had to change. At 8 months, he was diagnosed with post-polio paralysis. Because of this, they had to face society's cruel behavior towards a person with a disability.
Challenges because of disability-
A disabled person is either sympathized with or looked down upon. People think that differently-abled can't live life as a so-called average individual. This is where the struggle for every disabled person truly begins, and quite unfortunately never seems to end.
More challenges on the way-
As Ravindra grew up, he faced bigotry towards his condition. He found that many places in India had no facility to help a disabled person. Wherever he went, it was tough for him to access sites like ATMs, Public toilets. Ease of access for the disabled only existed in a few expensive places. May it be buildings, elevators, tourist places, malls, unlike others, a disabled person always faced difficulties with travelling.
 Time for a true change-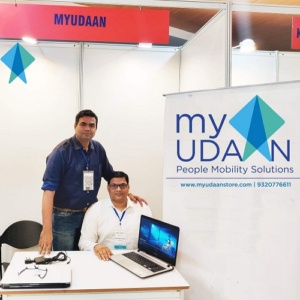 Ravindra remembers the incident that changed his life. He had gone on a tour of The Statue of Unity. Although this tourist place was accessible for the disabled, only the VIP could avail of the wheelchair.
This incident started a chain of thoughts. Ravindra Singh thought of beginning an on-demand assistance service for the differently-abled.
Birth of MYUDAAN-
Ravindra Singh determined to make the differently-abled, independent & self-sufficient in every sense of the word. He wanted the PwD community to get easy access, mobility, and assistance. Thus, began MYUDAAN, a social impact start-up.
Coming together with like-minded people
After starting a digital marketing company, Ravindra approached Anil Pereira. Anil had worked with Askme and Medlife before. Together they formed a strong team and laid the foundation of MYUDAAN.
MYUDAAN – A Single Source –
MYUDAAN became India's first free wheelchair service. This small start-up began at a mall in Seawoods, Navi Mumbai in July 2019.
All about MYUDAAN App- 
The self-funded CIBA incubated start-up has a single epicentre app. It is easy to book on-demand assistance for mobility.
MYUDAAN App & its details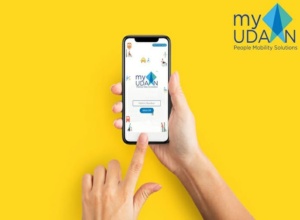 This app also helps to check places that are PwD friendly. The app also provides info on specialized mobility vehicles for purchase as well. With the help of modern technology, many PwD individuals can now travel without stress or fear.
They have a WhatsApp messaging number to book for assistance as well. In addition to it, one can also call-in to avail of their services.
Awards and Recognitions-
To add a cherry to the cake, Ravindra won the NCPEDP- Mphasis Universal Design Awards 2020 in September.
He won the PwD person award regarding creating an impact in accessibility and universal design across areas like built environment, transport infrastructure, service provision.  He also won The Sculptors Bhavishya Ke Shilpakar in July 2020.
Mission and Goal-
Ravindra envisions to build an ecosystem for the differently-abled people and the elderly. Without a doubt, he aims to bring independence to each PwD person at their doorstep.
All about V-Go
The idea of V -Go also came into existence at this point in time. V-go is a mobility product that can motorize any manual wheelchair and is very easy to operate. Additionally, both indoors and outdoors usage is possible with V-Go.
What we can learn from Ravindra Singh-
Indeed, it's true that no disability can steal an individual's determination, courage, and capabilities.
Although being differently-abled, it didn't stop Ravindra from achieving his dreams. He did not want others to look down upon him as someone who couldn't do anything. Therefore he made sure that he set up goals, and one by one achieved them through perseverance. Ravindra wants to help Pwd People to become true entrepreneurs. Indeed, Ravindra inspires us to look beyond our own disabilities, may it be physical or emotional.
Our Storyteller – Nivi Kishore
An avid reader from childhood, Nivedita Karnad (pen name Nivi) has kept her passion for writing poems and life experiences since her college days. Her drive to write comes from her adventures and experiences. She feels that through writing one can express one's inner feelings, making one free from the burden of life. Thus, she began a new journey in content / creative writing with www.storyofsouls.com
She left her thriving career in business development in interior design to dedicate her time towards homeschooling her children and follow her passion for writing. In her free time, her love for languages inspired Nivi to start Sanskrit Fun Learn classes from home. This further led to parents asking her to teach other subjects in a similar way. Today she has about 15 students, each one unique, who show passion towards learning new things in a different way.
Nivi believes that learning should be fun and is dedicated to making tough boring subjects, interesting to learn by using engaging methods with her students. She encourages her students as well, to read and write in different languages, just as her teachers had inspired her to. Reach her at LinkedIn ID. 
Contribute to Story Of Souls, which is an initiative where we invite people to share their stories with us. We want people to "write to heal." It is genuinely an Online Platform where you can share your real-life stories. You can also visit our Youtube channel