Story of Shruti Sharma INWE Entertainment Founder:
A girl filled with positivity, passion, dedication, and power. Who doesn't know her? Right from a very early age, when she was a little girl since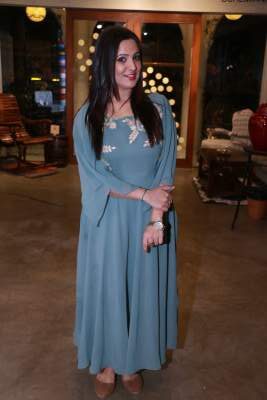 then she was inclined towards writing, she wrote poems to pen down her thoughts. Since her early years, she has been restlessly writing. Some of the few subjects that she has touched are health and Fitness, Fashion and Clothing, Finance, real estate, gadgets, technology, love, relationship, sports, Entertainment and Bollywood and much more. Now she is a very well known celebrity blogger and interviewer. She is Shruti Sharma, a loving daughter, a caring sister, a single mother and a dignified Human.
Shruti's life and Family
Shruti Sharma is an Indian producer, celebrity interviewer, digital blogger, and a talk show host. She is the founder and director of INWE Entertainment. She has also produced and hosted the talk show. Title for the same is Seasons with Shruti Sharma, officially launched on YouTube.
Shruti Sharma born on 21st May in Mumbai and is the daughter of the famous Santoor player, Pt. Surendra Sharma, who dedicated his life to the music Industry. Shruti is a family bound person who shares an amazing repo with her sisters and is a very successful and loving single mother to a 12-year-old daughter.
Pt. Surendra Sharma was the one who gave Shruti the idea of interviewing the reputed personalities.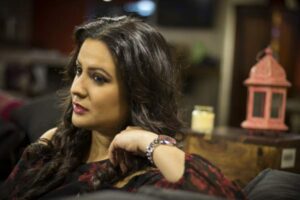 Shruti started with the hidden or you may say behind the scene stars from the music fraternity. She wrote about people who were not very popular. Still, these actors have dedicated their life and soul into this industry. They worship music as their deity. She wrote about their real-life story, struggles, and pain. She managed to get the respect back by adding grandeur to their life. This is how celebrity talk shows and Guardians of harmony came into being.
Shruti's passion is her work
Shruti did her post-graduation in management (M.COM) from Mumbai University. She had a flair for writing from a very early age and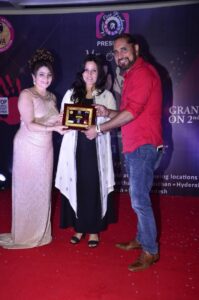 hence started her career as a content writer. In her 9 years of content writing, she wrote around 3 lakh articles and she also launched her own blog www.shrutisharma.net in 2017. The Blog got popular quite fast as she wrote about celebrities and famous Artists like John Abraham, Neil Nitin Mukesh, Naresh Malhotra, Shreyas Talpade, Vivek Oberoi, Shakti Arora, Karan Mehra, Geeta Kapur, Terence Lewis, Sudhanshu Pandey, Abhijit Lahiri, Abhijeet Sawant, HitenTejwani, Kiku Sharda, Rajiv Ruia, and many more…
She wrote for some of the Top Blogs and online forums like ViralIndianDiary, MommyTales, NaturalYogisYoga, TravelJee, GlobalDailyTribune, FilmyMantra, AeroSoftBlogger, DailyViralDoze, and more… Soon she became one of the top bloggers in India. Her blog is nominated for the Indian Bloggers award.
Shruti's writing has been an inspiration for a lot of print magazines and Digital Platforms. People like to gain fame through popular activities. On the other side, Shruti chooses her path wisely. She interviewed struggling but deserving actors and models too and gave them an equal mileage on her Blog as famous artists. This helped and guided the actors to the right platform.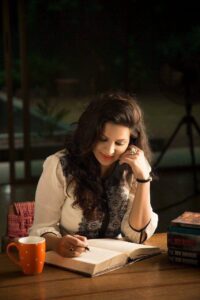 In 2018, she launched her own talk show called, SEASONS WITH SHRUTI SHARMA. The show completed 10 episodes in Season 1.
Shruti has faced many hardships in her life and she has fought and came out of it stronger. Hence she very well understands how it feels to be alone and fighting her battles. Shruti has always tried her best to help people. Through her interviews, she has tried to bring out the real and true side of the actors. Her interviews were framed in a way that was different from the regular questions and interviews. She spoke about things that the actors wanted people to know with the rarely asked questions.
Felicitations: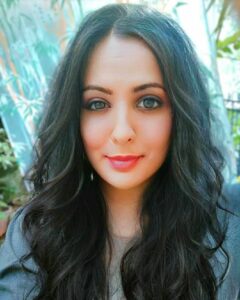 In 2017, Shruti Sharma INWE Entertainment founder received an award for being the most influential and strongest women of India by IAWA (Indian Artist Welfare Association). Felicitated for her persuasive and influential work. By many magazines like Brahma Bodhi magazine, Aesthetic International Coffee Table 100 faces Vol.2 2018, Fashion Square Buzz, Baby chakra, Viral Indian Diary, and Mommy tale.
Shruti Sharma has that charismatic aura around her, which is reflected through her actions. Further, Shruti encourages and persuades several others around. Can be called as social media influencer, as has a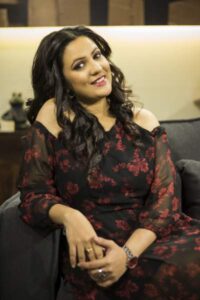 massive fan following on various social media platforms. Ms Sharma help brands such as Casa De Santo AromaOilve Oil, NutritioGenX Apple CidarVinegar, Purna Gummies Health Supplements, Trouville Travels, and more.
In 2019, Trouville Trips Travel and Tour Company, for travel Blogs launched and Shruti became the face of the company.
Shruti believes that writing is like an antidote in her life that gives her mental peace and satisfaction.
Our Story Teller:
Srishti Arora.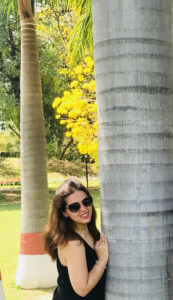 Is a Content writer whose expertise in the field of writing has been evident ever since she joined the field more than 10 years ago…Since then, she has been writing beautifully and effectively in various topics and across different themes such as Travel, Business, Fashion, Hotel & Servicing, Beauty, E-commerce, Etc having won laurels for her work, dedication & determination in giving nothing but the best…
Indeed, writing is her passion, as well as her lifeline, and she wants to grow in the field in a step-by-step and in a beautiful way…To connect with Shristi, reach out to her at her LinkedIn Profile.
Contribute to Story Of Souls, which is an initiative where we invite people to share their stories with us. We want people to "write to heal." It is genuinely an Online Platform where you can share your real-life stories.