A "Chief Smile Officer" – has anyone, ever heard of this term as a designation for the founding member of an organization, well we have not! This made us curious to know about the story behind having a unique designation and the person with such different thoughts, ideas, and concepts. His journey will not only inspire your soul but will also make you realise, as a common man what it is that you should pick in life when you experience adversities!
There isn't a single person on earth who doesn't have difficulties and uncertainties but what you do with those experiences can actually shape your future! 
Introduction
Meet Sunny Nagpal, a genetic profiling consultant, an entrepreneur with a zeal to spread the happiness and art of living. Yes, people like him are courageous entrepreneurs who invest their hearts in their ventures which preaches different philosophy. One such organisation which is established by him is Aha! – An Educational journey, which is working closely with schools on designing aha! Moments through teachers training, aha! classrooms, early leadership camps, and Finland collaborations. This inspirational soul is an author and indeed can be called as a multi-talented person!
This story will teach that despite uncertainties in life one should be optimistic and by consistent efforts, you can be successful!

Your success has nothing to do with your birthplace or the family. It has a lot to do with where your focus in life is? What decisions you are taking, they shape your future. Team storyofsouls.com is hopeful that our readers, will get a dose of inspiration after reading this story.
His Childhood
Sunny, a Delhiite by birth but much early his family moved to the beautiful city of Coimbatore. His schooling happens in a spiritual school, therefore the values and the concept of Karmas were introduced to him much early. He considers his spiritual upbringing a boon to him, it is because of his optimistic thought process, he was able to choose wisely. Being nurtured in a normal family he considers himself fortunate for a perfect upbringing, as the riches and comforts of life will take away the urge to work hard.
Education played a vital role in shaping his Personality
He feels much obliged to his alma mater – Chinmaya Vidyalaya, because of whom he learned the livelihood skills. During his childhood, he recalls being an apple of his teacher's eye, due to his excellence in academics. Further, regular stage exposure built his confidence and sports taught him to be disciplined, he also learned teamwork and other important skills of life.
Sunny shared that while he was selling spiritual books at a book fair Chinmaya, he got an opportunity to brush up his marketing skills. While taking spiritual classes of kids, he improved his communication skills and gained more insight towards the interesting way of conveying his point across through storytelling. These different skills helped him in shaping whatever, he is today.
His philosophy for life
As you meet Sunny you will find him jovial, enthral with life yet, his thoughts are deep-rooted with the right approach, which is indeed a rare combination to be found in today's materialistic world. For him, there is an opportunity which lies at every step, only the need is to recognise it. Cribbing isn't an answer to deal with the circumstances. "Everything is magic, nothing tragic!" says Sunny.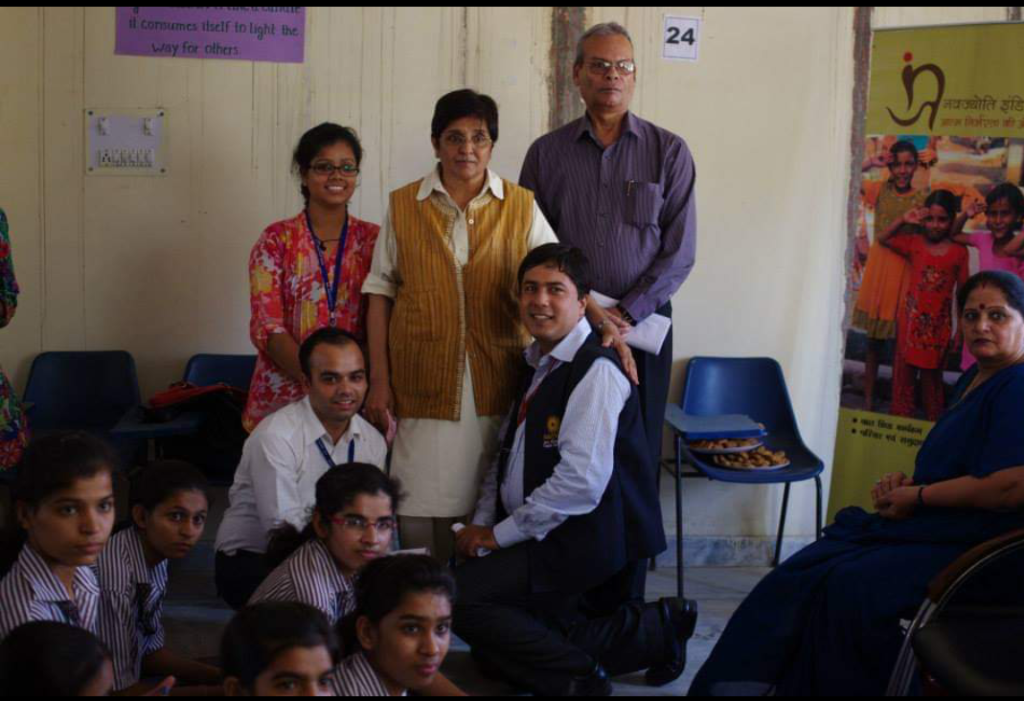 His Journey as an Entrepreneur
Aha! Education: All About Aha! education
Aha! is Sunny Nagpal's foundation. He along with his 2 friends designed Aha! Founded in Aug 2019, this foundation is formed simply to serve with the Aha! experiences in life to the students, teachers, parents, and all the involved stakeholders. Through this initiative, he is trying to build a process where the kids can learn and at the same time retain their childhood with utmost joy, laughter, and happiness. These pure souls shouldn't lose their innocence or stop being kids in order to win the world.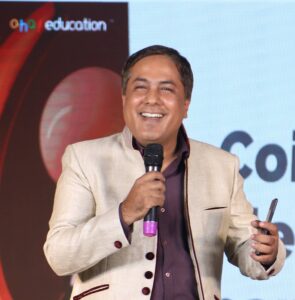 Since the Covid-19 pandemic has hit the nation, things have changed for him and Aha! education. The entire world is shaken but Sunny, on the other hand, had found an opportunity to come-up with a YouTube channel for Aha! Education. Builing on he created an app for Aha! experiences. Sunny has always found immense pleasure in interacting with the kids and listening to their experiences and reading their minds, experiences, and problems. Therefore, YouTube and the website turned out to be blessing to him during Lockdown as it gave him the chance to reach kids across the globe. The aim was to reach maximum students during lockdown across the globe and COVID-19 gave Aha team a chance to serve the community through online learning.
Happy learners foundation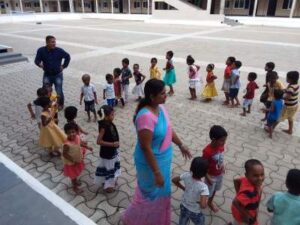 Well, there is more to his kitty, Sunny Nagpal is also, the Founder of yet another initiative, whose sole purpose is to spread happiness. Teaching kids and interacting with them is something that is closest to his heart. He believes that volunteering makes one not only a better individual but also a learned teacher, and a visionary leader too! Further, it enhances the skills, experience, wisdom, and helps inner and outer growth.
Sunny as a – Trainer
Midna Global (2018)
This was a terrific learning experience for Sunny. He felt that Genetic brain profiling is a mind-blowing tool to understand a person better. The trainings for this are given to parents, teachers, and students to know each other better. An innovative apporach towards human connect through the scientific method knowing the mindset of a person. He feels honoured to be personally trained by Sri Rathinawamy, the owner at Midna Global.
Difficulties in his life
There have been several incidents when he fell but he has the courage to make a stronger comebackeach time and rebuilding himself. Following the philosophies of acceptance and picking the blessings from the experiences of life and surrender to God's will are such traits which truly defines him as a Genetic profiling Consultant. He failed during his school days from being a topper to suddenly year repeat, this was a major setback for him that too at a tender age but he overcame it gracefully. Further, there was a time in his life when he was jobless but he chooses to volunteer with Navjyoti Foundation, later on he realised the power of his decisions which channelized his young energies in a positive manner. While helping his dad in business he had to bear losses but yes, he learnt the vital lesson of his life. Sunny never sat heart-broken as he feels that life is a blessing, we need to be thankful and make the best of it.
Sunny's approach to life
Sunny Nagpal takes sessions in various schools for the upliftment of the kids. Aha! education also enrols parents and kids for regular sessions, it has been a year since its inception and within one year they have reached 11 schools in 10 cities, 4 states, and 1 Union territory through various programs. Therefore, it has been quite a fulfilling journey for him.
This was a completely new scope and learning in his life as he could see results. He traveled to almost all metro cities in India with different teams and helped around 50000 families to understand themselves first and then their kids and other members. This brought in harmony, peace, and enlightenment within.
Our younger generations, who are following us in every step these kids are engaged in many activities and are a part of the rat race. Therefore, it is important to stop them and teach them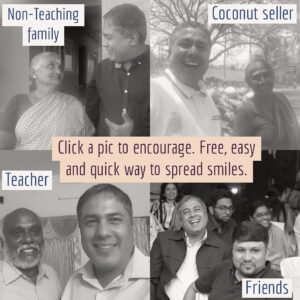 about self-transformation, or else they will never be able to find their true passion and potential. For life long they will only keep running like their elders and deviate far from the route of being happy.
Sunny Nagpal plays a vital role in teaching parents, teachers, and kids about self-transformation, as he believes that every day is a new opportunity, so instead of complaining let's evolve, grow, and win life with flying colors and in the process never forget to smile.
His Books
Mr. Nagpal, is also an author and has written a book about self-love as when one an individual learns to love himself only then he falls in love with the other things in his life. Sunny says that "life is nature's gift to us and what we do with it is our gift to God". We must accept it with open arms, as the blessings come to us in different forms and packages, which must be embraced with the whole heart.
Navjyoti India Foundation:
It was one of the biggest opportunity and learning phases of Sunny's life. In 2009, He joined Navjyoti India Foundation, a non-profit organization run by 16 serving officers of Delhi Police with a mission to work with the Vulnerable section of society. Dr. Kiran Bedi was one of the leading officers under whom Sunny took his training, a very inspiring journey.
The kids here were beyond luxury and comforts of life. Their happiness was not restricted to name, fame, or luxury but in gaining knowledge and interacting. It was surprising for Sunny but he remembered that a great saint had said that happiness does not depend on what you get, but it depends on what you can give, and now he believes it too.
Navjyoti India
Foundation's base was 3S and 3H. Shiksha, Sanskar, and Skills. Head, heart, and hands. They gave a value-based education.
Intel program 2010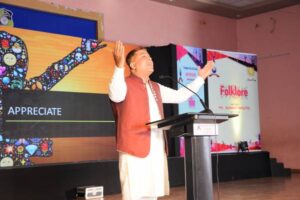 This program was unique and included 21st-century skills, which was meant to solve community problems. The program was lead by the kids, who made presentations for the community and for the government officials. Children got the opportunity to voice the issues as a class 4 kid spoke about Swach Bharat Abhiyan. Others spoke on very sensitive topics like drug abuse, domestic violence, and the importance of education. These were all very important touchpoints that India is facing.
Central Chinmaya Mission Trust Education Cell (2018-2020)
Later he joined the governing body of Central Chinmaya Mission Trust Education Cell. Being a student of the school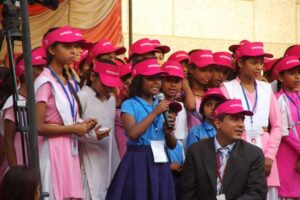 and now part of the governing body was a wonderful experience for him. Central Chinmaya Mission Trust Education Cell has over 100 schools and 9 colleges in India and Abroad. They run two programs called Hari Seva camp and BalSevak Certificate.
These programs were framed to groom children with super leadership qualities and they learned to be givers, as they served in villages, NGOs home, or volunteered at school.
He was jobless for nine months in between but being jobless was no crisis or stressful period for him, he believes that God will always have something more worthy and valuable stored for him. When he had nothing to do he got a cheque from IBM as a bonus, which worked as a savior and helped him survive his nine months. All this was the golden period in his life, though he wasn't born with a golden spoon, he built his golden spoon in the pleasure he earned through these activities.
His experience with lockdown
Sunny never sat ideal, despite the situation of lockdown, he tried to make full utilization of this while trying his hands upon video creation. Each day he speaks about self-love and confidence. In every video through various interesting methods, he advises the art of living, even during these crisis times.
This turned out to be an interesting experience of his life as Sunny had been a camera-shy person and his friends use to make fun of him. But look at his courage, he made around 250 videos, during such a short-time span e lockdown. The lesson of positivity from this incident of bullying that one must keep trying, without the people's judgment, and there comes a day when you achieve everything that you ever desire for.
He achieved and crossed 2 new milestones. One was his social media channel and the other was the web portal, he also wrote 2 books titled:  "Know self, love self, and celebrate self " and "We can, We must and We will."
Sunny Nagpal is a gem of a person
Who never feels bored or rejected. Every failure is a lesson learned every problem or phase is not meant to criticize but to thank. Did you see how during school days every activity or responsibility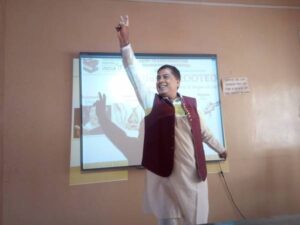 given at school was turned into some achievement? It was a process of learning where he found opportunity. He has attained the skill of self-transformation and he wants to teach this to our entire society. He finds happiness and joy in every bit, whether it is dancing, exercising, or telling a stupid joke to himself. He very well knows how to nurture things with ease and comfort. He has understood that values are more important than valuables in life and it is wise to raise the standard of life than the standard of living. This indeed has become his mantra for life and sharing knowledge and helping people continue to be his life-long motto.
On behalf of the Story of Souls, we wish Mr Sunny, a truly bright and beautiful future. May the light of your good cheer keep shining brighter & better always…
Our Storyteller: Shristi Arora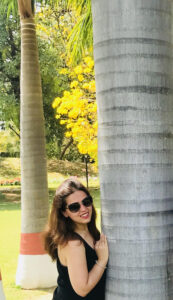 Shristi Arora is a Content writer whose expertise in the field of writing has been evident ever since she joined the field more than 10 years ago…Since then, she has been writing beautifully and effectively in various topics and across different themes such as Travel, Business, Fashion, Hotel & Servicing, Beauty, E-commerce, Etc having won laurels for her work, dedication & determination in giving nothing but the best…
Indeed, writing is her passion, as well as her lifeline, and she wants to grow in the field in a step-by-step and in a beautiful way…To connect with Shristi, reach out to her at her LinkedIn Profile.
Contribute to Story Of Souls, which is an initiative where we invite people to share their stories with us. We want people to "write to heal." It is genuinely an Online Platform where you can share your real-life stories.