Mentor group – Introducing you to the awesome team:
"Ultimate Mentors", well the name itself is so empowering!
So who are they?
The Ultimate Mentors are a unique team of the finest experts who have joined hands to help humanity by making them efficient for Employability and self-sufficient for Entrepreneurship at all levels.
The leading founder-member of this campaign is Lt. Bhaskar Shukla(IN).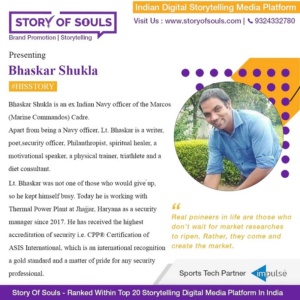 Under his auspices, the group aims to elevate unemployment from the nation especially from the weaker sections of the society.
All about the man behind this concept Lt. Bhaskar Shukla(IN)
"Humanitarianism is the Best Religion says, Bhaskar Shukla".
Lt. Bhaskar is an ex-Indian Navy officer, from triathlete to security professional he is also well known as a motivational speaker who loves composing poems & writing blogs!
Recently Lt. Bhaskar Shukla has also ventured into professional Security Training, Leadership Coaching, Spiritual Healing & Life skills coaching. Being a devoted officer he has also done special courses like Diving and Marcos.
With a strong academic background & a desire to grow & upgrade his life skills always, Lt. Bhaskar Shukla was CPP® certified from ASIS International with 88% marks. Indeed a phenomenal achievement by him!
Apart from this, Lt. Bhaskar has done PGCPM from PMI and CPM from UPES, Dehradun. Indeed, he is such an inspiring person endowed with a truly great personality!
"The happiest people I know are those who lose themselves in the service of others" – these words hold true for a person like Lt. Bhaskar Shukla & his team at the Ultimate Mentors! 
Their motive & motivation
By creating a fraternity of the "Ultimate Mentors", the mentor group aims to elevate unemployability for the weakest sections of the society as well as provide great support for the talented youth of our country!
With the approach of Covid-19, all of us have experienced a lot of changes in our lifestyles.  The idea to connect with the youth was conceived by Lt. Bhaskar Shukla by forming pages on various online platforms for awareness.
Ultimate Mentors envisions to make India a skillful nation with a hundred percent zero unemployment! The ideology of the group is that everyone in the nation should be able to earn through their skills by encashing the accessible opportunities in their prescribed domains.
"Our success is our inner strength, & that inner strength comes when we are doing our best in our chosen field of expertise!" – says Lt. Bhaskar Shukla.
Execution of their unique Campaign
The beauty of a true leader lies in the way they execute their leadership qualities. Having said that, a leader has three fundamental responsibilities: He crafts a vision builds the alignment & champions execution for it.
Being a leader in their own right, the Ultimate Mentors also took on various social networking sites for getting visibility across the online array. Additionally, they have also created pages on Facebook, LinkedIn, Instagram, etc. Many zoom meetings are also organized to boost their online presence.
The Ultimate Mentor group comprises Sqn Ldr Toolika Rani(IAF), Capt. Satyam Kumar(IA), neurologists Mr Sumeet Tyagi, Gp Cap. Sanjay Kumar Pandey, Political Figure Ms Monika Gupta, Security Celebrity Ms Veena Gupta, Sqn Ldr Sheetal Tanwar (Retd.), Maj Mac (pseudonym), Dr Gunjan Gautam, Advocate Avishi Dhaka, Legal Entrepreneur Ms Chanchal Yadav, Ms Shweta Gogia, Mr Shahid Khan (Mountaineering Coach), Mr Ramveer Sherwal, Ms Paramjeet Kaur and Entrepreneur Ms Maneesha Mattas, etc.
Recently, the famous athlete Ms Deepa Malik has also joined the Ultimate Mentors group!
Currently, the Mentor group consists of 240 members so far which include IAS, Politicians, Athletes, Motivational Speakers, Senior Defence Officers, Astrologers, Doctors, and lots more. Not to mention, each & every member of the group plays a vital role in the campaign. Also, they have many famous personalities associated with the noble cause of the campaign!
Their future Agendas:
With the expanding Digital marketing wing for their website, the Ultimate Mentors have involved themselves in conducting various courses for people, setting up NGOs, gaining fame, and ultimately raising funds from that.
The team at Ultimate Mentor group is also conducting webinars & seminars so that the group gets advertisements & sponsorships.
Ultimate Mentors also wants to create more & more Gmail groups & Google forms to take this group to the Gmail platform…They have also been conducting award ceremonies for public heroes so that the people get motivated and show more of their talents.
For truly making an everlasting impact on society, The Ultimate Mentor's future goalpost is to become a Certification body in its own right. They also want to collaborate with the flagship mission of the Government's "Skill India" movement.
"The Ultimate Mentors would like to thank all its mentors & supporters for keeping faith in their venture. Their constant support & motivation made awareness amongst many." – shares a radiant Lt. Bhaskar Shukla.
Ultimate Mentors welcomes you with open arms…
All upcoming mentors who want to share their valuable services are most welcome to join this group. www.tum.org.in /theultimatementors.com or connect at info@tum.org.in and theultimatementors@gmail.com
Their unique impact on society…  
As a storyteller, this story is very unique & different. We have seen a lot of groups and campaigns going on for social cause but the saga of Ultimate Mentors is truly different & indeed a motivational one! I have never seen such kind of group in which so many personalities from different fields are part. To start off with, the founder of the group is from a Navy background.
It's commendable of the founder & all the members who are equally important in the formation of the team… For me, " True Charity Is Not Giving Bread Or Money, But providing employment". I am so glad that this group is one such.
Friends, you can also reach out to Ultimate Mentors at YouTube     Instagram    Facebook      LinkedIn