Do you know "17 people died of cancer every minute in the world" – WHO…
STREE CHARCHA 2.0 – I AM & I WILL World Cancer Day Awareness by WinningStree
This is indeed a pleasure for storyofsouls.com to feature a noble cause on our platform. That is towards making the females aware of Cancer disease. The event happened just ahead of world cancer day and we were fortunate to be its media partner. Alongside eminent Doctors, Homeopaths, Dietitians, Wellness & Mental Well-Being Coaches, and Financial advisors as a part of this event. Truly, the event was a holistic session for knowing everything about cancer, its medical management, financial management, and how homeopathy can be most helpful in pain management.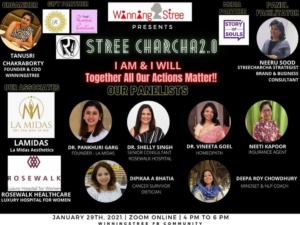 About WinningStree
WinningStree is a women's community that believes in empowering women where every professional woman gets an opportunity to grow her work and build her brand with better visibility via awesome content strategies. Further, it also helps them to create their brand promotion ways for their followers on social media. The platform also works extensively towards getting more business opportunities for their fellow Strees from multiple quarters.
WinningStree is a digital community for women, by women, and with women. Winningstree amplifies women's voices and strongly fosters women's empowerment. They capture inspiring journeys of winning women who in turn motivate fellow women to give their best.
Neeru Sood for Stree Charcha 2.0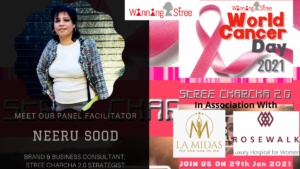 Power steering the Stree Charcha was the well-informed and very learned, the marketing strategist, Brand & Business Consultant – Neeru Sood.
She manages and drives a team of dedicated subject matter experts, working towards several upcoming and established start-ups and small and medium enterprises (SMEs) and assisting them with their business development and consolidation efforts (brand building and management) efforts.
From assisting these organizations to conceptualizing their digital image. From strategizing the digital efforts and finally translating it to successful digital implementations across social media channels, websites, and online forums, she leaves no stone unturned.
Truly, it was great to see Neeru Sood facilitate, conceptualize, and moderate the session to its closure while making it interactive for the eminent panelists and informative for our engaging audience!
Neeru Sood is also the Stree Strategist for StreeCharcha WinningStree and has been putting endless efforts to drive StreeCharcha2.0! She is a great motivator and excellent with her strategy and brand building skills. She stood up for the noble cause of cancer jointly with WinningStree as a true WinningStree!!
About Stree Charcha
WinningStree has been taking newer initiatives in every possible way in order to work towards providing winning platforms for women. So that females can upgrade, develop, and empower for further excelling in their personalities, life skills, and also in their business objectives. "Winning Stree" took a wonderful objective of initiating a brilliant initiative called "Stree Charcha" which gives a platform to encourage discussion about a specific topic amongst a selected group of panelists who share differing perspectives in front of a large audience. The Stree Charcha I was scheduled in September 2020 on Teacher's Day which was planned as "Evolving School Pedagogy & Curricula" – Are we Ready?? & the conduct of the first Stree Charcha saw huge success!!
The online event of Stree Charcha II happened on January 29, 2021, on the subject " I Am and I Will " for World Cancer Day awareness by WinningStree. That is; Together, all our actions matter – Let us Together Make A Cancer Free World"!! This year is a reminder of the enduring power of cooperation and collective action. When we choose to come together, we can achieve what we all wish for: a healthier, brighter world without cancer.
The event was held on 29th January 2021, from 4 pm – 6 pm online, and was live telecasted on Facebook.
A BRIEF INTRODUCTION ABOUT WINNINGSTREE PANELISTS FROM STREECHARCHA2.0 FOR YOU… 
Dietician Dipikaa A Bhatia –  A dietitian for a cause!
Director BBEHealthy  & All India President for AAS EK PRAYAAS NGO.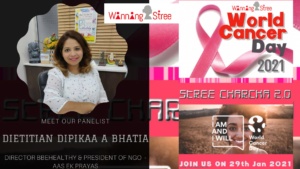 Deepikaa A Bhatia is a cancer survivor herself. She won over 28 tumors in her intestine and learned to fight against the disorders of her own body on her own using natural methods and a healthy diet!! This diet of hers worked wonders on her health!! So much so that she decided to pursue this line in order to help other people facing such grave illnesses!!
Her body suffered the loss of appetite, weakness, nausea, hair fall, and many chemo side-effects. Something that made her fight back was her inner calling. Her desire was to live for her kids as her kids were small and they needed her. Then she put in her efforts to gain and build her physical and mental strength. Her entire family did havan, Mantra Ucharan (Chanting), and all the positive things that could ultimately help her to make a comeback.
This dietician then did her education in food science and since then has been educating the community about healthy nutrition and on how to fight cancer from her own experiences!! She has successfully educated and treated more than 1000 cancer patients alone in the Delhi/NCR Region! Not only this, but her diet plans are also popular globally in countries like Canada, Australia, Dubai, London, Germany, and the USA!
Awarded multiple times as the Best Dietitian, this lady is on the move always and keeps doing a lot of charitable and motivational activities and seminars on Cancer Awareness! On the panel, she discussed the role of diet in cancer and how exactly it can help a cancer patient already on cancer treatment, especially chemotherapy. How a proper diet would be useful for a cancer patient especially when radiotherapies lead patients to have no taste sense or no will to eat? We also understood if diet can help us in the prevention of this condition!!
Today, she has 9 international channels where her "Swasthya Aahar" serial is broadcasted daily. And she counsels and advises cancer patients about diet and positive thinking.
Role of Diet in Cancer  – With the right lifestyle and right diet the patient can recover better. Some superfoods are always helpful such as Citrus foods, and fruits like guava, cranberries, and raspberries.
Dr. Shelly Singh –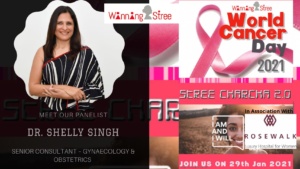 Dr. Shelly Singh is a Senior Consultant from the Department of Gynaecology and Obstetrics in Rosewalk Healthcare- A Luxury Hospital for Women Hospitals and many other hospitals across Delhi & NCR!
Passionately working in the field of Gynaecology and Obstetrics since 1992 and in private practice since 1999, Dr. Shelly Singh has had a very enriching experience. She has a keen interest in teaching, academics, and community service.
During the panel discussion, Dr. Shelly Singh informed the audience that Indian cancer female patients have 25% of the world's disease burden. These are alarming figures and are rising. Out of these, a lot of female cancers can be prevented, if detected at an early stage. According to Shelly Singh, another reason for Cervical Cancer is sexual infection. In the duration of the next 15 years, this infection converts to a cancerous virus. The location for this infection is the opening of the Uterus. It is advised to get the regular check-up done from the age of 21 years. A pap smear is best to investigate (A pain-free investigation). This pap smear should be repeated after every 3 years. This helps in the detection of Human Papillomavirus (HPV).
Dr. Shelly also guided the audience regarding the preventive measures for Cervical Cancer. One of the effective preventive measures is a vaccination for girls. These are most effective for the females from the age group of 9-26 years. If the age of the girl is less than 15 years 2 dosage will be administered.
Dr. Pankhuri Garg –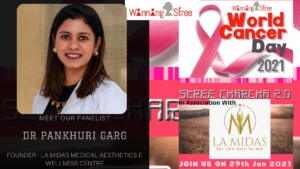 Dr. Pankhuri Garg is the founder of La Midas Medical Aesthetics and Wellness Centre. She is a Gynaecologist (MBBS, MS) & Fellow Cosmetic Gynaecology.
From the beginning, she is inclined towards bringing the importance of women's health and wellness to the forefront. For a long time, she has been actively involved in addressing women's health & wellness causes by organizing various camps in this direction.
The concept of La Midas has been the brainchild of Dr. Pankhuri's entrepreneurial skillset. The ambition to build it came from the vision of offering the people of Gurgaon the best of cosmetics. Enhanced well-being innovation in terms of quality, efficacy, and safety. La Midas specializes in performing Breast Conservation and Reconstruction Surgeries Post Cancer!
During the WinningStree Panel Discussion, Dr. Pankhuri Garg discussed the benefits of implementing posture exercises for patients. This will help in making the patients feel better. At times they lose their confidence and that reflects in the posture. To work on such issues, yoga and posture-related physio are done. So many such techniques are adopted by western countries. They are fruitful and yoga is adopted within the treatment for cancer. Other therapies are Ayurveda and Panchkarma wherein the complete mind, body, and soul therapies are adopted. This makes the person relaxed and makes the immunity stronger – Dr. Pankhuri said.
An NLP Practitioner, Mindset Coach, and Founder Value Life Skills…
Deepa Roy Chowdhury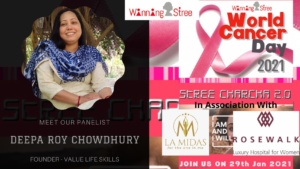 Deepa Roy Chowdhury is an NLP Practitioner, Mindset Coach, and Founder Value Life Skills,
About Deepa's work :
Value Life Skills by Deepa Roy Chowdhury is a Life Coaching Venture that empowers people by making them mentally and emotionally resilient so that they can live a happy, healthy, and successful life using the power of their minds no matter what goes on around them. She has experience of over 20 years in different sectors like Government, Corporate, NGOs & Life Skills Coaching.
As an NLP and Mindset Coach, Deepa conducts corporate training, workshops, counseling, and online courses. To help people come out of their stress, anxiety, depression, fears, phobias, traumas, or their painful past and worries about the future. She helps in replacing your limiting beliefs with empowering ones so that you can be at peace with your mind, your life!
During the WinningStree panel discussion, Deepa elaborated on the patient's behavior. After knowing that they were detected with cancer. They often ask, "Why me"? this thought pattern needs to break. Family support and positivity play an important role in this. Further, the fear of unknown situations, death, and uncertainty adds to the existing problem. Better is to fight them with positivity. Here the NLP techniques play a vital role in breaking this pattern.
Homeopathy leading alternative therapies. 
Dr. Vineeta Goel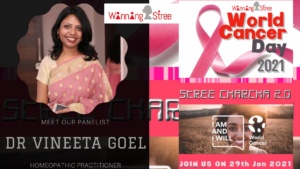 Dr.Vineeta Goel is a holistic Homeopathic practitioner who emphasizes healthy lifestyle counseling, psychological health along with individualized tailormade homeopathy treatment.
During the WinningStree Panel discussion, Dr. Vineeta Goel explains that Homeopathy is the best supportive therapy. There have been cases when the Oncologists have given references to the homeopaths and it has proved to be effective. Sometimes patients come directly to the homeopaths. According to her, the best is a pre-cancerous condition.
Dr. Vineeta Goel believes in bringing the body, soul, and mental balance to equilibrium. So as to cure a condition of its roots. According to her, Homeopathy has a very successful role in both acute and chronic conditions. But at the same time, it also helps a lot in preventing the progression of an ailment into chronic diseases.
Neeti Kapoor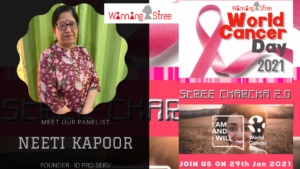 Neeti Kapoor is the founder of iDProserv. An advisory firm that offers processes and policies for Start-Ups. Also offers life, health, and motor insurance and retirement planning for all people!! Her motto is to help people live life with happiness and lots of money!! Her special focus is on women, ensuring that they are financially independent when they are 50 plus of age!!
With over 3 decades of rich experience in managing HRM & Administration functions for a Govt Of India R&D Centre, Neeti Kapoor brought onboard Information about her Cancer Care Policy and knowledge about how to be able to manage wealth while at a loss of health especially when threatened by grave illnesses like Cancer!!
Neeti Kapoor mentioned that Cancer is a dreaded disease, but there are many treatment options available. To be able to avail these people have to be financially able especially women should be financially sound to be ready to fight the disease! Cancer Care Policy just does that! With a minimum sum assured of 10 Lakhs, your treatment cost can well be managed with this LIC policy!
Manmeet Kaur – A gifting partner for the event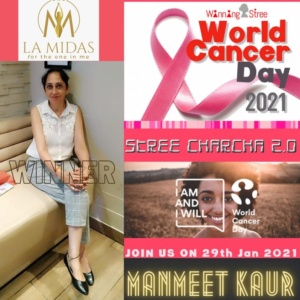 Founder of Roopsi Couture, Manmeet Kaur is the owner of her fashion boutique in Gurgaon, she customizes female garments & accessories!! She started her venture in 2001 from Uttrakhand.
Shifted to Gurgaon in 2017 and for the past 5 years, she is doing Online Selling!!
Since her business went online she deals in multiple items like apparel to accessories, home décor, home furnishings, jewelry, etc.!!
Meet our Gifting Partner Namratha Nagaraj
Namrata Nagaraj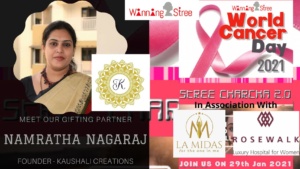 With her very unique fruit of passion entrepreneurial venture Kaushali Creations, Namrata Nagaraj runs a small home business that was started as a hobby that has now taken a form of a business on an online platform. It took about 2 years to establish and execute this whole idea which she names "KAUSHALI CREATIONS".
"After serving in the corporate industry for almost a decade. I decided to follow my passion and listen to my heart, thereby launching Kaushali Creations." – shares Namrata.
Kaushali Creations started off as a page on Facebook. Over the period steadily they grow and cater to specific requirements from clients. They also have their website too – adds a proud Namrata.
Raghunita Gupta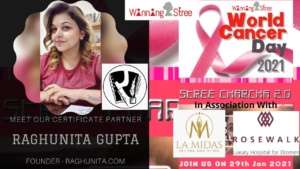 The partner for certificates, Raghunita is the founder of Raghunita.com. She is immensely creative and talented. A calligrapher with a cause she always encourages fellow artists to do better in their artistic journeys. Not only that she teaches many children watercolor, mandala, and calligraphy from her home online. An influencer on Instagram with over 4000 followers, she is going to bring her creativity on board with certifications for our guests.
Meena Kapoor –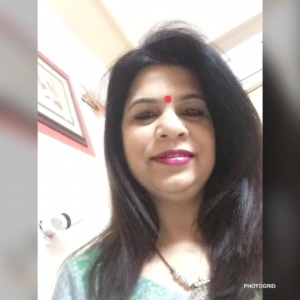 Founder Tizzlers and Moderator WinningStree, Meena Kapoor was in this session guiding audiences to ask questions and facilitating the show by managing comments, etc. on the FB Live. She also moderated the session on FB live and tracked the number of shares done by the contestants for the ongoing contest.
Sangeeta Gauba –
Founder Kalambika by Sangeeta, she is a passionate jeweler and Moderator WinningStree. She asked relevant questions to the panelists and also looked into the tags encouraging many Strees to tag more and more Strees and join us in the live.
Kajal Bannerjee –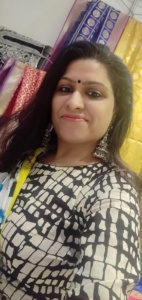 Core Team Member FLC, and Moderator WinningStree, she is also the founder of Avishkumtrue. She is organizing a fashion show for plus-size women and men and is very much in support of the testament, we are all equal, be it any shape or color or creed. She facilitated the show with her prompt tracking of questions from the audiences and sending these questions to the moderator team.
Last but not the least, introducing our organizer of Stree Charcha 2.0 & Founder of WinningStree Tanusri Chakraborty to you…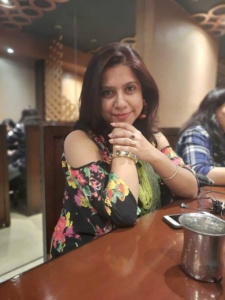 Tanusri Chakraborty was an ex-corporate employee with an MNC having corporate exposure of over 13 years!  A community leader for women, and a social media influencer, Tanusri works extensively towards Women Empowerment. Her vision is to have a better world for women. She wants to create opportunities for women and handhold and encourage women folk to come out of their shells and do something better with their lives. She nurtures confidence in women and elevates them to create future leaders. She also mentors and helps businesses, women-owned businesses, and startup initiatives to showcase via her content and brand promotion strategies.
A few words about Tanusri's career journey that we are sure will inspire you… "I realized women were always winners be it in their housewife versions or as entrepreneurs or in their work life. Hence chose the name WinningStree! I wanted to motivate more and more women and spread the word that if you have a talent don't just sit idle over it. Keep following your passion to grow it into a profession. Seeing some women do pretty well in their entrepreneurial journeys from their homes. Having similar stories of sacrificing jobs to be at home for family responsibilities, I felt motivated to build a platform for women only. This platform would house all types of women, signifying the fact that we all are equal. The journey of WinningStree has been a beautiful one with lots of learning so far! – reminisces Tanusri about her journey that is truly worth the mention...
"Since the time that I was born, I have known about this disease but no cure. Every year on 4th Feb I wish to create awareness in any form for cancer using my blog. This year I thought of taking it one step ahead and bringing the experts on board for an informative and knowledge-sharing session to build awareness for cancer. We did this online so that many women and also men could get benefited from information sitting right at their houses from experts from the fields concerned.  I would like to thank all the panelists, our media partners and gift partners, and WinningStree representatives for supporting me in this journey. Special mention for Neeru Sood, who drove this session to its success by her strategy, research, and communication skills."
Storyofsouls.com wishes the entire WinningStree team a hearty congratulations. The success you have achieved and we wish you achieve greater heights in the future too!  Having Storyofsouls.com as the Media Partner. As you gain more success in the times to come.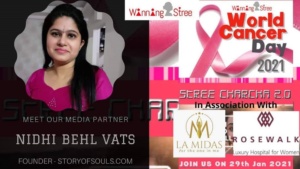 to Story Of Souls, which is an initiative for the common man. Here we invite people to share their stories with us. People come to us and say that as we write we are able to introspect and HEAL. "Write to heal" It is genuinely an Online Platform where you can share your real-life stories. You can also visit our Youtube channel to gain more information.